Clash
Jump to navigation
Jump to search
"
Clash! Morda! Rasgue sua garganta em pedacinhoooos!!
"
Clash (クラッシュ, Kurasshu) é o Stand de Squalo, na quinta parte de JoJo's Bizarre Adventure, Vento Aureo.
Assumindo uma forma parecida com a de um tubarão, ele pode se teletransportar entre corpos de água e outros líquidos para atacar rapidamente e ferozmente; ele também pode crescer ou encolher para se acomodar em seu ambiente atual.
Aparência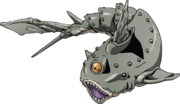 Clash aparece como um ser parecido com um tubarão mecânico com dois olhos nos lados de sua cabeça e um único grande olho no meio. Seu tamanho varia dependendo do corpo do líquido que ele ocupa.
Seu design é baseado em um Dunkleosteus, uma espécie extinta de peixe blindado.[1]
Esquemas de Cores
The series is known for alternating colors between media, the information presented below may or may not be canon.
Olhos
(Olhos laterais vermelhos, olho do meio dourado)
Olhos
(Olhos lateiras cinza-escuros, olho do meio vermelho)
Olhos
(Olhos laterais verde-escuros, olho do meio cor-de-cobre)
Habilidades
Clash é um Stand de longa adistância que pode ser precisamente manipulado por Squalo de longe. Embora frágil, Clash tem a habilidade de aparecer dentro de qualquer massa de líquido e arrancar as partes o corpo de seu alvo, o tornando um Stand apropriado para emboscadas mortais.
Teletransporte entre Líquidos
Clash é um Stand peixe, logo ele precisa ficar dentro de líquidos para persistir e só pode dar breve saltos para fora de líquidos para atacar.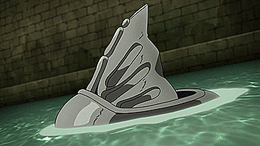 No entanto, ele pode instantaneamente teletransportar-se para qualquer corpo de líquido de tamanho minímo perto daquele que esteja o ocupando no momento.[2] Líquidos que ele ocupou incluem sopa quente, vinho,[2] água fresca e do mar, e até as lágrimas de alguém.[3] Clash também pode se afundar e emergir para fora de corpos de líquidos como se eles tivessem profundidade apesar de serem extremamente rasos, assim como pegar qualquer coisa ou pessoa junto dele quando se transferindo entre líquidos. Logo ele pôde arrastar Giorno para longe através da poça criada por um cano d'água.[4]
Como limite a isso, ele não pode se teletransportar para corpos d'água selados[5] ou se teletransportar para mais de 2 ou 3 metros de distância de sua posição atual, de acordo com Narancia.[6] Além disso, o processo de teletransporte pode ficar mais lento caso o Clash esteja ferido.[6]
Ele também pode assumir um tamanho prático dependendo do líquido que ele ocupa:[5] quando em uma taça de vinho, ele tem o tamanho de um peixe pequeno,[2] mas fica maior que uma canoa enquanto nadando em um dos canais de Veneza.[3] Ele parece depender de quanta superfície a água cobre, já que o Clash pode ficar tão grande quanto um gato quando dentro de uma poça rasa.[4]
Capítulos / Episódios

Aparições no Mangá
Capítulos em ordem de aparição

Aparições no Anime
Episódios em ordem de aparição
Criação e Desenvolvimento
Araki decidiu fazer suas habilidades baseadas em líquidos porque ele aparece em Veneza, que é conhecida como a Cidade da Água.[1]
Jogos
Um modelo 3D do Clash está presente em GioGio's Bizarre Adventure, entretanto, ele não foi utilizado no jogo.
Galeria
Referências