Little Feet
Jump to navigation
Jump to search
"
Eu me encolhi! Essa é minha habilidade, Little Feet! Os outros caras dizem que ele é inútil... hehehe bem, se é inútil ou útil, tudo depende de como você o usa...
"
Little Feet (リトル・フィート, Ritoru Fīto) é o Stand de Formaggio na quinta parte de JoJo's Bizarre Adventure, Vento Aureo.
Assim que um objeto ou ser vivo é cortado por seu dedo indicativo afiado, ele começará a encolher gradualmente com o tempo. Sua habilidade de encolhimento também pode ser usada no próprio Formaggio sem precisar ferir a si mesmo, e surte efeito imediatamente.
Aparência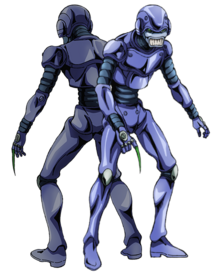 Little Feet assume uma aparência humanoide com características robóticas. Ele tem partes escuras e borrachudas cobrindo seu pescoço, braços superiores, pulsos, e tronco, enquanto sua cabeça e ombros são blindados. Parafusos de tamanhos variados cobrem seu corpo.
A maioria de seus dedos são normais com punhos pronunciados, enquanto seu dedo indicativo é uma lamina afiada e meio curvada muito maior que os outros.
Seu rosto tem dois olhos bulbosos com pupilas enormes (sem íris), sem nariz visível, bochechas pronunciadas, e um painel reto de linhas verticais representando dentes.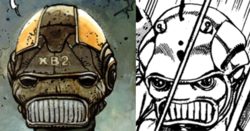 Seu design é baseado no XB2 do romance The Carnival of Immortals de Enki Bilal.[1][2]
Esquemas de Cores
A obra é conhecida por sua mudança de cores entre as mídias, a informação apresentada abaixo pode ou não ser cânon.
Corpo
(Branco com tintura azul e partes pretas)
Armadura
(Peitoral branco com tintura azul e capacete e ombreiras roxas com parafusos rosas)
Corpo
(Laranja com partes cinzas e dedo indicativo prateado)
Armadura
(Armadura e parafusos vermelho-alaranjados e ferrugem)
Corpo
(Índigo com partes azuis-cinzentas, rosto azul-claro, e dedo indicativo verde)
Armadura
(Armadura e parafusos índigo e prateados)
Habilidades
Com uma capacidade física mediocre (exceto por sua velocidade e durabilidade) e um poder decepcionante de lentamente encolher pessoas, o Little Feet é definido como um Stand fraco do qual até mesmo os companheiros de Formaggio da La Squadra Esecuzioni tiram sarro.[3]
Entretanto, a adepta manipulação do assassino sob seu poder faz com que ele tire proveito dele, e possa pôr em perigo até em um usuário de Stand do calibre de Narancia.
Encolhimento
Little Feet pode encolher qualquer pessoa ou objeto ao cortá-los com seu longo e afiado dedo indicativo.[3]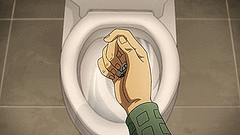 O alvo cortado irá gradualmente encolher com o passar do tempo junto de suas roupas, quaisquer itens que ele carregue, e seu possível Stand.[4] O encolhimento é gradual e lento,[3] e Formaggio afirma que demoraria vários minutos para reduzir o Narancia de normalmente 1.70m para 8 cm,[5] e isso ocorre não importa o quão longe o Little Feet esteja de seu alvo.[6] Enquanto a vítima encolhe, o mesmo acontece ao poder de seu Stand ao ponto dele se tornar inofensivo para Formaggio.[7] Caso a vítima abandone um item enquanto encolhendo, o efeito do Stand no item cessará.[3]
Enquanto o Little Feet não pode acelerar o encolhimento, ele pode livremente pará-lo ou voltar um item encolhido ao seu tamanho normal, nesse caso o revertimento sendo instantâneo e violento, uma caneta que voltou ao normal cresceu com força o suficiente para furar a palma de Narancia.[5]
Potencialmente, o alvo poderia continuar a encolher até chegar a um tamanho microscópico.
Por outro lado, o Little Feet pode livremente controlar o seu próprio tamanho e o de Formaggio; em adição, o encolhimento e subsequente revertimento ao normal são instantâneos. Isso permite com que Formaggio facilmente ande sorrateiramente[8] e evite ataques desferidos contra ele,[3] mas ele fica obviamnete fisicamente limitado e muito vulnerável quando encolhido.[5][9]
Capítulos / Episódios

Aparições no Mangá
Capítulos em ordem de aparição

Aparições no Anime
Episódios em ordem de aparição
Galeria
Referências