Mr.President
Jump to navigation
Jump to search
"
That key becomes a doorway between this place and the outside world, and allows us to hide inside!
"
Mr.President (ミスター・プレジデント, Misutā Purejidento) é o Stand do Coco Jumbo na quinta parte de JoJo's Bizarre Adventure, Vento Aureo.
Ele serve como um quarto seguro e meio de locomoção para os protagonistas durante sua missão.
Aparência
Mr.President garante uma habilidade sobrenatural ao Coco Jumbo e, como tal, ele não tem uma aparência convencional. Ele é, no entanto, ligado a uma localização única acessada com uma chave ornamentada por uma pedra preciosa transparente.
O quarto criado pelo Mr.President lembra um quarto de hotel, contendo vários tipos de mobílias comfortáveis, um conjunto de televisão que funciona e uma geladeira com bebidas. Entretanto, ele não inclui um banheiro.[2]
Habilidades
Mr.President não tem nenhuma habilidade de combate, mas seu poder tem o espaço de um quarto inteiro dentro de uma tartaruga o que o torna muito útil como um esconderijo móvel.
Quarto Escondido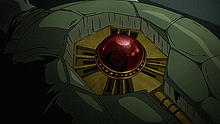 Quando alguém põem uma chave especial na depressão localizada no casco do Coco Jumbo, eles podem acessar um quarto "dentro da tartaruga".[3] Esse método de ativação parece ter sido treinado.[4]
Ao simplesmente aproximar a mão na chave, pode-se "afundar" para dentro do Coco Jumbo e se encontrar em um quarto nroaml dentro do animal.[3] Reversamente, ao apenas levantar o braço, o ocupante do quarto pode sair da tartaruga.[2] Remover a chave da depressão do casco retira os ocupantes do quarto à força.[5]
A joia transparente na chave permite que pessoas olhem dos dois lados do teto do quarto, embora aqueles de fora possam vê-los como muito pequenos, enquanto os de dentro verão as pessoas como muito maiores do que eles.[6] Isso pode indicar que as pessoas na verdade encolhem para caber dentro do Coco Jumbo.
O Stand é incapaz de prover proteção completa aos seus ocupantes do lado de fora, permitindo que os efeitos de Stands como o The Grateful Dead[7] ou o Green Day[8] ajam dentro do quarto. A integridade e equilíbrio do quarto, no entanto, não é afetado pelos movimentos da tartaruga.
Capítulos / Episódios

Aparições no Mangá
Capítulos em ordem de aparição

Aparições no Anime
Episódios em ordem de aparição
Galeria
Curiosidades
O Stand foi provisoriamente chamado de "T-Rex (

T-レックス

Tī-rekkusu)" pelo Araki antes do lançamento do livro de arte JOJO A-GO!GO!.[9]
References