Justice
Jump to navigation
Jump to search
"
Parece que o Justice quer dançar com
você
.
"
Justice (ジャスティス(正義), Jasutisu) é o Stand de Enya the Hag, apresentado na terceira parte da série de JoJo's Bizarre Adventure, Stardust Crusaders. Ele é um Stand de neblina comunmente na forma de uma caveira coroada e mãos, capaz de criar ilusões e manipular suas vítimas invadindo suas feridas.
Aparência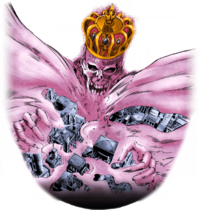 Justice pincipalmente toma a aparência de uma nuvem de neblina massiva, sendo grande o suficiente para envolver um cemitério inteiro. Quando se materializa, ele aparece como um fastasma esquelético vestindo uma grande coroa decorada com arcos de joias e um espinho no topo, com as nuvens de neblina orbitando em volta de sua cabeça e maõs como um manto. Na caveira de Justica também falta alguns dentes. No anime, ele tem duas mãos direitas, assim como sua usuária, Enya, e seu filho.
Ele representa a carta de tarô Justice. A carta normalmente simboliza as consequências e uma necessidade de reconhecê-las, mas o simbolismo e alterado no case de Enya. O Stand personifica sua obsessão com vingança contra o mundo e particularmente aqueles que mexem com ela e seu filho.
Paletas de Cores
A obra é conhecida por sua mudança de cores entre as mídias, a informação apresentada abaixo pode ou não ser cânon.
Fog
(Light gray with purple highlights.)
Crown
(Golden with a red inside, and a purple jewel.)
Hands
(Rotten green with navy blue fingernails.)
Crown
(Golden with a brown inside, and pink jewels.)
Habilidades
Justice é um Stand terrivelmente poderoso por causa de sua natureza e poder. Apesar do jeito ridículo que Jotaro o derrotou, Justice é um dos Stands mais poderosos na serie devido a sua semi-invulnerabilidade como um Stand de neblina e sua habilidade de controlar o corpo de alguém por meio de uma ferida aberta.
Marionetismo de Neblina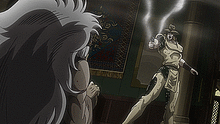 O poder principal de Justice o permite controlar o corpo dos outros por meio de uma ferida aberta.[1]
Quando alguém está ferido em qualquer parte de seu corpo (para facilitar isso, Enyua usa um par de tesouras para cortar as pessoas), o sangue da vítima irá ser absorvido na neblina e Justice então cria um buraco perfeitamente redondo na vítica que pode perfurar por uma parte do corpo significantemente fina como o pulso ou a língua.[1]
Justice então envia uma linha de neblina pelo buraco como um fio ligado à uma marionete e toma controle da parte do corpo associada como uma marionetista. Enya pode, então, fazer as partes controladas se mexer quando ela quiser, sendo capaz até de lançar Polnareff ao teto[2] ou fazer Hol Horse atirar em si mesmo.[1]
O poder de marionetismo de Juste é tão poderoso que pode tomar controle de dúzias de corpos e manipulá-los com precisão, o que pode resultar em uma grande legião de marionetes sobre o controle de Justice.[3] Apesar de serem meros esqueletos, as marionetes aparecem como humano comuns, apesar de terem características deformadas e buracos em todo seu corpo.
Ilusões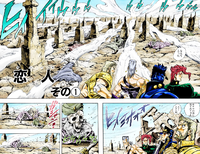 Justice pode manifestar ilusões incrivelmente detalhadas e realistas em qualquer lugar dentro de seu alcance.
Enya foi capaz de gerar uma cidade ilusiva inteira sobre um cemitério, com a impressão de construções sólidas e reais, que só sumirar quando ela foi derrotada,[4] e quase matou Joseph Joestar disfarçando uma cerca de metal como seu carro e o enganando para que pulá-se nele.[5] Ele ainda pode disfarçaros esqueletos que ela controla como humanos vivos que podem atém conversar com outros.[5] Na série de OVAs e em Heritage for the Future, Enya também usa sua neblina para tomar a aparência de uma mulher atraente, que é, provavelmente, uma versão mais novas de si mesmo.
Capítulos / Episódios

Manga Appearances
Chapters in order of appearance

Anime Appearances
Episodes in order of appearance
Galeria
Referências