Hermit Purple
Jump to navigation
Jump to search
"
Você viu? Os espinhos saindo da minha mão? Aquilo foi meu Stand! Ele pode revelar visões e colocá-las em filme. Claro que, para isso, eu tenha que destruir uma câmera de 3,000 ienes toda vez que o uso...
"
Hermit Purple (ハーミットパープル(隠者の紫), Hāmitto Pāpuru) é o Stand de Joseph Joestar, apresentado na terceira parte da série de JoJo's Bizarre Adventure, Stardust Crusaders, e brevemente na quarta parte, Diamond is Unbreakable.
Hermit Purple é um Stand parecido com vinhas que Joseph invoca em suas mãos. Ele permite que o usuário adivinhe informações e mensagens de outras localizações.
Aparência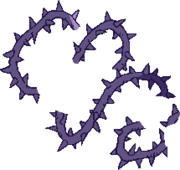 Hermit Purple se manifesta como várias vinhas roxas cobertas de espinhos que nascem das mãos de Joseph. As vinhas são fortes o suficiente para suportar seu próprio peso e longas o suficiente para amarrar alguém completamente. Como o Hermit Purple pertencia ao protagonista da parte anterior, Araki decidiu não torná-lo voltado para o combate ou ter uma aparência humanoide para não se destacar muito.[1]
Hermit Purple é consistentemente retratado como sendo roxo em todas as mídias que o apresentam, fazendo jus ao seu nome.
Hermit Purple representa a carta de tarô do Eremita, que simboliza introspecção e adoração, melhores representados pelos poderes de adivinhação do Stand.
Paletas de Cores
A obra é conhecida por sua mudança de cores entre as mídias, a informação apresentada abaixo pode ou não ser cânon.
Habilidades
As vinhas de Hermit Purple são relativamente fracas em combate direto, mas podem providenciar a Joseph com uma habilidade de adivinhação considerável, fazendo com que ele possa materializar qualquer tipo de informação, como uma imagem, uma localização ou até mesmo pensamentos
Joseph demonstrou que ele pode usar as vinhas como cordas, cujos movimentos ele pode controlar como quiser. Seu comprimento e resistência fazem com que Joseph possa usá-la para balançar de um lugar para o outro[2] e amarrar alguém.[3] As vinhas tem resistência limitada, já que um Stand suficientemente forte ou até um vampiro possa quebrá-las.[3] As vinhas são habilidosas o suficiente para manipular um controle de video-game.
Adivinhação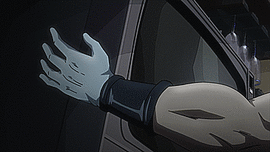 A habilidade principal de Hermit Purple é a de adivinhar informação. Usando qualquer objeto ou material em conjunção com Hermit Purple, Joseph Joestar pode exibir qualquer informação que ele deseja ver. Até hoje, ele usou Hermit Purple para:
Manipulação de Eletrônicos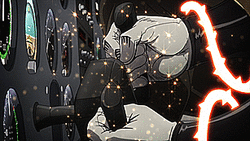 Hermit Purple parece ser capaz de adulterar sistemas eletrônicos além de sua habilidade de adivinhar informação. Joseph usa essa habilidade para tomar controle do sistema eletrônico de Cessna e forçá-lo a se estabilizar.[7] Ele também usa Hermit Purple para checar o console de vídeo-game de Telence T. D'Arby para confirmar se ele foi adulterado ou não.[8]
Transmissão de Hamon
Joseph mostrou a habilidade de transmitir o seu Hamon através de Hermit Purple como uma extensão de seu corpo. Joseph usa essa propriedade de Hermit Purple para atacar Dio[3] ou previni-lo de tocá-lo, envolvendo-se nele.[9] Na adaptação de anime Joseph usa essa habilidade para transmitir o Hamon no encontro com Steely Dan. Quando The Lovers sai de seu cérebro, ele usa o Hamon para eliminar todos os brotos de carne crescendo.
Capítulos / Episódios

Aparições no Mangá
Capítulos em ordem de aparição

Aparições no Anime
Episódios em ordem de aparição
Galeria
Joseph se cobre com o Hermit Purple infundido com Hamon, pensando que iria fazer o The World encostar nele
Curiosidades
Os espinhos de Hermit Purple podem ser brevemente vistos no plano de fundo da segunda abertura do anime, "BLOODY STREAM". Isso funciona como um presságio, já que a abertura é para Battle Tendency, e Joseph não desperta Hermit Purple até a parte seguinte, Stardust Crusaders.

Contudo, quando falava sobre Joseph Joestar em JoJonium Vol. 9, Araki afirma: "Se o grupo de Jotaro viajasse no tempo para o mundo da Parte 2, eles provavelmente veriam Hermit Purple enrolado em volta de Joseph como na Parte 3."
Referências