Man in the Mirror
Jump to navigation
Jump to search
"
Minha habilidade jaz no mundo dentro do espelho...onde eu estou seguro e invencível.
(

安全で……無敵にふるまえる『鏡の中』……それがおれの能力。

,

Anzen de…… muteki ni furumaeru "kagami no naka"…… sore ga ore no nōryoku.

)
"
Man in the Mirror (マン・イン・ザ・ミラー, Man In Za Mirā) é o Stand de Illuso na quinta parte de JoJo's Bizarre Adventure, Vento Aureo.
Ele dá acesso da dimensão do espelho a Illuso, onde as únicas coisas vivas que podem entrar são o próprio Illuso e aqueles que ele trz através de qualquer superfície refletiva. Essa única regra do mundo do espelho também se aplica a Stands, permitindo com que Illuso separe um Stand de seu usuário.
Appearance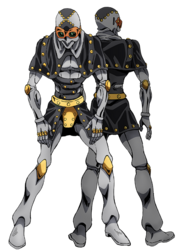 Man in the Mirror tem um corpo humanoide com um leotardo escuro sem a parte do peito superior, todos segurados por parafusos. Ele veste luvas e um capuz com padrão de diamante cobrindo sua cabeça inteira, junto de um grande óculos. O design de seu roto é baseado em uma máscara veneziana, fazendo o Stand parecer um Tengu.[1]
Esquemas de Cores
A obra é conhecida por sua mudança de cores entre as mídias, a informação apresentada abaixo pode ou não ser cânon.
Corpo
(Branco e roxo, com uma cabeça e mãos marrom-claras)
Roupas
(Roupa roxo-escura com rebites cinza-metálicos)
Corpo
(Cinza com cabeça bege)
Roupas
(Roupas pretas com rebites dourados)
Roupas
(Roupas pretas com rebites e braguilhaa dourada)
Habilidades
Tendo o arcano poder de acessar o mundo dos espelhos, o Man in the Mirror é um Stand difícil de se defender contra. Ele é principalmente perigoso pois usuários de Stand emboscados se encontrarão indefesos no mundo do espelho. Mas, pelo outro lado, ele é fisicamente fraco e não pode vencer um confronto direto contra a maioria dos Stands.[2]
Entrada do Mundo do Espelho
Man in the Mirror permite que seu usuário entre em um "mundo do espelho".[3]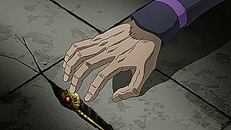 Além disso, o Man in the Mirror também pode levar qualquer coisa para o mundo do espelho ao usar superfícies refletivas como portais, selecionando qualquer coisa que possa entrar através das ordens de Illuso,[4] e também pode fazer isso independente do quão pequeno o "portal" seja.[2] Quebrar o espelho não para a habilidade e acaba criando mais aberturas levando ao mundo do espelho.[2]
Apenas aqueles que Illuso e o Man in the Mirror estão prestes a levar para o espelho podem vê-lo, mesmo que outras pessoas estejam olhando diretamente para o espelho.[3] Além disso, ele também pode apenas selecionar partes específicas de um objeto para arrastar para dentro ou deixar do lado de fora, logo ele foi capaz de deixar apenas parte de Abbacchio, efetivamente o incapacitando.[2] Illuso também pode brincar com vários reflexos para trazer pessoas por pontos cegos.[2]
Caso outro usuário de Stand seja levado para dentro do espelho, Illuso pode escolher proibir seu Stand de entrar com seu usuário e um Stand invocado se encontrará sozinho no mundo real, embora ele possa ser remotamente manipulado pelo usuário.[5] Isso faz do Man in the Mirror praticamente invencível dentro do espelho, já que ele será o único Stand presente. No entanto, Illuso pode ser enganado para deixar um Stand disfarçado entrar dentro do mundo do espelho.[2]
O próprio Illuso também fica livre para entrar e sair do mundo do espelho e também pode selecionar partes de si mesmo. Entretanto, ele deve fazer isso através de uma superfície refletiva. Caso ele saia, aqueles ainda no mundo do espelho ficarão presos.[6]
No mundo do espelho, qualquer coisa (até mesmo pessoas arrastadas para ele[3]) é uma imagem espelhada de si mesma e o mundo não possui nenhum ser vivo. As imagens reversas são ditas serem feitas de energia espiritual.[4] O mundo do espelho é efetivamente isolado do mundo real, e prisioneiros no espelho não podem ser vistos nem ouvidos.[7] Qualquer ação no mundo real é "refletida" no do espelho e parecerá ter ocorrido sem motivo algum.[5] Por outro lado, somente o Man in the Mirror pode afetar objetos dentro do mundo do espelho,[8] explicado como os objetos "pertencendo ao reino da morte".[4]
Caso Illuso morra, o mundo do espelho é destruído e seus prisioneiros são libertados.[8]
Capítulos / Episódios

Aparições no Mangá
Capítulos em ordem de aparição

Aparições no Anime
Episódios em ordem de aparição
Galeria
Referências