JOJO A-GO!GO!
Jump to navigation
Jump to search
JOJO A-GO!GO! (ジョジョ ア ゴー ゴー, Jojo A Gō Gō) est un "artbook" écrit et illustré par Hirohiko Araki et Lucky Land Communications.
Un mémorial à la publication achevée de Golden Wind, l'artbook présente des illustrations de la série JoJo's Bizarre Adventure, en particulier de la partie 3, la partie 4 et la partie 5.
Résumé
Le coffret comporte une roue qui peut être tournée afin de changer les faces de l'image représentée sur le devant. Inclus dans le package : l'artbook, ainsi qu'une encyclopédie des stands et un livre détaillé sur l'auteur.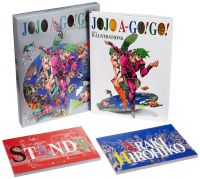 DISC.1 Illustrations
Le livre contient des illustrations en couleur des couvertures de chapitres et de volumes du manga présentés dans Stardust Crusaders, Diamond is Unbreakable et Golden Wind. D'autres illustrations dessinées par Araki, promues dans d'autres médias tels que des jeux vidéo, des hommages ou des goodies, sont également incluses.
La partie avant du livre présente une soirée dansante représentant de nombreux personnages et stands dansant les uns avec les autres. Le verso du livre contient une chronologie répertoriant chaque œuvre d'art, l'endroit où elles ont été présentées à l'origine et la date à laquelle elles ont été créées, ainsi qu'une seule illustration de Jolyne Cujoh de «Stone Ocean» ».
DISC.2 Stands
Les illustrations et données de stands jusqu'à et y compris Golden Wind. Chaque stand reçoit des statistiques, une explication de ses capacités et de son rôle dans l'histoire, et une brève description de l'utilisateur. Le livre présente également des classements de stand répartis en catégories telles que: les stands qui apparaissent le plus, les stands qui ont infligé le plus de dégâts ou les stands qui ont tué le plus de personnes. Les favoris personnels d'Araki sont également inclus, jugés par la fonction et le design. Le dos du livre contient une section intitulée Standologie, qui explique les Stands plus en détail.
Disc.3 Araki Hirohiko
Contient des informations sur les inspirations et les influences de Hirohiko Araki, ainsi que sur ses expériences à travers le monde. Le contenu du livre comprend un essai écrit par Araki sur l'Italie, diverses listes comprenant les personnages et illustrations préférés d'Araki, et une chronique répertoriant les œuvres d'Araki de 1960 à 1999.
Galerie d'Images
Anecdotes
Le slogan "Let's Dance!" présent au début du livre d'art est un rappel possible du nom du shooting de mode:[2] Let's Rock!, à partir de laquelle la plupart des poses de danse du personnage ont été référencées.
Liens externes
Références