List of Retired Characters
Jump to navigation
Jump to search
SPOILER WARNING: Part 1-8 spoiler details may follow.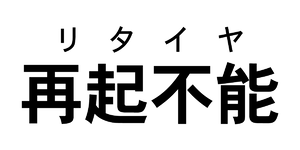 When an antagonist is retired (再起不能, Ritaiya, lit. "Out of Commission"), it means that they have been defeated and rendered inoffensive to the heroes for an indefinite period of time, regardless of their health and situation. In some cases, their status is unknown.
The following is a comprehensive list of the retired characters from Battle Tendency through JoJolion, as well as JoJo-related media. It does not include characters who have been explicitly killed or characters who turn a new leaf and/or join the heroes in their quests during their corresponding parts.
| Character | Image | Cause | Source |
| --- | --- | --- | --- |
Stopped thinking after being petrified in space. Though braindead, he is unable to actually die due to his own invincibility.
Chapter 113
Episode 26
| Character | Image | Cause | Source |
| --- | --- | --- | --- |
Severely injured after being blown up by his own orange-bomb. His face, disguised as Jotaro's, is split in half, reminiscent to Tohth's prediction of Jotaro's face split in half.
Chapter 192
SC Episode 27
Mauled into submission by Iggy after deciding to become good. His Stand, Tohth, mentions that if it was that easy for people to change their ways, there wouldn't be any bad people in the world.
Chapter 221
SC Episode 37
Cut into pieces and stuffed into a coffin by DIO, for betraying the latter. Due to his vampire physiology, Nukesaku is unable to die this way.
Chapter 249
SC Episode 45
| Character | Image | Cause | Source |
| --- | --- | --- | --- |
| Character | Image | Cause | Source |
| --- | --- | --- | --- |
| Character | Image | Cause | Source |
| --- | --- | --- | --- |
| Character | Image | Cause | Source |
| --- | --- | --- | --- |
| | | | |
| --- | --- | --- | --- |
| | | Left injured after inadvertently crashing his camel into a cluster of cacti, thus becoming one of the first racers to retire from the Steel Ball Run race. | SBR Chapter 5 |
| | | | |
| --- | --- | --- | --- |
| | | Trapped under the Delaware River. He is unable to drown due to 20th Century BOY's capability of saving him from drowning. He eventually stops thinking. | SBR Chapter 62 |
| Character | Image | Cause | Source |
| --- | --- | --- | --- |
Miscellaneous
One-Shots and Spin-Offs
| Character | Image | Cause | Source |
| --- | --- | --- | --- |
Light Novels
| Character | Image | Cause | Source |
| --- | --- | --- | --- |
| Character | Image | Cause | Source |
| --- | --- | --- | --- |
| | | | |
| --- | --- | --- | --- |
| | | Put out of commission after Lisa Lisa grabs him by the throat and floods his body with the Ripple. He is then handed over to the police. | rey infinito Chapter 1 |
Others
| Character | Image | Cause | Source |
| --- | --- | --- | --- |