List of Deceased Characters
Jump to navigation
Jump to search
SPOILER WARNING: Part 1-9 spoiler details may follow.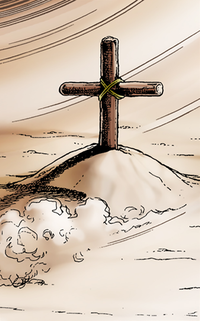 JoJo's Bizarre Adventure is often noted for the amount of casualties and fatalities that occurs throughout the series. The following is a comprehensive list of the deceased (either physically or mentally) from Phantom Blood to The JOJOLands, as well as any other JoJo-related media.
Please note that this list consists primarily of canonical deaths; the deaths of characters from one-shots or light novels not written by Hirohiko Araki listed below may or may not be considered canon.
| Character | Image | Cause of Death | Source |
| --- | --- | --- | --- |
| | | | |
| --- | --- | --- | --- |
| | | Blood absorbed by the vampiric Aztec Chief, after agreeing to become his life force. | Chapter 1 |
| | | | |
| --- | --- | --- | --- |
| | | At some point, this cannibalistic tribe disappears from history. Only their ruins are shown. | Chapter 1 |
Becomes a vampire and is killed by the light from the morning sun.
Chapter 20
Episode 4


(Flashback)
Dies in a carriage accident in 1868, as the carriage slips off the cliff due to the rain.
Chapter 1
Episode 1


(Flashback)
Dio kills the first vagrant by forcing his companion into stabbing him. The second vagrant turns into a vampire and is killed by the sunlight.
#1: Chapter 9
Episode 2
#2: Chapter 10
Episode 2
| | | | |
| --- | --- | --- | --- |
| | | Jonathan stabs the zombie in the head with a spear and decapitates him. | Chapter 14 |
Zeppeli uses the Sunlight Yellow Overdrive to karate chop one of them in the face. The body is sent flying into three more zombies, killing them. Speedwagon crushes one in the head using his sledgehammer. Jonathan decapitates the final one with Zoom Punch.
Chapter 25
Episode 5
| | | | |
| --- | --- | --- | --- |
| | | Tarkus grabs the two bullies by their feet, crushes them and wrings them together to extract and drink their blood. | Chapter 31 |
Led to a quick death after Jonathan catches his snakes and charges them with the Ripple. Doobie's snakes betray their master and bite him, causing the Ripple to be injected throughout his body.
Chapter 37
Episode 8
| | | | |
| --- | --- | --- | --- |
| | | Jonathan kills one by grabbing its head and smashing it into the bars of a window, slicing its head open from the impact. Straizo, Tonpetty and Robert E. O. Speedwagon kill the remaining offscreen, and two are killed by Dio's eye beams. | Chapter 38 |
Dio freezes Dire's body and shatters it. The head lives long enough for a final attack.
Chapter 38
Episode 8
A zombie attacks her with an axe and she falls down the stairs, dying while carrying her baby in her arms.
Chapter 43
Episode 9
Jonathan crushes Wang Chan's head and sends a Ripple throughout his body. The corpse flies into the ship's machinery, causing the ship to explode.
Chapter 43
Episode 9
Shot in the throat by Dio's "Space Ripper Stingy Eyes", dies from his wounds afterward. He survives long enough to save Erina, a baby and to catch Dio.
Chapter 44
Episode 9
| Character | Image | Cause of Death | Source |
| --- | --- | --- | --- |
Killed by one of the Pillar Men's traps. When Caesar accidentally activates it, Mario pushes him aside. Spears thrust out of the wall, hook Mario then pull him into the wall, where he is to be eaten by the Pillar Men.
Chapter 89
Episode 20


(Flashback)
They attempt to shoot Santana's body host with their machine guns but Santana fires the bullets back at them through his fingers and they all die.
Chapter 57
Episode 12
Their hands are fused together by Wamuu. Wamuu then touches their officer's head and drains the life force of everyone at the same time.
Chapter 64
Episode 14
His hands are fused together with the hands of all the other Nazis by Wamuu. Wamuu then touches the officer's head and drains the life force of everyone at the same time.
Chapter 64
Episode 14
Esidisi impales the former with his foot. Posthumously, Esidisi injects his scalding blood in Loggins, making it boil and simmer from the inside-out.
Chapter 76
Episode 17
Evaporates from sunlight exposure after being forced out of Suzi Q's body by Joseph and Caesar's Ripple. Prior to this, Joseph destroyed his body during their battle and reduced him to a brain.
Chapter 82
Episode 18
Wamuu worn down by Joseph's Ripple attacks and his Atmospheric Rift, then Joseph manages to throw oil and burning tissue in Wamuu, making him explode. Wamuu survives for a short while as a head then dies.
Chapter 104
Episode 23
A vampire that was killed by Lisa Lisa. His disguise as Kars deceives Lisa Lisa, allowing Kars to stab her in the back.
Chapter 105
Episode 23
Dies in 1943 during the Battle Of Stalingrad, as mentioned in the epilogue.
Chapter 113
Episode 26
(Mentioned only)
Dies peacefully in 1950 at the age of 81 during the epilogue, surrounded by her family and friends.
Chapter 113
(Mentioned only)
Episode 26
Dies in 1952 of a heart attack at the age of 89 during the epilogue.
Chapter 113
Episode 26
(Mentioned only)
| Character | Image | Cause of Death | Source |
| --- | --- | --- | --- |
He creates the sword which the Stand Anubis is bound with around the 1480s. After he dies, Anubis is left without a user and begins to search for users on its own.
Chapter 198
SC Episode 29
(Mentioned only)
He dies after Kakyoin destroys his Stand. However, he manages to kill the plane's pilots before dying and taunts the group that they'll never get to DIO.
Chapter 124
SC Episode 4
He sinks to the bottom of the ocean after having half of his Stand's head ripped off, inflicting similar damage to himself.
Chapter 129
SC Episode 6
He's stabbed to death by Polnareff's Silver Chariot. After stabbing J. Geil's tongue and tossing him into the air, his body is left hanging upside down by a gate. In the OVA, he is instead punched into a barbed fence.
Chapter 145
SC Episode 11
#1:
He dies involved in the precipitation of the helicopter caused by Geb.
#2:
His head gets torn from the body by Geb hidden in the bottle, when Joseph attempts to offer him water.
Chapter 184
SC Episode 25
He commits suicide by using Geb to strike through his head, correctly anticipating that he would be interrogated by Jotaro.
Chapter 188
SC Episode 26
Pet Shop decapitates the two dogs. The owner of the dogs finds their dead remains being eaten by Pet Shop.
Chapter 222
SC Episode 38
After he manages to find the lair of DIO, he is crushed by a huge ice stalactite created by Horus, and dies.
Chapter 222
SC Episode 38
He dies when Iggy bites his beak shut as he is charging an ice attack from his mouth. His beak shatters, and the sheer energy stored makes his head explode.
Chapter 226
SC Episode 39
Violently kicked by Vanilla Ice, which gravely wounds him. He spends the last of his strength to save Polnareff and dies from extreme over-exhaustion. In the OVA, Iggy's lower body is erased by Cream and he is kicked to death by Vanilla Ice.
Chapter 244
SC Episode 44
He cuts his head off to prove his loyalty to DIO but is brought back to life as a vampire, although he is unaware of it. Polnareff pushes him into some sunlight coming through a window with Silver Chariot, disintegrating him. In the OVA, Vanilla Ice remains human. Silver Chariot slices the upper half of his head clean off.
First death:
Chapter 238
SC Episode 42
Second death:
Chapter 245
SC Episode 44
DIO violently throws him at Joseph's truck. It is unknown if he died beforehand or if he dies from the impact.
Chapter 252
SC Episode 45
Is punched through in the abdomen by The World and sent into a water tank. Survives long enough to figure out DIO's ability and give Joseph a hint.
Chapter 254
SC Episode 46
Star Platinum punches The World's leg to deflect its kick. The resulting force and impact cause The World and DIO's bodies to explode. Afterwards, his corpse is left in the desert to disintegrate by the morning sun.
Chapter 264
SC Episode 48
| Character | Image | Cause of Death | Source |
| --- | --- | --- | --- |
She is stabbed in the back by Yoshikage Kira. Like Arnold, her soul ends up in Ghost Girl's Alley as well.
Chapter 331
DU Episode 17
Red Hot Chili Pepper attacks Okuyasu but Keicho shoves him aside. Red Hot Chili Pepper pulls him into an electrical outlet and he dies, electrocuted on the wires of a utility pole. In the live-action movie, Keicho is killed by Sheer Heart Attack.
Chapter 283
DU Episode 5
It's killed by Josuke before it could eat the human couple (merged into a cube of flesh) in the fridge.
Chapter 327
DU Episode 16
He's found dead in the beauty salon Cinderella with a hole in his abdomen. Kira also has Aya take out his face and fingerprints so that Kira can steal his face and identity.
Chapter 364
DU Episode 24
Kira touches him and makes him blow up, disintegrating him entirety with the exception of his ears.
Chapter 410
DU Episode 34
Killed by Cheap Trick's power when Rohan sees Masazo's back. His corpse turned into a small husk.
Chapter 413
DU Episode 33
Kira transforms Rio's underpants into a bomb and leaves them hanging from a twig. The neighbor of Rio touches her underwear and explodes.
Chapter 431
DU Episode 38
He originally dies before the events of Part 4 due to cancer. In the final battle, Josuke baits Kira into detonating a bomb right next to Yoshihiro's photograph. Thus, he ceases to exist after the photo burns up.
Chapter 433
DU Episode 38
An ambulance ironically backs over his body, which seemingly crushes his head. Reimi tricks Kira's ghost in the Ghost Alley and Kira is dragged away by the swarm of hands. In the one shot Deadman's Questions, Kira exists as a amnesiac ghost who is just a vagabond.
Chapter 437
DU Episode 39
| Character | Image | Cause of Death | Source |
| --- | --- | --- | --- |