Urban Guerrilla
Jump to navigation
Jump to search
"
You people... when you got careless, you ended up being forever below the rocks... the Rock Humans that is!
"
Urban Guerrilla (アーバン・ゲリラ, Āban Gerira), aussi connu sous le nom de Ryo Shimosato (下里 良, Shimosato Ryō), est un antagoniste secondaire figurant dans la huitième partie de JoJo's Bizarre Adventure, JoJolion.
Urban est un Homme-rocher que l'Organisation Locacaca envoie pour capturer ou tuer Rai Mamezuku. Accompagné de son animal de compagnié Doremifasolati Do, Urban poursuit Rai, Josuke Higashikata et Yasuho Hirose. Urban est aussi un manieur de Stand et il peut décomposer la chair avec son Stand Brain Storm.
Il est aussi un médecin à l'Hôpital Universitaire TG spécialisé dans les maladies gastrointestinales et il semble avoir supervisé le groupe de Tamaki Damo.[1]
Apparence
Urban Guerrilla est un Homme-rocher d'allure plutôt athlétique masqué. Il porte un haut moulant qui lui laisse les avant-bras à découvert, avec un pantalon moulant avec des stries sur les cuisses et des genouillères métalliques. Il porte un masque particulier équipé de lunettes sombres rondes décorés avec des simili-cils en métal, avec un petit essuie-glace au milieu du front. Urban porte une sorte de mors aux dents avec deux branches décorées avec une sphères au bout.
Lorsqu'on découvre son identité publique, on voit qu'il a une apparence tout à fait humaine avec des cheveux court en brosse, un visage aux traits ingrats à cause de ses yeux plissés et sa bouche laissant ses dents à découvert. Il porte là aussi des lunettes.
Urban Guerrilla semble devoir tout le temps montrer ses dents.
Palettes
Les palettes changent souvent entre les médias. L'information ci-dessous ne devrait pas être considérée comme canonique.
Tenue
(Masque violet à lunettes jaunes avec des verre bleus. Tenue grise, genouillères et chaussures noires.)
Personnalité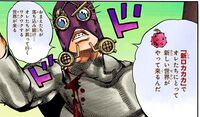 Urban Guerrilla est un homme-rocher avec un comportement vaguement animal, sachant qu'il grogne comme une bête quand il parle.[5] Lorsqu'il s'attaque à plusieurs ennemis, il fait preuve d'une certaine méthode, faisant alors une "liste" d'ennemis à assassiner dans l'ordre en fonction de leur dangerosité.[6] Urban Guerrilla devient très violent et menaçant quand il est frustré. Par exemple, lorsque Rai Mamezuku le blesse, Urban menace de prendre son temps à démembrer et à mutiler Rai pour se venger.[5] Malgré sa brutalité, Urban Guerrilla est un tueur efficace, méthodique et plutôt intelligent. Avant d'attaquer, il préfère observer ses ennemis et essaie de prendre des précautions avant de passer à l'attaque.[7]
Urban Guerrilla méprise les humains. Il déclare qu'un jour les hommes-rocher vont pouvoir dominer l'humanité, et prévoit d'accomplir ce plan avec le Locacaca.[8] Malgré son racisme envers les humains, Urban Guerrilla a tout de même l'ouverture d'esprit pour admirer Josuke Higashikata en tant que "merveille biologique", probablement admirant plutôt le fait que Josuke est une fusion entre deux humain, Josefumi Kujo et Yoshikage Kira.[9]
Comme Urban Guerrilla travaille à l'Hôpital Universitaire TG en tant que médecin spécialisé dans les maladies gastrointestinales, on peut supposer qu'il était assez brillant pour exercer sa profession ou même obtenir sa licence de médecine.[10]
Pouvoirs
Main article: Brain Storm
Brain Stom est un essaim de petit Stands aux formes géométriques quasi-cubiques qui ressemblent à des puzzles de burr. Urban les envoit depuis ses mains. Lorsque Brain Storm entre en contact avec un organisme, il décompose l'organisme rapidement, créant des trous béants dans la victime jusqu'à ce qu'elle disparaisse.
Brain Storm
(
ブレイン・ストーム
)


Histoire
Passé
Urban Guerrilla est un Homme-rocher qui travaille pour l'Organisation Locacaca. De plus, il travaille en tant que docteur spécialisé en maladies gastrointestinales à l'Hôpital Universitaire TG sous l'identite de "Ryo Shimosato, âgé de 38 ans".
JoJolion (2011)
Urban Guerrilla se lance à la poursuite de Rai Mamezuku logé dans son animal de compagnie Doremifasolati Do, lequel peut se déplacer sous terre aisément. Ils poursuivent alors Mamezuku, qui les détecte et s'empresse de rejoindre Josuke Higashikata et Yasuho Hirose. Le duo continue sa poursuite alors que les trois héros se réfugie sur la résidence d'été de Mamezuku, un télésiège à flanc de montagne. Urban Guerrilla et Doremifasolati Do sont freinés par l'asphalt du parking au bas de la montagne, ce qui permet à Josuke et ses compagnons de parler. Au bas de la montagne, Urban tue deux policiers qui sont arrivés sur les lieux en utilisant son Stand Brain Storm.
Urban Guerrilla et Doremifasolati Do parviennent enfin à gravir la montagne avec un arbre et atteignent les trois héros. Urban relâche son Brain Storm depuis le sous-sol. Brain Storm voyage alors sur l'arbre et atteint la main de Rai avant de la décomposer. Josuke protège Yasuho, mais Rai va ensuite la pousser hors du télésiège. Yasuho essaie alors de courir vers le sixième pilier du télésiège tandis que Urban et Doremi refont surface, la prenant par surprise. Urban prend Yasuho par le coup et envoie Brain Storm sur elle. Cependant, Mamezuku utilise son Stand Doggy Style pour déployer son bras et poignarder Urban Guerrilla à l'épaule avec un couteau. Criant de douleur, Urban relâche Yasuho.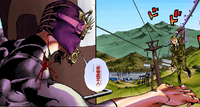 Exaspéré par la résistance de ses cibles, Urban Guerrilla se met à crier et menace Mamezuku qu'il le mutilera une fois qu'il mettra les mains sur lui. Il décide d'attaquer Mamezuku en premier en se disant que Mamezuku semble être le manieur le plus problématique. Alors qu'il monologue, Mamezuku essaie encore de poignarder Urban de loin et ce dernier se cache dans le corps de Doremifasolati Do pour se protéger. Néanmoins, Mamezuku manoeuvre son bras et parvient à encore poignarder Urban alors que l'homme-rocher replonge sous terre.
Pendant que Doremifasolati Do poursuit Josuke et Yasuho au sol, Urban Guerrilla va discrètement se séparer de Doremi et grimpe sur le télésiège, se postant pour tendre une embuscade à Rai. Urban apparait alors derrière l'un des piliers du télésiège alors que Mamezuku se balançait sur les câbles pour rejoindre le pilier en question. Urban se met encore à monologuer, déclarant que Rai est le premier sur sa liste. Il envoie ensuite Brain Storm qui file le long du câble pour rejoindre et attaque le corps de Mamezuku. En même temps, Urban Guerrilla explique ques les Hommes-rocher connaissent le Locacaca depuis des lustres et que le fruit leur survira non pas à gagner de l'argent ou à gagner en longévité, mais pour faire évoluer les Hommes-rocher. Mamezuku se redéploie en bande et se créé une sorte d'arbalète de fortune avec laquelle il tire une fourchette droit dans les lunettes d'Urban.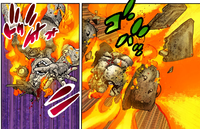 Urban Guerrilla maudit Mamezuku alors que ce dernier tire une deuxième fourchette. Cependant, Urban se cache derrière le pilier et la fourchette ne fait que percer la paroi du pilier. Brain Storm endommage tellement Rai que ce dernier finit criblé de trous et tombe au sol. Urban tourne alors son attention vers Josuke. Josuke vient juste de sauter de son refuge et court vers Urban pour l'attaquer. Urban plonge alors vers le sol, le ramollisant avec Brain Storm, puis se réfugie dans le corps de Doremifasolati Do. Josuke se retrouve coincé dans le sol ramolli et puis Doremifasolati Do surgit ensuite pour écraser Josuke sous lui. Guerrilla en profite pour voir Josuke et près et admire le fait que Josuke soit une fusion entre Josefumi Kujo et Yoshikage Kira. Il félicite le défunt Kira pour avoir cultivé une variété miraculeuse du Locacaca et se moque aussi de Tamaki Damo pour ne faire que vendre le Locacaca pour accumuler de l'argent. Josuke l'ignore cependant, et le choque en devinant qu'Urban doit exercer la fonction de médecin. Guerrilla tente d'en finir avec Josuke, mais il remarque les bandes de Mamezuku près de lui, enduites d'essence. Mamezuku se plie, libérant l'essence dans le trou ou Josuke se trouve.
Urban Guerrilla réalise que Josuke a un plan et ordonne à Doremifasolati Do de plonger plus profond plus vite. Cependant, Josuke parvient à injecter de l'essence dans Doremi en le transportant avec ses bulles de savon, couvrant Urban d'essence par la même occasion. Josuke transporte ensuite une flamme du briquet de Rai Mamezuku dans Doremi, ce qui met le feu à l'essence et créé une explosion à l'intérieur. Doremifasolati Do et Urban Guerrilla meurent sur le coup.
Chapitres

Apparition dans le Manga
Chapitres (ordre chronologique)
Citations

Citations
"

You bastard...! You sure like to talk, don'cha... maybe I'll leave just your mouth and eyes intact... after I take my time ripping off both arms and legs, you goddamn plant appraiser... that's what I'm gonna do to your body! Hugoaah!

"

"

I think I'll start with you, plant appraiser! You'll be my first victim!

"

"

It's gonna be a pretty shitty world up ahead. For all of you! On the other hand, for us, it's gonna be a lot of fun! That new Locacaca! To you, those fruits might mean some nice hopeful things like healing diseases, or long life or earning money. And all that's true, but the Locacaca is something we've known about since waaaay back. It's a plant we've been finding and cultivating since a reaaaaal long time ago. In other words, that plant exists for us. The equivalent exchange exists for us. I ain't gonna explain the whole thing, but humans and Locacaca don't have very good compatibility. It's got somethin' ta do with the carbon and stuff in your body's cells and its differences with the qualities of silicon-compound organisms. The illness the eldest sons of the Higashikata Family may be able to be cured with the Locacaca, but we can become even happier. While you guys are in a daze over making money and health, the new Locacaca will bring a whole new world to us! An exciting world where you guys constantly sinkdownward... and we rise to the top will come!

"

"

I could sew up and heal a skimpy injury like this myself!! But I'm gonna kill you! I'll rip off your arms and legs, get you three quarters of the way to death, and drag you off with me!

"

"

Living organisms exist above rocks and soil. But once you meet your death, you exist below them. You people... when you got careless, you ended up being forever below the rocks... the Rock Humans, that is! Come get me!

"

"

I'm a rock, human... I'm above all of you...

"
Galerie d'Images
Détails
Les kanji pour l'alias d'Urban Guerrilla, "Ryo Shimosato", peuvent se lire gerira (

下里良

, "guerrilla").
Références
↑ 1.0 1.1 1.2 JJL Chapter 83: The New Locacaca
↑

basé sur l'âge

↑ JJL Chapter 46: Love Love Deluxe, Part 4
↑ JJL Chapter 70: Urban Guerrilla and Doremifasolati Do, Part 3
↑ 5.0 5.1 JJL Chapter 68: Urban Guerrilla and Doremifasolati Do, Part 1, p.7
↑ JJL Chapter 68: Urban Guerrilla and Doremifasolati Do, Part 1, p.42
↑ JJL Chapter 68: Urban Guerrilla and Doremifasolati Do, Part 1, p.8-9
↑ JJL Chapter 69: Urban Guerrilla and Doremifasolati Do, Part 2, p.8-9, p.26
↑ JJL Chapter 70: Urban Guerrilla and Doremifasolati Do, Part 3, p.8
↑ JJL Chapter 83: The New Locacaca, p.5