JoJo's Pitter-Patter Pop! ★ Rubber Soul
Jump to navigation
Jump to search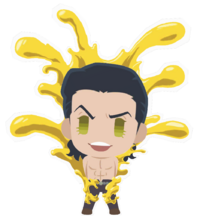 Rubber Soul (ラバーソール, Rabā Sōru) is a playable character in JoJo's Pitter-Patter Pop! with one Gold Rarity (GR) unit.
He was added to Pitter-Patter Pop! on December 11, 2020 in the "Yellow Temperance" event. Rubber Soul also has an unplayable boss variant where he is disguised as Noriaki Kakyoin.

Power-Absorbing Armor

Rubber Soul

Power-Absorbing Armor ver.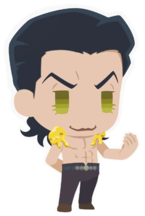 Rarity:

Max Power: 1797
(Lvl 50)
/ 3087
(Lvl 80)
Release Date: December 11, 2020
Favorite Gift and Voiced Gift Reactions:

Skill:
Yellow Temperance

Erases the center area and replaces random panels into Rubber Soul panels. The number of replaced panels increases by twice the number of Block panels and partner panels erased. The maximum number of changed panels depends on Skill Level.




































Skill Lv 1
# of Replaced Panels:
10
Cooldown:
85




































Skill Lv 2
# of Replaced Panels:
14
Cooldown:
85




































Skill Lv 3
# of Replaced Panels:
14
Cooldown:
80




































Skill Lv 4
# of Replaced Panels:
18
Cooldown:
80




































Skill Lv 5
# of Replaced Panels:
18
Cooldown:
70
Boss