Bakin
Jump to navigation
Jump to search
"
Gentil chien, gentil chien. Tu es le seul qui soit de mon côté, Bakin.
"
Bakin (バキン) est un personnage tertiaire de la sérié Thus Spoke Kishibe Rohan. C'est un chiot que Rohan Kishibe a adopté et qui lui sert essentiellement d'animal de compagnie dans Hot Summer Martha et Le Dripping.
Apparence
Bakin est un petit chiot de race ressemblant à un Labrador Retriever. Il a un visage plutôt triste et porte un collier avec son nom dessus.
A l'âge de sept mois, il a bien grandi et est devenu un grand chien qui semble obèse. Lorsqu'on le voit maltraité par le Yabubako-Hoshi, il semble avoir des yeux laiteux.
Dans le drama, Bakin est interprété par un Golden Retriever.
Personnalité
En tant que chiot, Bakin semble être plutôt silencieux et tend à observer son environnement que jouer. A l'âge de trois mois, il commence à perdre ses dents de lait et commence à mâchouiller n'importe quoi.
A l'âge de sept mois après avoir été maltraité par le Yabubako-Hoshi, Bakin devient un chien méchant et aggressif. Il tue notamment le crocodile de compagnie d'Eve et attaque presque Rohan, mais tremble de peur à la vue de sa laisse, probablement parce que le Yabubako-Hoshi l'a maltraité avec.

Lorsque Rohan annule les méfaits du Yabubako-Hoshi, Bakin devient un gentil chien placide qui est content qu'on le caresse.
Histoire
Passé
Bakin serait né vers juin 2021[2] before Rohan starts raising him. The news of Rohan getting Bakin spread around in either a magazine article or on the internet.[3]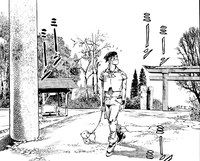 Le 7 juillet, Bakin regarde la pluie au loin tomber sur la colline des Six Murs, étant dans les bras de Rohan. Plus tard, Rohan veut le nourrir et fait tomber accidentellement le pot contenant son repas au sol. Bakin essaie de manger mais Rohan le stoppe à cause des bris de verre au sol. Rohan lui trouve autre chose à manger alors que Rohan le caresse.
Plus tard, Rohan et Bakin se promènent ensemble et atteignent par hasard un temple : le temple des Six Murs. Rohan a Bakin dans les bras alors que le mangaka s'introduit dans un trou dans un arbre. Bakin est aussi remplacé pendant trois mois. Pendant ce temps, son double s'amuse à mâchouiller tout ce qu'il trouve, dont ses jouets, alors qu'il perd ses dents de lait. Quand le Yabubako-Hoshi revient à l'arbre le 7 octobre, Bakin revient dans le monde normal avec Rohan.
Quand Rohan part essayer d'annuler les actions du Yabubako-Hoshi, il laisse Bakin à la maison. Pendant trois mois, c'est le Yabubako-Hoshi qui lui sert de propriétaire et qui le maltraite. Bakin en devient un chien méchant qui a néanmoins peur des punitions de son maître. Il tue notamment le crocodile de compagnie d'Eve. Il manque d'attaquer Rohan aussi jusqu'au moment où Rohan montre sa laisse au chien, le faisant battre en retraite et trembler de peur.
Après que Rohan parviennent à annuler les actions du Yabubako-Hoshi, Bakin devient un gentil chien. Il est content quand Kyoka vient lui caresser le menton.[4]
Un eco-terroriste mentionne à Rohan qu'il a entendu parler de son chien. Il mentionne Bakin en disant que le chien vivra jusqu'à 15 ou 20 ans et qu'ils auront des souvenirs douloureux à cause du réchauffement de la Terre. Si l'environnement de la Terre est dévasté, dit le terroriste, alors Bakin ne pourrait pas vivre une vie heureuse.
Plus tard, après que Rohan arrête l'éco-terroriste et l'empêche de faire exploser une centrale énergétique de Morioh, on voit Bakin qui se tient dans un coin alors que Rohan pleure en travaillant sur Pink Dark Boy. Kyoka caresse Bakin en partant.
Chapitres/Episodes

Apparition dans le Manga
Chapitres (ordre chronologique)

Apparitions en Live Action
Episodes (ordre chronologique)
Galerie d'images
Références