Risotto Nero
Jump to navigation
Jump to search
Risotto Nero (リゾット・ネエロ, Rizotto Nēro) est un antagoniste majeur de la cinquième partie de JoJo's Bizarre Adventure, Vento Aureo, apparaissant surtout dans l'arc narratif "King Crimson vs. Metallica".
Risotto Nero est le chef de La Squadra Esecuzioni. Reniant sa loyauté au Boss, lui et son équipe d'assassins poursuivent alors Trish, la fille du Boss, dans l'espoir de la capturer et de soutirer des informations sur le Boss. Il devient le dernier survivant de l'équipe et combat Vinegar Doppio en Sardaigne alors qu'il traquait la Team Buccellati.
Risotto est un manieur de Stand et son Metallica lui donne un pouvoir de magnétisme.
Apparence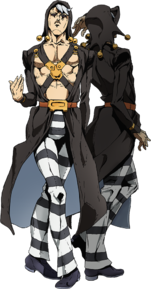 Risotto Nero est un homme adulte italien de 28 ans. Il est plutôt grand et musclé. Il a des cheveux clairs courts. Sa caractéristique physique principale sont ses yeux noirs avec des iris clairs.
Risotto porte un manteau sombre laissant son torse à découvert, qui n'a pas de fermetures comme des boutons ou une fermeture à glissière mais rattaché tout de même par des sangles qui croisent diagonalement son torse en formant un X, avec une boucle métallique au milieu. Il porte un pantalon rayé noir et blanc horizontalement, et des chaussures noires.
Nero porte une capuche noire qui lui couvre la tête, avec des petites boules pendantes autour de sa tête qui épellent son nom. Cette capuche lui cache presque tout le crâne, mais deux petites mèches ressortent au niveau du front.
Dans une photo de lui, il portait du rouge à lèvres noir.
Palettes
Les palettes changent souvent entre les médias. L'information ci-dessous ne devrait pas être considérée comme canonique.
Yeux
(Yeux noirs, iris rouges)
Tenue
(Tenue noire, accessoires dorés, pantalon rayé noir et blanc, chaussures violettes.)
Yeux
(Yeux noirs, iris blancs)
Tenue
(Tenue noire, accessoires blancs et or, pantalon rayé noir et blanc)
Yeux
(Yeux noirs, iris rouges)
Tenue
(Tenue noire, accessoires dorés, pantalon rayé noir et blanc, chaussures bleues-gris.)
Personnalité
"
J'ai hâte! J'ai hâte de voir le regard sur ton visage alors que tu meurs! C'est ma victoire ! J'enverrai ta tête voler!
"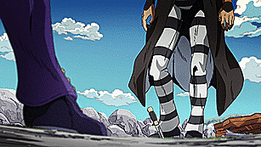 Risotto Nero est un assassin endurci, assez sérieux et méthodique, ce qui sied à son statut de chef de La Squadra Esecuzioni. Lorsqu'il voit Vinegar Doppio, se montre prudent car il suspecte avec raison que Doppio pourrait être un subordonné du Boss. Il se montre attentif aux faits et gestes de Doppio, et même durant leurs combat passe du temps à analyser ses actions pour en tirer des informations sur ses capacités. Par exemple, il a remarqué que durant un bref instant, Doppio avait observé Aerosmith qui passait au loin et en a facilement déduit qu'il avait affaire à un manieur de Stand.
Ensuite, Risotto montre ses capacités tactiques. Il est plutôt méthodique et tend à garder son calme même durant des moments difficiles. Après avoir analysé les capacités de Doppio, Risotto sait exploiter ses faiblesses, l'environnement mais aussi sait improviser et tourner un désavantage en avantage, par exemple en utilisant son pied sectionné comme appât. Même lorsqu'il est mortellement blessé, il est assez déterminé et calme pour improviser une dernière tentative de tuer le Boss.
Malgré son attitude généralement calme, Risotto est capable de poussées soudaine de colère, criant sur Doppio quand il met trop de temps à lui obéir. Risotto se laisse aussi emporter par son enthousiasme quand il tue presque le Boss.
Risotto Nero semble tenir à ses hommes. Il jure notamment de les venger et de tuer la Team Buccellati durant sa première apparition. Dans l'adaptation animée, plusieurs scène originale montrent qu'il calme ses subordonnés quand ils se disputent. Il est aussi le premier à remarquer et à s'inquiéter de l'absence de Sorbet et Gelato, connaissant la personnalité de Sorbet et disant qu'il n'aurait pas manqué d'encaisser sa paye. On le voit rester aussi le plus longtemps à se recueillir durant leurs funérailles.
En tant que gangster et assassin, Risotto est bien sûr un individu violent. Lorsqu'il combat Doppio, on voit que son style de combat est particulièrement brutal et fait pour garantir de tuer sa cible. Il est capable de notamment créer des lames de rasoir dans la gorge de sa cible et ne réfléchit pas à deux fois sur le fait de tuer un ennemi. Dans l'anime, on le voit aussi torturer un homme pour le forcer à l'aider. Il empale la main de l'homme avec des clous et lui crève un oeil.
Pouvoirs et compétences
Main article: Metallica
Le Stand de Risotto Nero, Metallica, est un essaim de petits vers qui parasitent son corps. Il lui permettent d'avoir un pouvoir de magnétisme, avec un niveau de subtilité assez marqué mais une portée de 10 mètres environs.
Metallica
(
メタリカ
)


Compétences Personnelles
Intelligence Tactique : Risotto est un tacticien doué, montrant une maîtrise des combats de Stand rarement observés dans la série. Risotto a pu trouver plusieurs applications pour son Stand Metallica, ainsi que déduire des informations critiques juste en observant attentivement son adversaires telles que le fait que Doppio soit secrètement un manieur de Stand. Au combat, Risotto garde un œil sur les capacités et les mouvements de l'ennemi, en déduisant ses prochains mouvements avec précision et en les faisant travailler contre eux. Son approche méthodique des assassinats et sa tendance à tuer rapidement ses cibles avant qu'elles ne puissent agir ont failli tuer Doppio plusieurs fois malgré sa capacité à prédire l'avenir.
Histoire
Passé
Risotto Nero est né en Sicile en 1974. Quand Risotto a eu ans, son cousin a été tué dans un accident de voiture, roulé dessus alors que le conducteur était ivre. Bien que le conducteur ait été puni par la loi, Risotto ne pouvait pas pardonner cet homme. Quatre ans plus tard, à l'âge de 18 ans. A partir de ce moment là, Risotto commença à intégrer le monde du crime. Il obtint un Stand à l'âge de 21 ans et rejoigna la Squadra Esecuzioni, une équipe spécialisée d'assassins dans les rangs du gang Passione. L'équipe de Risotto assassinait des politiciens, des gangsters américains, quiconque pouvait poser une menace à l'organisation. Durant cette période, Risotto Nero a toujours complété ses missions d'assassinat.[1] Risotto parvint aussi à conserver le secret de son pouvoir, même du Boss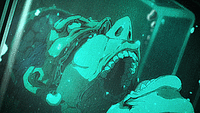 Risotto et ses hommes se lassaient alors de leur position dans le gang, car le Boss ne leur faisait pas confiance et donc leur interdisait de contrôler un territoire comme d'autres équipes du gangs. De fait, il ne les payait que pour chaque assassinats. C'est dans ces circonstances difficiles que deux des subordonnés de Risotto, Sorbet et Gelato, essayèrent d'enquêter sur l'identité du Boss. Ils disparurent et l'équipe se mit à leur recherche. Ils trouvèrent donc le corps de Gelato, étouffé par son baillon, mais le Boss leur livra alors plusieurs paquets : c'était le corps découpé de Sorbet enfermé dans des plaques de verre dans du formaldéhyde. Cette exécution théâtrale montra à quel point le Boss était puissant et impitoyable et l'équipe désespérait de pouvoir le vaincre un jour.
Cependant, quelques mois avant le début de la partie 5, une certaine Donatella Una commença à rechercher un certain "Solido Naso", un des faux noms que le Boss utilisait. On réalisa alors que la fille de Donatella, Trish Una, était probablement la fille du Boss. Pensant qu'on pourrait lui soutirer des informations sur les capacités du Boss et son identité, La Squadra Esecuzioni se mit à poursuivre Trish. Ils fouillèrent aussi l'appartement de Donatella pour chercher des indices, mais manquèrent une photo de Donatella que le Boss lui-même avait pris il y a 15 ans.
Vento Aureo
Risotto Nero est introduit comme le leader de l'équipe d'assassins devenu des traîtres, La Squadra Esecuzioni. Deux jours avant que Trish ne rencontre Blono Buccellati et son équipe, Risotto et ses subordonnés fouillent l'appartement de Trish et Donatella Una sans succès.
Dans l'adaptation animée de Golden Wind, plusieurs scènes originales montrent que Risotto Nero travaille pour traquer la Team Buccellati. Premièrement, il retrouve le corps de Pericolo à la gare de Naples et prend une photo de débris en cendres près du vieil homme. On le voit ensuite forcer un analyste du gang à reconstituer la photo. L'analyste proteste et prend trop de temps, alors Risotto Nero lui crève l'oeil avec son pouvoir pour le forcer à travailler. Grâce à la photo reconstituée, il peut guider Ghiaccio vers Venise et celui-ci est capable d'intercepter Giorno et Mista, bien qu'il soit tué plus tard.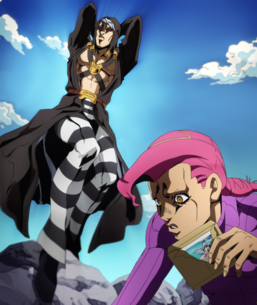 Risotto Nero parvient à traquer la team Buccellati car il entend parler d'un crash d'avion suspect près des côtes Sardes. Il se souvient de la photo de Donatella Una prise en Sardaigne et devine donc que Trish doit être en train de mener les héros vers un endroit important. Risotto se rend donc sur l'île. Alors perché au-dessus de la Costa Smeralda sur flanc de falaise, Risotto voit un jeune homme arriver pour surveiller la côte. Il confronte le garçon etlui ordonne de lui montrer ce qu'il y a dans une enveloppe qu'il trouve suspecte. Le garçon, Vinegar Doppio, est en fait le second du Boss et sa personnalité alternative. Doppio proteste qu'il n'y a pas d'argent mais Risotto lui ordonne de lever le pied pour révéler ce qu'il y a dans l'enveloppe. Doppio parvient à cacher la photo de Donatella sous sa semelle.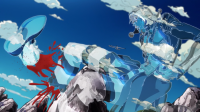 Doppio cache bien son jeu, si bien que Risotto voit que la peur et la couardise de Doppio sont réelles et commence à se dire qu'il n'est pas une menace. Cependant, c'est alors que Aerosmith passe au loin, signalant la venue de la Team Buccellati en contrebas, sur la plage. Risotto remarque alors que Doppio a regardé Aerosmith et comprend alors qu'il est un manieur de Stand au service de Passione. Doppio menace Risotto, mais ce dernier utilise son pouvoir pour créer des lames de rasoirs dans sa bouche, forçant Doppio à les recracher. De plus, lorsque Doppio court pour attaquer Risotto de près, Risotto devine que le Stand de Doppio doit être de courte portée. Il créé des aiguilles dans sa bouche pour le déconcentrer et, avec cette information en tête, Risotto disparaît en se jetant d'un rocher et Doppio perd sa trace. Quelques instants plus tard, Doppio parvient à attaquer près de lui mais manque son coup. Risotto note cependant que Doppio a réussi à vaguement le localiser. Risotto crée une paire de ciseaux dans la gorge de Doppio pour trancher sa gorge, mais Doppio l'enlève rapidement. Risotto est étonné qu'il ait pu réagir si rapidement, et disparaît à nouveau. Mais alors, Doppio comprend le pouvoir de Risotto et le localise dès qu'il attaque. Il lance avec le bras de King Crimson les ciseaux sur les jambes de Risotto et lui coupe le pied. Doppio a découvert le pouvoir de magnétisme de Risotto et l'a exploité à son avantage. Voyant que son ennemi est plus coriace qu'il ne le croyait, Risotto se réattache son pied et disparaît encore.
Risotto décide de laisser son pied comme appât pendant qu'il est invisible. Il crée des scalpels depuis le fer dans la roche et les lance sur Doppio pour le harceler, et explique alors son pouvoir et comment Doppio va bientôt mourir car il a extrait le fer de son corps. Ainsi, le sang de Doppio se jaunit, et devient incapable d'absorber l'oxygène. Doppio s'épuise et est immobilisé. En même temps Risotto commence à comprendre pourquoi Doppio est si étrange et réalise peu à peu que Doppio n'est qu'une façade pour le Boss. Doppio est leurré par le pied magnétisé de Risotto et envoie des scalpels au loin. Il crée un rasoir dans le crâne de Doppio pour lui couper la tête. Sûre de sa victoire, Risotto s'enthousiaste et est près à tuer Doppio pour de bon.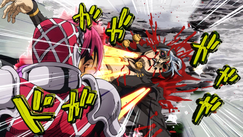 Soudainement, Aerosmith vient et tire sur Risotto. Alors que le Boss émerge, Risotto comprend que ce dernier avait en fait lancé les scalpels sur le groupe de Buccellati pour attirer leur attention et que le Boss a exploité son asphyxiation pour se cacher du radar à CO2 d'Aerosmith. Risotto s'affale au sol. Le Boss le complimente mais le somme de lui rendre son fer. Risotto se saisit du Boss et manifeste Metallica sur Aerosmith. Narancia tire encore sur Risotto, qui espère que les balles tueront le Boss avec lui. Cependant, King Crimson efface le temps pendant 0,5 secondes et les balles passent à travers lui. Risotto, lui, est abattu et meurt pour de bon.
Chapitres/Episodes

Apparition dans le Manga
Chapitres (ordre chronologique)

Apparitions dans l'Anime
Episodes (ordre chronologique)
Citations

Citations
"

Intriguing. I'm curious to know who you are. But, I don't have time to waste. If you're a Stand user, I'll need you to die.

"

"

A close-ranged, power type. That's the sort of ability you have... As long as I know your range is 2 to 3 meters, then this assassination... is complete.

"

"

Am I even closer than I thought... to what I must seek? I wish to know what you are. I wish to see your true form... I must discover that as I take your life!

"

"

Even if you know the truth behind my Stand, Metallica,... it is too late. Because at this point, I am already done with you!

"

"

No matter how heavily someone breathes after massive amounts of iron have been stolen from their body... no oxygen will be absorbed into it! Your body becomes a corpse before you have even died.

"
Jeux Vidéo
Risotto Nero apparaît dans le jeu GioGio's Bizarre Adventure durant une cinématique du mode Super Story. Buccellati et Narancia découvrent son corps en Sardaigne. Le modèle 3D de Risotto Nero est visible dans le mode galerie et il apparaît dans un drama audio de la bande son du jeu.
Risotto Nero n'apparaît pas dans le jeux. Cependant, Metallica apparaît durant les écrans de chargement.
Tout comme dans All-Star Battle, le Metallica de Risotto apparaît dans les écrans de chargement. Risotto Nero apparaît comme un personnage non-jouable de support, son comédien de doublage est Takaya Kuroda.

Risotto

Blades Born from Iron ver.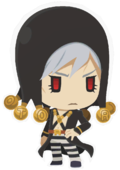 Rarity:


Max Power: 1738
Favorite Gift and Voiced Gift Reactions:

Skill:
Metallica

Enhances all of the Partner panels. Replaces all panels, except Block panels, with Partner panels. Replaces more panels the less Risotto panels there are (Up to 8 at SL1)

Skill Lv 1
# of Replaced Panels:
8
Cooldown:
80

Skill Lv 2
# of Replaced Panels:
11
Cooldown:
80

Skill Lv 3
# of Replaced Panels:
13
Cooldown:
75

Skill Lv 4
# of Replaced Panels:
16
Cooldown:
75

Skill Lv 5
# of Replaced Panels:
18
Cooldown:
70

Risotto

Resolve to Learn Emperor's Secret ver.

Rarity:



Max Power: 1797
Favorite Gift and Voiced Gift Reactions:

Skill:
You're Already Finished


Replaces random panels, except for block panels, with Intensified Risotto panels. Panels that were replaced by the last skill use will also be replaced by Intensified Risotto Panels. The Boost Lv is raised when using the skill, increasing the number of replaced panels (Up to Boost Lv 5). The replaced panels will follow the same pattern onwards when the skill is used again.

Skill Lv 1
# of Replaced Panels:
2
Cooldown:
80

Skill Lv 2
# of Replaced Panels:
3
Cooldown:
80

Skill Lv 3
# of Replaced Panels:
3
Cooldown:
75

Skill Lv 4
# of Replaced Panels:
5
Cooldown:
75

Skill Lv 5
# of Replaced Panels:
5
Cooldown:
70

Boost Lv 1
Replaces base panels
(SL1: 2, SL2: 3, SL3: 3, SL4: 5, SL5: 5)

Boost Lv 2
+2 panels at Skill Lv 1, +3 at SL2-3, +5 at SL4-5
(SL1: 4, SL2: 6, SL3: 6, SL4: 10, SL5: 10)

Boost Lv 3
+4 panels at SL1, +6 at SL2-3, +10 at SL4-5
(SL1: 6, SL2: 9, SL3: 9, SL4: 15, SL5: 15)

Boost Lv 4
+6 panels at SL1, +9 at SL2-SL3, +15 at SL4-SL5
(SL1: 8, SL2: 12, SL3: 12, SL4: 20, SL5: 20)

Boost Lv 5
+8 panels at SL1, +12 at SL2-3, +20 at SL4-5
(SL1: 10, SL2: 15, SL3: 15, SL4: 25, SL5: 25)
Galerie d'Images
Références
↑ Golden Wind Model Sheet no CR200-00
Note: This model sheet visually depicts Risotto as 195cm despite the text saying 185cm, as it was based on prototype models before the anime began. This was corrected in Model Sheet no CR200-26