Sale
Jump to navigation
Jump to search
"
Bref, maintenant, je peux tranquillement m'approcher pour t'éclater la gueule, hein ?
"
Sale (サーレー , Sārē) est un antagoniste secondaire de la cinquième partie de JoJo's Bizarre Adventure, Vento Aureo, apparaissant surtout dans l'arc "Les Sex Pistols entrent en scène".
Sale est un gangster membre de Passione et le partenaire de Mario Zucchero. Après la mort de Polpo, celui-ci pourchasse son trésor et combat Guido Mista. Sale est un manieur de Stand et son Kraft Work peut figer les choses sur place.
Apparence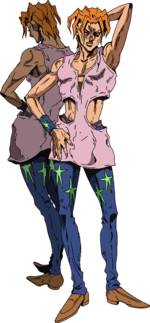 Sale est un jeune homme plutôt maigre. Il a des cheveux mi-longs coiffés en mèches fines. Ces mèches partent horizontalement depuis la tête de Sale avant de retomber.
Sale porte une sorte de long débardeur avec un décolleté en V exagéré qui lui descend jusqu'au nombril, plus deux trous béants au niveau des hanches. Son débardeur, son pantalon et ses poignets sont décorés avec un motif d'étoiles.
Dans le manga couleur, le débardeur de Sale est blanc avec des poignets et un panlaton vert, tous décorés d'étoiles de couleur jaune. Dans l'anime, son débardeur est rose clair, avec des poignets et pantalon bleu foncés, décorés d'étoiles vertes. Dans le jeu vidéo "GioGio's Bizarre Adventure", le débardeur de Sale est blanc comme dans le manga mais ses poignet et pantalon sont noirs avec des étoiles bleues néon.
Palettes
Les palettes changent souvent entre les médias. L'information ci-dessous ne devrait pas être considérée comme canonique.
Tenue
(Haut blanc, poignet et pantalon verts foncé avec des étoiles jaunes, chaussures brunes)
Tenue
(Haut blanc, pantalon/poignets magenta avec des étoiles bleues)
Tenue
(Haut rose, pantalon/poignets bleus avec étoiles vertes, chaussures brunes)
Personnalité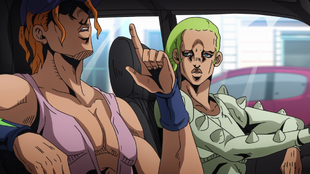 Comparé à Zucchero, Sale est un individu plus réfléchi, prudent, méthodique et ambitieux. A l'instar de son partenaire Zucchero, lorsque Sale voit l'opportunité de s'emparer de douze milliards de lires en bijoux, il préfère penser au fait que cet argent lui voudra une place de capo au sein de Passione alors que Zucchero pense surtout à dépenser sa part.[1] Etant très opportuniste, Sale va immédiatement agir pour chasser le trésor de Polpo le jour même où il entend parler de sa mort et va concurrencer l'équipe de Buccellati dans la course au trésor, étant même assez confiant pour vouloir s'attaquer à eux six.
Sale est assez intelligent et rusé. Lorsqu'il entend parler de la mort de Polpo, il réfléchit et déduit que Buccellati devrait être celui qui avait caché le trésor de Polpo et a prévu que Buccellati allait chercher le trésor.[2] Sale est aussi de nature très prudente. Bien que Zucchero lui ait annoncé à la radio qu'il avait pratiquement vaincu Buccellati et ses hommes, Sale a préféré rester caché à Capri, prenant même la précaution d'essayer de contacter Zucchero discrètement alors que Giorno et Misa essayaient de le pousser à se révéler.[3] Sale a aussi acquis une bonne maîtrise de son Stand Kraft Work. Non seulement il utilise pleinement les usages les plus évidents de son Stand comme bloquer des ennemis ou se protéger des projectiles,[4] Sale a exploité sa capacité pour figer des pierres en plein air et s'en servir comme plateformes[5] et a pensé à un moyen d'attaquer à distance en figeant un projectile et en accumulant de l'énergie cinétique dedans par le biais de tapotement répétés.[6]
Lorsqu'il combat Guido Mista, Sale va cependant expliquer les pouvoirs de son Stand et clâmer sa supériorité.[7] Il montre alors beaucoup d'arrogance au combat.
Pouvoir et Compétences
Main article: Kraft Work
Kraft Work est un Stand humanoïde à courte portée. Il est assez rapide et puissant, et il a le pouvoir de figer des objets qu'il touche sur place.
Kraft Work
(
クラフト・ワーク
)


Pouvoir(s)
Manipulation de l'énergie cinétique
Histoire
Vento Aureo
Sale est un gangster membre de Passione. Lui et son partenaire Mario Zucchero sont tous deux des manieurs de Stand.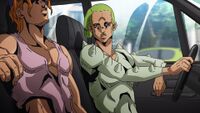 Après qu'on découvre le corps de Polpo dans sa cellule, Sale et Zucchero parlent de sa mort et des retombées de cet évènement au volant. Sale révèle alors que la rumeur dit que Polpo avait amassé une fortune en détournant de l'argent et qu'il devraient s'en saisir. De plus, dit Sale, il est probable que ce soit Blono Buccellati qui ait caché ce trésor pour Polpo et il connaitrait donc l'emplacement de ce trésor. Zucchero est alors tellement pressé de s'emparer du trésor qu'il quitte la voiture alors que c'était lui qui conduisait, ce qui surprend Sale et le force à conduire. Plus tard, Zucchero le contacte par radio. Zucchero lui dit qu'il a vaincu presque toute la Team Buccellati et qu'il ne lui reste que Buccellati à vaincre. De plus, il révèle que les héros naviguaient vers l'île de Capri. Sale rejoint alors Capri en bateau à moteur et arrive sur l'île en premier, attendant l'arrivée du voilier de Zucchero.
A la marina, Sale entends le gérant de la station de radio crier à la foule en mentionnant qu'il y a un appel urgent de "M. Zucchero". Etonné et soupçonneux, Sale entre discrètement dans la salle de radio de la marina pour contacter Sale et lui demande ce qui se passe. Ceci est en fait un piège que lui tendent Giorno Giovanna et Guido Mista. Mista erre par erreur devant la fenêtre et Sale le voit. Giorno n'a pas d'autre choix que de crier dans la radio pour alerter Mista. Sale descend les volets pour se cacher, mais Mista tire dans la salle. Deux des Sex Pistols se chargent alors de rediriger une balle dans la jambe de Sale, qui fuit et se cache sur un camion sur le point de démarrer. Mista rattrape le camion et s'accroche à la poignée sur le côté de la cabine. Devinant que le conducteur n'est pas l'ennemi, Mista lève la tête et tire sur Sale qui essaie d'attaquer depuis le toit. Sale reçoit une balle en plein front mais Kraft Work l'arrête avant qu'elle ne perce son crâne ; Sale se relève donc, insultant Mista qui est étonné qu'il ait survécu.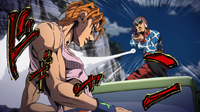 Sale réalise qu'il va devoir tuer Mista pour cacher son identité et s'avance pour l'attaquer. Mista tire trois balles, mais Sale invoque Kraft Work pour dévier les balles. Le revolver de Mista est alors vide et ce dernier réalise aussi qu'il est collé à la poignée. En effet, Sale a figé Mista et le conducteur de camion, le forçant à conduire. Sale jubile car si Mista l'attaque, cela veut dire qu'il existe bien un trésor. Il lance un coup de poing vers Mista, mais ce dernier fait tomber des balles de son bonnet, parvenant à recharger son revolver avant de tirer. Kraft Work dévie la balle qui arrive, mais il a une balle juste derrière que Sex Pistols propulsent dans le cou de Sale. Sonné, ce dernier tombe du camion. Hors de portée, Mista peut bouger librement mais Sale n'est pas encore vaincu.
Comme la route longe une falaise et se courbe, Sale peut lancer des cailloux et les figer en plein air, s'en servant comme plateformes improvisées pour rattraper le camion. Il se tient devant le camion et tapote alors une balle qu'il avait figée, puis relâche la balle qui vole droit dans le ventre de Mista. Mista tire lui aussi mais manque ses trois tirs alors que Sale saute sur le toit du camion.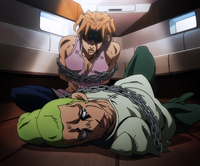 Sale prend une autre balle pour tapoter dessus et tirer sur Mista. Cependant, ce dernier reprend confiance car il lui reste une balle, au lieu de quatre. Mista annonce fièrement que sa dernière balle sera décisive. Mista tire, mais Sale a prévu qu'il viserait l'intérieur de sa bouche. Lassé, Sale ouvre grand la bouche pour recevoir la balle et montre que même à l'intérieur de son corps, il peut figer des objets. Sachant que Mista n'a plus de munitions, Sale croit en sa victoire et se prépare à propulser sa propre balle. C'est alors qu'il remarque que Sex Pistols se sont mis sur la balle, et lorsque celle-ci commencent à bouger, les petits Stands la propulse vers Sale. Ce dernier invoque Kraft Work pour dévier la balle, mais celle-ci se casse en deux au dernier moment, prenant Sale par surprise. L'une des moitiés de balle vient se loger dans le trou de balle sur son front, poussant alors la balle plus profond dans le crâne de Sale et atteignant son cerveau. Sale perd alors conscience, mais Mista remarque qu'il vit encore. Mista le fait prisonnier et l'emporte alors à Buccellati.[8]
(L'information ci-dessous n'a pas été écrite par Araki est ne devrait pas être considérée comme canonique.) 
Six mois après les évènements de "Golden Wind", Giorno est devenu le nouveau boss de Passione. Il envoie Sale et Zucchero pour attaquer l'équipe des narcotiques pour se racheter et prouver sa loyauté. Ils traquent l'ennemi jusqu'à un entrepôt à Villa San Giovanni. Il se glisse dans l'entrepôt pour essayer d'attaquer Vittorio Cataldi et Angelica Attanasio mais le Nightbird Flying d'Angelica embrouille son esprit, ce qui l'empêche de prendre des décisions rationnels. Il attaque Vittorio avec Kraft Work dans l'espoir de figer son coeur, mais le Dolly Dagger de Vittorio renvoie 70% de l'attaque vers Sale. Vittorio le fait tomber d'un coup de pied, et Sale meurt en voyant que son coeur est resté figé en l'air, sortant de son corps.
Chapitres/Épisodes

Apparition dans le Manga
Chapitres (ordre chronologique)

Apparitions dans l'Anime
Episodes (ordre chronologique)
Citations

Citations
"

You managed to hit me twice 'cause you had the element of surprise on your side. But if I go all-out with my Stand, Kraft Work, it ain't a challenge for me to swat your bullets down.

"

"

You done yet, Mista? 'cause if you are, this bullet here is all charged up!

"
Jeux Vidéo

Sale

Fixate and Release the Object ver.
Rarity:

Max Power: 1630
Favorite Gift and Voiced Gift Reactions:

Skill:
Kraft Work

Replaces random panels at the bottom with Shot panels
Shot panels erase panels above them when tapped 10 times

Skill Lv 1
# of Replaced Panels:
1
Cooldown:
85

Skill Lv 2
# of Replaced Panels:
2
Cooldown:
85

Skill Lv 3
# of Replaced Panels:
2
Cooldown:
80

Skill Lv 4
# of Replaced Panels:
3
Cooldown:
80

Skill Lv 5
# of Replaced Panels:
3
Cooldown:
75
Galerie d'Images
Références