The wiki is currently experiencing extreme amounts of traffic ever since the release of Stone Ocean.
We apologize for the downtime and slowness.
Pericolo
Jump to navigation
Jump to search
"
Je souhaite votre réussite du fond du coeur. Je remercie le Boss pour mon existence riche et bien remplie
"
Pericolo (ペリーコロ, Perīkoro) est un allié secondaire dans la cinquième partie de JoJo's Bizarre Adventure, Vento Aureo.
Pericolo est un Capo au sein du gang Passione. Il apparaît pour la première fois à Capri pour récolter le trésor valant 600 000 000 yen de Polpo des mains de Buccellati, et il donne à ce dernier le rang de capo aussi. Il assigne immédiatement à Buccellati la mission de protéger la fille du Boss, Trish Una. Pericolo est un humain ordinaire et n'a pas de Stand.
Apparence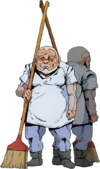 Pericolo est un vieil homme, de très petite taille, à la silhouette trapue. Il a la tête vaguement carrée avec ses cheveux courts et sa courte barbe qui entourent son visage. Il a les yeux qui louchent.
Lors de son apparition, Pericolo est déguisé en balayeur, mais porte par la suite un costume deux pièces.
Personnalité
Pericolo semble être un capo sérieux et digne de confiance. En effet, Pericolo est fidèle au Boss à tel point qu'il est prêt à se suicider pour l'aider. Dans le replay que Moody Blues fait de ses derniers instants, Pericolo remercie le Boss pour sa vie bien remplie. Pericolo est assez amical. Il semble être un bon ami de Blono Buccellati, lequel le respecte et lui témoigne de l'amitié.
Dans l'adaptation animée, son caractère amical et bienveillant est étendu. Malgré son statut de capo, Pericolo se montre humble, parlant alors à Giorno Giovanna pour lui souhaiter la bienvenue au sein du gang. Lorsque Mista et Narancia demandent s'ils peuvent toucher le trésor de Polpo, Pericolo s'en amuse et en rit d'une manière éclatante.
Histoire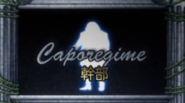 Pericolo est un membre du gang Passione. Selon ses dires, il a vécue une vie bien remplie et était fidèle au Boss. Quand Donatella Una mourut, c'est Pericolo qui alla rechercher Trish, la fille du Boss, pour la mettre en sécurité. Buccellati l'appelle pour lui donner le trésor de Polpo.
Pericolo apparaît dans "Golden Wind" à Capri, déguisé en balayeur et accompatné de Trish. Il se révèle et Buccellati lui montre alors l'emplacement du trésor de Polpo. Après une rapide vérification des bijoux, Pericolo prend le trésor et promeut officiellement Buccellati au rang de capo comme lui. Immédiatement, il lui confie alors la mission de garder Trish jusqu'à ce que le Boss puisse se débarrasser de traîtres dans les rangs de Passione, expliquant alors le lien entre Trish et le Boss.
Pericolo réapparaît plus tard dans Coco Jumbo alors que le gang se dirige vers Venise et que le Boss ordonne à Leone Abbacchio d'utiliser Moody Blues pour rejouer des évènements d'il y a quelques heures. Les héros voient alors Pericolo qui leur montre une photo de la place devant la gare de Venise et leur dit de retrouver une disquette qui contient les instructions finale du Boss. Comme les membres de la Squadra Esecuzioni sont proches, il brûle la photo et se suicide en se tirant une balle dans la tête. Cependant, les assassins parviendront à analyser les restes de la photographie et poursuivent l'équipe de Buccellati jusqu'à Venise.
Chapitres / Episodes

Apparitions Manga
Apparition dans les chapitres

Apparitions Animé
Apparitions dans les épisodes
Citations

Citations
"

Congratulations, Bucciarati! You are now a capo!

"

"

I pray for your safety. I owe the Boss for the fruitful and fulfilling life I've led. I mustn't leave any evidence. My men know nothing. They will be the ones to clean up my mess.

"
Galerie d'Images
Références