Sorbet et Gelato
Jump to navigation
Jump to search
Sorbet (ソルベ, Sorube) et Gelato (ジェラート, Jerāto) sont deux personnages posthumes de la cinquième partie de JoJo's Bizarre Adventure, Vento Aureo.
Sorbet et Gelato sont deux membres de la Squadra Esecuzioni qui moururent deux ans avant les évènements de la partie 5. Alors que l'équipe d'assassins étaient lassée qu'on ne les payait pas assez, ils ont tenté d'enquêter sur l'identité du Boss mais se sont fait prendre et exécutés d'une manière horrible, pour l'exemple. Leur mort cristallise la haine que les assassins ont pour le Boss.
Apparence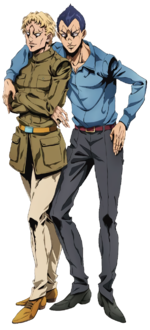 Sorbet et Gelato sont deux homme de tailles et de carrures moyennes Sorbet a un visage ovale, avec des cheveux noirs qui forment un pic unique vers l'arrière, avec un large front. Il porte une chemise à manche longue avec un large col, avec un simple pantalon et une ceinture.
Gelato a un visage plus carré et a des cheveux blonds plutôt court et en bataille. Il porte des boucles d'oreilles. Gelato porte un gilet avec des poches au torse et aux hanche. Il a aussi un pantalon simple.
Dans l'anime, Pesci dit qu'ils portent le même vernis à ongle.
Palettes
Les palettes changent souvent entre les médias. L'information ci-dessous ne devrait pas être considérée comme canonique.
Hair
(Black with teal highlights)
Outfit
(Dark teal dress shirt)
Outfit
(Light blue shirt with red belt, gray pants, and black shoes)
Outfit
(Khaki shirt with gold buttons)
Outfit
(Brown shirt with gold belt, light khaki pants, and orange-brown shoes)
Personnalité
On ne sait pas grand chose de la personnalité de Sorbet et Gelato puisqu'ils sont morts avant Golden Wind et n'apparaissent que brièvement. On dit qu'il était de violents criminels et qu'il était très proches, à tel point qu'il y avait des rumeurs sur la véritable nature de leur relation.[3] Vu qu'ils ont désobéis aux règles de Passione et essayé d'enquêter sur le Boss, on peut dire qu'il étaient très rebelles, très courageux ou inconscients.
L'anime s'étend un peu sur leurs personnalités. Dans une scène originale, Illuso blague et dit qu'il se pourraient qu'ils aient disparu pour coucher ensemble. Risotto Nero dit qu'ils sont très motivés par l'argent et que Sorbet n'aurait jamais manqué une occasion d'encaisser sa paie après une mission d'assassinat. Quand le groupe théorise qu'ils auraient pu aller enquêter sur le Boss, Illuso dit qu'il n'est pas surpris car il pense qu'ils étaient déments.[4]
Pouvoirs
Main article: Stands de Sorbet et Gelato
En tant que membres de la Squadra Esecuzioni et vu que Pericolo a noté que tous les membres de l'équipe d'assassins avaient des Stands durant le chapitre 469, on peut supposer qu'il avaient des Stands aussi. Cependant, leurs capacités ne sont jamais montrées dans l'histoire.[3] On ne sait pas s'il pouvaient correctement utiliser leurs pouvoirs.[5]

Histoire
Sorbet et Gelato sont introduits lorsque Formaggio se souvient des évènements qui ont conduit la Squadra Esecuzioni à trahir le gang et à essayer de kidnapper Trish Una. Il y a deux ans, l'équipe était composée de neuf membres dont Sorbet et Gelato. Ils étaient des assassins eux aussi et étaient si proche l'un et l'autre qu'on disait qu'il étaient en couple. La Squadra Esecuzioni n'était pas satisfaite du fait qu'on ne les payait qu'à chaque besogne et que le Boss semblait ne pas leur faire assez confiance pour leur donner un territoire. Sorbet et Gelato se mirent à enquêter sur l'identité du Boss.
Cependant, non seulement ils n'ont rien trouvé de concret, ils se sont fait prendre et exécutés pour l'exemple. L'adaptation animée révèle que c'est Cioccolata et Secco qui les ont arrêtés. Les coéquipiers de Sorbet et Gelato ont essayé de les chercher, en vain.
Gelato fut ligoté, et regarda alors avec horreur Sorbet se faire découper latéralement en morceaux en trente-six pièces, à commencer avec les pieds. La douleur était telle que sa face grimaçait. Submergé par la peur et le désespoir, Gelato se suicida en avalant son bâillon et étouffa, s'épargnant toute autre horreur. On placa se corps chez lui, toujours avec le bâillon, et on accrocha un mot disant "punition" sur lui. Formaggio retrouva son corps.
Puis, la Squadra Esecuzioni reçut un tas de colis et ils découvrirent avec horreur qu'on avait placé les morceaux de Sorbet dans du formol dans des boîtes en verres, de telle façon qu'on pouvait le réassembler avec les boîtes pour voir son corps et son expression de terreur.[2] Dans l'anime, ce fut Pesci qui réalisa que les morceaux étaient Sorbet en identifiant son vernis à ongle. L'équipe entreprit des funérailles pour Sorbet et Gelato et se recueillirent pendant un long moment. Voyant le sort qui attendait les traitres, les assassins avaient l'impression qu'il ne pouvaient rien faire contre le Boss et attendirent deux ans. C'est alors qu'il apprirent que le Boss avait une fille.[4]
Risotto Nero les mentionnera plus tard en tant que camarades tombés au combat et jure de les venger.[6]
Chapitres / Episodes

Apparitions Manga
Apparition dans les chapitres

Apparitions Animé
Apparitions dans les épisodes
Galerie d'Images
Détails
Les morts de Sorbet et Gelato sont probablement une référence à la série de films Le Parrain. Dans ces films, le gangster Luca Brasi tue deux gansters ennemis, l'un étant découpé en pièces pendant que l'autre avale son bâillon pour s'épargner une mort similaire.
Références
/fr