Scolippi
Jump to navigation
Jump to search
"
Nous sommes tous esclaves de notre propre destin. Voilà à quoi ressemble le pouvoir de Rolling Stones. (われわれはみんな「運命の奴隷」なんだよ。それがぼくの能力「ローリング・ストーンズ」の意味なんだ。Wareware wa min'na `unmei no dorei' nanda yo. Sore ga boku no nōryoku `rōringu sutōnzu' no imi nanda.)
"

Scolippi (スコリッピ, Sukorippi) est un personnage secondaire de la cinquième partie de JoJo's Bizarre Adventure, Vento Aureo, apparaissant dans l'arc narratif "Les esclaves endormis".
Scolippi est un sculpteur sur lequel Guido Mista enquête après que sa petite amie meurt dans de mystérieuses circonstances. Il est un manieur de Stand, et son Rolling Stones poursuit automatiquement une personne destinée à mourir prochainement pour leur donner la mort. Il est une exception dans la partie 5 puisqu'il est un simple civil et pas un gangster.
Appearance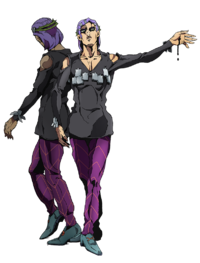 Scolippi est un italien d'âge adulte, de taille moyenne et à la carrure svelte. Il a de longs cheveux raides qui lui tombent sur les épaules et une mèche proéminente sur la droite du visage. Il décore ses cheveux avec des barrettes sur le front, notamment sa frange, et porte un serre-tête qui rappelle une couronne d'épine. Il des épais sourcils et met du fard à paupière, lui donnant un air grave. Scolippi porte une chemise plutôt simple qui laisse ses épaules à découvert avec des trous et qui est décoré avec de petites plaquettes sur le torse et les manches. Il porte un pantalon rayé horizontalement avec des rayures en zigzag, et des chaussures de cuirs avec des boucles dessus.
Sa couronne d'épine et le fait que Mista lui tire dans la main rappelle Jésus-Christ et ses stigmates.
Palettes
Les palettes changent souvent entre les médias. L'information ci-dessous ne devrait pas être considérée comme canonique.
Tenue
(Chemise violette, accessoires bleus acier, pantalon bleu-gris avec rayures blanches, chaussures brunes)
Tenue
(Chemise bleue bébé avec accessoires blancs)
Tenue
(Chemise grise foncée, accessoires argentés, pantalons violets avec rayures oranges, chaussures bleues)
Personnalité
Scolippi est un individu qui est somme toute placide et doux, et essentiellement bienveillant. Il évitait aussi de voir le père de sa petite amie alors qu'il avait une relation sérieuse avec elle.
Lorsque Mista vient l'interroger et le menacer, Scolippi tolère calmement sa violence et sa rudesse, lui expliquant volontiers comment son pouvoir fonctionne. Comme Rolling Stones traque automatiquement ceux qui vont bientôt mourir, Scolippi peut indirectement savoir s'il est réellement en danger ou pas. Bien qu'il apprenne que le père de sa défunte petite amie ait payé des gangsters pour se venger de lui alors qu'il n'avait rien fait, et malgré la violence avec laquelle Mista le traite, Scolippi ne leur en veut pas. Croyant ferme en l'inéluctabilite du Destin, Scolippi voit ainsi les gens comme des "esclaves de leur destin", incapable d'échapper au sort qui les attend. Lorsqu'il apprend les mort imminentes de Buccellati, Abbacchio et Narancia, il prie pour que le chemin que les héros prenne aient au moins un sens.
Pouvoirs
Main article: Rolling Stones
Le Rolling Stones de Scolippi se présente sous la forme d'une pierre qui suit automatiquement quelqu'un va mourir prochainement, et prend leur forme. Il permet à sa cible de prévoir sa mort et peut lui procurer une mort paisible si elle la touche.
Rolling Stones
(ローリング・ストーン(ズ))


Pouvoir(s)
Prédiction d'une mort prochaine
Histoire
Passé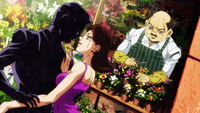 Scolippi découvrit son Stand Rolling Stones alors qu'il était juste un enfant, et a appris ses capacités par la suite. Il devint un sculpteur professionnel. Sans devenir célèbre, il gagnait tout de même bien sa vie.
Scolippi avait une petite amie avec laquelle il avait une relation sérieuse. Le père de sa petite amie, un floriste, n'appréciait pas leur relation, notamment parce que Scolippi ne lui avait jamais rendu visite. Un jour, six mois avant les évènements de la partie 5, Rolling Stone prédisit qu'elle allait mourir de la même maladie que son père. Rolling Stones lui montra sa mort et lui permit de mourir en paix. Cependant, le père crut que Scolippi l'avait tuée et jura de se venger.
Sleeping Slaves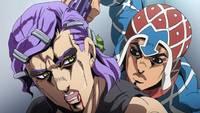 Dans l'ascenseur de son immeuble, Scolippi rencontre alors Guido Mista, qui avait été envoyé enquêter sur la mort de Scolippi après que le père ait demandé à Blono Buccellati de venger sa fille. Mista commence à battre, menacer et interroger Scolippi dans l'ascenseur qui monte. Scollipi répond à Mista et explique qu'il est sculpteur. Il est un manieur de Stand mais ne savait qu'il y en avait d'autres avec le même pouvoir, et dit que son Rolling Stones agit automatiquement. Ecoutant Mista et voyant que son Stand a pris l'apparence de Buccellati, Scolippi révèle donc que Buccellati devrait mourir très prochainement. Mista ne le croit pas d'abord et lui tire dans la main, et quand Rolling Stones disparaît, le menace de lui tirer dessus. Mista essaie d'intimider Scolippi en jouant à la roulette russe avec lui. Scolippi explique alors que la pierre peut donner à Buccellati une mort paisible et que la même chose est arrivée à sa petite amie.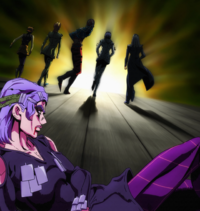 Mista essaie alors de tirer dans la bouche de Scolippi mais son revolver s'enraie. En effet, Scolippi n'est pas destiné à mourir prochainement. Mista frappe alors Scolippi et essaie d'empêcher la pierre de toucher Buccellati. Devant la mort imminente de son chef d'équipe, Mista supplie à Scolippi de lui dire comment stopper la pierre, et le sculpteur suggère qu'il pourrait essayer de la briser.
Mista part protéger Buccellati. Scolippi voit alors que Mista a sauté du haut de l'immeuble pour briser la pierre. Alors que le gang part, Scolippi voit la poussière de Rolling Stones et note qu'elle a pris la forme de Buccellati, mais aussi d'autres personnes : Leone Abbacchio et Narancia Ghirga, signalant leur future mort. Scolippi conclut donc qu'on ne peut échapper à son destin, mais en voyant la détermination et le courage de Mista pour sauver son chef, Scolippi prie que ce sort qui attend les héros remplira un but.
Chapitres/Episodes

Apparitions Manga
Apparition dans les chapitres

Apparitions Animé
Apparitions dans les épisodes
Citations

Citations
"
Michelangelo, who shines upon the apex of History, once said "When I sculpt marble, I have no idea in my mind. The form of the stone shall be sculpted into has already been set. All my hands do is bring that form out from within the stone." Michelangelo said that he did not think about the ultimate form of the stone as he sculpted. Fate had already embedded it within the stone. He was an artist who could see Fate as he sculpted. That form of Bucciarati was not sculpted by me, and it was not sculpted by your bullets either. That is its fated form... that statue was bleeding from a hole in its chest, wasn't it? I don't know whether it will take a few days or a few months... but that is how Bucciarati will die in the near future. We are all slaves of Fate. That is the meaning of my ability, Rolling Stones.
"
"
We all are slaves of Fate.
(

われわれはみんな「運命の奴隷」なんだよ。

Wareware wa min'na 'unmei no dorei' nanda yo.)
"
"
Are they all like him? Jumping out from there to destroy the stone for their teammate, that man Bucciarati! With no hesitation... There may be some purpose to the perilous road that they tread. Perhaps their perils will serve some great purpose and bring hope to someone. I cannot pray for their safety, but I will pray that they are sleeping slaves... and when they wake, that these sleeping slaves shall fulfill some purpose.
"
Galerie
Références