Donovan
Jump to navigation
Jump to search
"
I have no intention of killing you. Just stand still and let me drain your blood... You amateur!!
"
Donovan (ドノヴァン, Donovan) est un antagoniste tertiaire figurant dans la deuxième partie de JoJo's Bizarre Adventure, Battle Tendency.
Donovan est un soldat Nazi d'élite qui attaque Joseph Joestar dans le désert du Mexique pour le capturer et en apprendre plus sur Straits.
Apparence
Donovan est un homme d'âge mûr avec une carrure athlétique. Il a des cheveux de couleur sombre plaqués en arrière. Son visage est allongé et fin, avec un nez pointu et un menton proéminent. Pour une raison inconnue, sa peau est plus foncée autour des yeux, entre les yeux et ses cheveux.
Donovan porte un uniforme militaire sans manches.
Palettes
Les palettes changent souvent entre les médias. L'information ci-dessous ne devrait pas être considérée comme canonique.
Peau
(Peau beige, marques rouges au visage)
Tenue
(Cape rouge-rose, uniforme vert, accessoires dorés, manchettes et bottes noires, gants blancs)
Peau
(Peau grise, marques rougeâtres au visage)
Tenue
(Cape brune, uniforme bordeaux avec bords jaunes, gants bruns.)
Personnalité
Donovan est un soldat Nazi sadique et arrogant. Entrainé dans les forces spéciales allemandes, Donovan exprime une grande confiance en soi, notamment pour ses capacités au combat, mais il semble aussi apprécier torturer ses ennemis. Il déclare notamment qu'il saurait faire saigner Joseph Joestar jusqu'à ce qu'il s'évanouisse mais sans le tuer. En tant que soldat, il déclare aussi qu'il ne parlerait jamais sous la torture mais Joseph parvient à lui faire révéler la position de sa base en quelques minutes. Cela montre qu'il est arrogant et malgré son entrainement, n'est pas très courageux.
Compétences Personnelles
Donovan est un soldat des forces spéciales allemandes et a plusieurs compétences en terme de traque.
Furtivité
Grâce à son entrainement, Donovan est un soldat spécialisé dans la furtivité et sa capacité à traquer. Il est capable de marcher avec légèreté de façon à ne laisser aucune trace de pas dans le sable, et il prétend être assez silencieux pour surprendre des chauve-souris sauvages. En tant que soldat d'élite, il est aussi particulièrement agile et athlétique. Il peut se percher en équilibre sur un cactus sur un couteau sans effort et est athlétique en général.
Couteau-fouet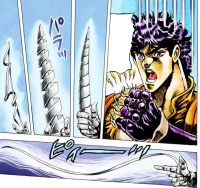 Donovan est équipé d'un couteau spécial fait d'un matériau inhabituel. En effet, son couteau ressemble à une petite corne mais en fait est fait d'une lame plate qui est très flexible qui peut s'enrouler. Donovan peut délier son couteau pour en faire une sorte de fouet.
Le couteau est omis dans l'anime.

Histoire
Battle Tendency
Quand Joseph traverse le désert du Mexique alors qu'il essaie de retrouver Speedwagon, il repère une cape flottant vers lui sans raison apparente. Ayant depuis quelques temps le sentiment d'être suivi, Joseph suspecte qu'il y a quelque chose de louche. Il soulève la cape, révélant un homme avec un couteau qui attaque immédiatement Joseph. Après un court va-et-vient, l'homme se révèle être un officier des Forces spéciales Nazis envoyé pour capturer Joseph afin d'obtenir des informations de lui sur Straits. Durant leur combat, il semble avoir le dessus au début, mais Joseph tourne le combat en sa faveur en utilisant l'Onde sur un cactus après l'avoir frappé pour le faire exploser et propulser ses aiguilles sur Donovan. Le visage couvert d'aiguille, Donovan est facilement vaincu. Joseph lui demande des informations sur les nazis, mais Donovan refuse d'abord. Cependant, Joseph insère une boussole magnétique dans l'œil de Donovan. Ce dernier cède alors rapidement et révèle à Joseph que Speedwagon est vivant. Donovan essaie de s'enfuir alors que Joseph s'apprête à partir sur sa moto. Joseph l'attrape facilement et l'attache à un cactus avec une note avec "Hello Adolph!" écrit dessus.
Chapitres / Episodes

Apparitions Manga
Apparition dans les chapitres

Apparitions Animé
Apparitions dans les épisodes
Galerie d'Images
Détails
References