We will be doing server maintenance at around 2 AM EST/11 PM PST tonight to prepare for Stone Ocean's finale. The site will be temporarily offline for around an hour at that time.
Sethan
Jump to navigation
Jump to search
"
Je suis devenu un enfaaaant !
"
Seth (セト神, Seto-shin) est le Stand d'Alessi figurant dans la troisième partie de JoJo's Bizarre Adventure, Stardust Crusaders. Il se manifeste dans l'ombre d'Alessi et a la silhouette d'un homme à tête d'oiseau. Il peut rajeunir tous ceux qu'il touche.
Apparence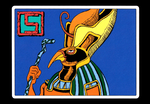 Seth est lié à l'ombre d'Alessi, son manieur. Il a cependant sa propre silhouette. La plupart du temps, il semble être une ombre humanoïde avec une tête géante ronde avec une crête, et des yeux qui apparaissent sur l'ombre. Cependant, si l'ombre est de côté alors on voit en fait que Seth a une tête d'oiseau.[1] Son design est basé sur l'anime Tetsujin 28-go et les lignes de Nazca.[2]
Dans le manga couleur, l'ombre de Seth est violet. Dans l'anime, il est noir comme une ombre ordinaire.
Seth représente le dieux égyptien, Seth, qui est lié aux tornades et aux tempêtes.
Palettes
Les palettes changent souvent entre les médias. L'information ci-dessous ne devrait pas être considérée comme canonique.
Yeux
(Paupière jaune, iris gris)
Yeux
(Paupières violettes, iris roses)
Yeux
(Paupières violettes, iris rouges)
Personnalité
Seth n'a pas de personnalité à proprement parler et ne fait qu'obéir aux ordres d'Alessi.
Pouvoirs
Seth est un Stand relativement faible qui a peu d'options offensives et qui se sert de son pouvoir pour rendre ses cibles plus faibles qu'Alessi. Cependant, son pouvoir de rajeunissement forcé est suffisant pour en faire un ennemi terrible à affronter.
Manipulation de l'ombre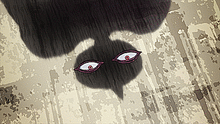 Alessi est lié à l'ombre d'Alessi et est capable de copier sa forme. Ainsi il peut repliquer les objets qu'Alessi tient dans sa main.[1]
Seth peut donc copier toute arme qu'Alessi tient dans sa main, par exemple une hache, et peut attaquer ses ennemis avec l'ombre de l'arme en se détachant partiellement de la surface sur laquelle il est projeté.[3] L'ombre peut d'ailleurs se mouvoir indépendamment de son manieur, et donc peut se détacher partiellement d'une surface pour attaquer.[1][3]
Rajeunissement
Tous ceux qui touchent l'ombre d'Alessi vont être rajeunis à une vitesse considérable.[1] Polnareff, qui avait frôlé l'ombre pendant un instant, a été rajeuni à l'âge de 7 ou 8 ans contre son gré,[1] et Malèna, qui s'est tenue dans l'ombre pendant quelques secondes, a été transformé en fœtus sans défense.[4] Réduit à l'état de fœtus, détachée de l'utérus, elle a failli mourir en quelques minutes. Un manieur de Stand qui n'avait pas de Stand durant sa jeunesse va le perdre aussi longtemps qu'il sera rajeuni. Cela est arrivé à Jotaro, bien qu'il a put facilement vaincre Alessi.[5]
L'esprit de la victime va aussi être rajeunie. Elle va donc oublier des choses qu'elle savait en tant qu'adulte comme le nom d'un ami récent ou comment manipuler son Stand. Le Stand lui-même est rajeuni et affaibli.[3]
Lorsqu'Alessi perd conscience, son pouvoir s'arrête et tout le monde revient à son âge originel.[5]
Chapitres / Episodes

Apparitions Manga
Apparition dans les chapitres

Apparitions Animé
Apparitions dans les épisodes
Galerie d'Images
Références