Yuya Fungami
Jump to navigation
Jump to search
"
I am... just so gloriously handsome! Check out this face of mine.
"
Yuya Fungami (噴上 裕也, Fungami Yūya) is a minor character featured in the 4th part of JoJo's Bizarre Adventure, Diamond is Unbreakable. Introduced as an antagonist in "Highway Star", he becomes an ally in "Enigma Boy".
Yuya is a motorcycle gang member who was made into a Stand User by Yoshihiro Kira and prompted into attacking the Joestar Group. Selfishly attacking Rohan and Josuke in a high-speed road chase with his Highway Star, Yuya later assists Josuke in the fight against Terunosuke.
Appearance
Yuya is a young man of average height and slim to fit build. He has a short undercut

 and his chin is tattooed with a stylized "H☆S", implying the name of his stand - Highway Star.
Like Josuke, Okuyasu, and Mikitaka, Yuya wears a dark, modified school uniform. He wears a long, bouffant, light bow tie with the words "Highway" and "Speed King".
Color Schemes
The series is known for alternating colors between media, the information presented below may or may not be canon.
Hair
(Black, light gray sides)
Outfit
(Black uniform with white bow tie, gold accessories, navy belt and shoes.)
Hair
(Black, light gray sides)
Outfit
(Dark Gray uniform with white bow tie, gold accessories, blue belt, and cyan shoes.)
Personality
Introduced as he attacks Josuke from afar, flanked by three female admirers, Yuya comes across as vain, selfish, and cowardly.
However, he shows a sense of loyalty, bravery and good skills of deduction when joining the battle against Terunosuke Miyamoto. He is protective towards his three admirers, who, in turn, are very close to him.
Terunosuke reveals that when afraid, Yuya tends to touch his chin.
Abilities
Main article: Highway Star
Yuya's mainly automatic Stand is Highway Star, which tracks targets at a speed of 60 km/h in order to efficiently absorb their vitality. This allows Yuya to recover from injuries at a significantly faster pace.
Yuya also has a powerful sense of smell that developed when his Stand ability awoke.[1]
Highway Star
(
ハイウェイ・スター
)


Ability
Body Dismantlement & Life Force Theft
History
Background
Yuya Fungami is a member of a biker gang. Two days prior to appearance in the story, Yuya Fungami suffered from a severe motorcycle accident as he was racing across the Twin Pines tunnel. With his spine and all four limbs broken, Yuya was brought to the Budogaoka Hospital. At one point, he was pierced by Yoshihiro Kira with the Bow and Arrow and acquired a Stand ability.
Diamond is Unbreakable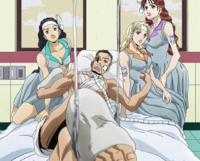 Wanting to heal faster, Yuya uses his Highway Star to absorb energy from people. Highway Star coincidentally lures Rohan Kishibe, a Stand User, inside of its room and attacks. Although Rohan has a motorcycle, he is eventually to slow down and is caught by the Stand, which absorbs his life force. Highway Star drags Rohan into its room. Soon after, Josuke appears to also investigate the tunnel. Through Highway Star, Yuya tempts Rohan into luring his most hated acquaintance into the room in exchange for freedom. Rohan refuses out of principles. The mangaka helps Josuke escape the tunnel and tells him to to find the Stand User. Yuya thus sics Highway Star on Josuke. Thanks to Rohan's lifeforce, he recovers rapidly. From not being able to properly breathe, Yuya is now able to speak to his fangirls.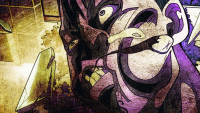 Josuke eventually finds him and reaches his hospital room. However, Highway Star has also managed to catch him. Josuke's lifeforce is drained. Satisfied, Yuya tells his girls to fetch him a peach and help him relieve himself, which they happily do. At this point, Yuya notices that his sense of smell has sharpened to the point he can tell a specific peach is rotten or smell that one of his fangirls, Yoshie, is on her periods. He then smells a great deal of anger, and realizes too late that it comes from Josuke, who gave himself a bit of strength back by sipping on Yuya's IV. Although Highway Star attempts to attack, Josuke is now in range and Crazy Diamond punches Yuya's leg faster than Highway Star can act. Yuya pleads for mercy, invoking that it would be terrible to fight a crippled man like him. Josuke agrees and thus heals Yuya, just to make it a fair fight. Crazy Diamond pummels Yuya and sends him flying through the window. Josuke then dissuades him from ever using his Stand to steal lifeforce.
Back to square one as far as his injuries are concerned, Yuya's face has now been ruined too and his fangirls stop caring about him.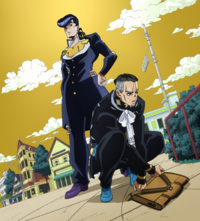 When Koichi is kidnapped by Terunosuke Miyamoto, Josuke asks him to find Koichi with his heightened sense of smell. Although Yuya is furious with Josuke and initially tells him to go away, he cannot pass the opportunity to be healed. Thanks to Crazy Diamond, Yuya is completely healed, just as his fangirls come visit him. Using his sense of smell and deductive ability, he easily deduce that his fangirls have been playing pachinko and that the winner is here to give him a chocolate.
Yuya tracks Koichi's smell up to a square where he and Josuke find his school bag. However, Yuya then smells Terunosuke Miyamoto himself. Apprehensive, Yuya tells Josuke that he will not fight. Yuya thus witnesses Miyamoto using his paper-based Stand ability Enigma against Josuke. Josuke eventually baited into showing his fear tells to Miyamoto when a piece of paper that could contain Koichi is thrown into the path of a car. Josuke is sealed into a paper, but not before declaring that he expected the paper to be a trap and that he had to save it just for the small possibility that Koichi could be in it. Miyamoto nonetheless seals Josuke and unfolds a taxi to go confront Jotaro.
However, Yuya is impressed by Josuke's speech and decides to come fight. He sends Highway Star after the car. It opens the door and takes Josuke's paper, but Miyamoto simply shuts the door and takes the paper back, ordering the driver to drive faster. When Yuya eventually catches up to the taxi, he finds it parked on the side of the road, with a piece of paper put on the passenger seats. Yuya manages to avoid a first trap as he opens the door and a paper stuck in it releases fire. He picks the paper and realizes that while Josuke and Koichi are in here, other items are folded together in it. Yuya lightly unfolds the paper, only to realise that scorpions have come out of it. Highway Star kills them but then he sees that the unfolded paper has released acid eating at the rest.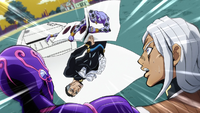 Yuya must unfold the entire paper, but realises that it has released a shredder that threatens to kill Josuke and Koichi. Unable to break the machine or pull the papers, Yuya shows his fear tells, allowing Miyamoto to finally turn him into paper. However, Yuya had planned for this and uses his transformation to fit his hand into the shredder, merges his hand with the paper of Koichi and Josuke and pulls them out. When Miyamoto threatens to rip Yuya's paper, Koichi's Echoes weights his hands and immobilizes him. Josuke and Koichi defeat Miyamoto and turn him into a book.
Yuya is last seen saying goodbye to Reimi Sugimoto at the end of the part.
In the anime adaptation, Yuya is seen with his fangirls at Tonio Trussardi's restaurant after a lunch, all happy with the curing effects of Tonio's cooking.
Chapters / Episodes

Manga Appearances
Chapters in order of appearance

Anime Appearances
Episodes in order of appearance
Quotes

Quotes
"
Idiot! Highway Star already has your scent!
"
"
Just so gloriously handsome! Check out this face of mine. It wouldn't be a stretch to say I compare with the chiseled features of Michelangelo's David. That's how beautiful I am.
"
"
Yeah it's dumb but when I think about those girls and I think about how they see me... then I gotta fight! You think I can let people like you and Yoshikage Kira off so easily?! Letting you off just hurts my image!
"
Video Games

Fungami

Nutrient-Absorbing Pursuer ver.
Rarity:

Max Power: 1640
Favorite Gift and Voiced Gift Reactions:

Skill: Highway Star

Erases panels at the bottom. Erasing enhanced panels increases the skill gauge by 3x




































Skill Lv 1
# of Erased Panels:
6
Cooldown:
75




































Skill Lv 2
# of Erased Panels:
10
Cooldown:
75




































Skill Lv 3
# of Erased Panels:
10
Cooldown:
70




































Skill Lv 4
# of Erased Panels:
14
Cooldown:
70




































Skill Lv 5
# of Erased Panels:
14
Cooldown:
65
Gallery
Trivia
The referential phrase "Speed King" on Yuya's bow tie is the name of another song by Deep Purple, the band that created the song "Highway Star" which Yuya's Stand is named after.
Yuya's English voice actor Philip Reich would later voice Giorno Giovanna.
References