Kira's Coworker
Jump to navigation
Jump to search
"
Don't waste your time with him! That guy is a total buzzkill!
"
Kira's Coworker (吉良の同僚, Kira no Dōryō) is an unnamed tertiary character featured in the fourth part of the JoJo's Bizarre Adventure series, Diamond is Unbreakable. He is shown next to three female coworkers when Yoshikage Kira is first introduced, telling the two women basic information about Kira.
Appearance

Kira's coworker is an average looking man of a normal build, sporting short, wavy hair. His attire consists of a long sleeve suit, a bright shirt and a fishnet pattern tie, which is changed to a smooth patterned one in the anime.
Color Schemes
The series is known for alternating colors between media, the information presented below may or may not be canon.
Outfit
(Dark blue suit with a white shirt, purple tie and dark brown shoes.)
Outfit
(Cadet Blue suit with a white shirt, purple tie and brown shoes.)
Personality
Kira's coworker has a somewhat rude personality, telling his fellow coworkers to give up on inviting Kira to have lunch, calling him a "total buzzkill" and while he does compliment his hardworking nature, he says that Kira lacks passion and he's just a nobody who fades into the background in life.[1]
Despite this, Kira's coworker does show genuine worry for Kira later on. When seeing him injured, he asks Kira why he's bleeding and later screams in horror at the sight of Kira's chopped off hand.[2]
History
Kira's coworker is first seen after three of his female coworkers attempt to ask Kira to join them for lunch. Kira's coworker explains to them that Kira is a boring person and there's no reason to invite him over. He begins to list some basic details regarding Kira, such as his age, relationship status and more. Kira's coworker finishes his monologue by mentioning that Kira, while not a bad person by any means, is just a nobody and that he's the type of person that blends into the background of life.[1]
After Kira's temporary defeat against Jotaro Kujo and Koichi Hirose, Kira attempts to run away from them and encounters his coworkers. Kira's coworker is concerned for Kira after seeing he's injured and bleeding, and proceeds to scream in horror when seeing Kira's lack of a hand.[2]
Chapters / Episodes

Manga Appearances
Chapters in order of appearance

Anime Appearances
Episodes in order of appearance
Quotes

Quotes
"

Don't waste your time with him! That guy is a complete buzzkill.

"

"

We've invited him out before, you can't ever even tell if he's having a good time or not.

"

"

Yoshikage Kira. Age 33. Single. He's hardworking. Competent. But he's got no passion. He's got that elegant, sort of high-class look and demeanor that makes him popular with the ladies at work. But the company basically uses him like a gofer. It's not that he's a bad guy. But he's a nobody, the kind of man who just fades into the background.

"

"

Yo! L-Look... That's Yoshikage Kira, from the office!

"

"

Hey Kira? What happened to you? You've got blood on your face.

"
Gallery
Trivia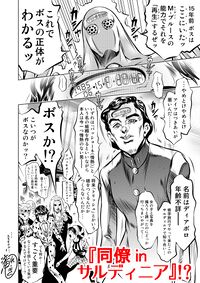 Kira's coworker is somewhat famous among Japanese JoJo fans, being the subject of numerous drawings and image/video edits. In one unofficial popularity poll for JoJo characters, he ranked 25th, above characters such as Muhammad Avdol and Narciso Anasui.[3]

A possible origin for Kira's coworker's fame stems from the amount of specific information Kira's coworker mentions about Kira, with some speculating him to be Kira's stalker or friend.[4]
References