Roses
Jump to navigation
Jump to search
"
Eu tenho trabalhado pra
família Joestar
por 30 anos. Conheço a madame
Holy
desde que ela estava no primário. Eu sei que tenho que contar a verdade a
ela
mas não tenho coragem para isso...
"
Roses (ローゼス, Rōzesu) é um aliado terciário apresentado na terceira parte de JoJo's Bizarre Adventure, Stardust Crusaders.
Ele é o mordomo de Joseph Joestar e Suzi Q, também agindo como o motorista pessoal e guarda-costas da segunda.
Aparência
Roses é um homem muscular alto e idoso, com cabelo inchado e um bigode grosso. Ele tem diversas rugas e veste um boné de jornaleiro. Roses também veste um terno com uma camisa de colarinho e gravata por baixo.
Paletas de Cores
A obra é conhecida por sua mudança de cores entre as mídias, a informação apresentada abaixo pode ou não ser cânon.
Hair
(Gray, black mustache.)
Outfit
(Green hat and suit, white dress shirt, black tie.)
Hair
(Gray, brown mustache.)
Outfit
(Gray hat and suit, yellow dress shirt, blue tie.)
Personalidade
Roses é o motorista e mordomo de longa data da Família Joestar. Devido ao seu tempo como mordomo, ele se aproximou da família e se sente sentimental por ela. Ele se preocupa muito quando Holy Kujo fica doente e luta para revelar a Suzi Q Joestar o quão grave é a situação de sua filha. Roses conhece os costumes do Japão e avisa a Suzi Q para não se meter em encrencas, até repreendendo-a quando ela quase é atacada por um membro da yakuza. No entanto, ele tolera sua indiferença e é capaz de protegê-la quando surge uma situação.[2]
Habilidades
Como o guarda-costas de Suzi Q, ele é um lutador habilidoso apesar de sua idade. Ele facilmente consegue derrotar um membro da yakuza com apenas um chute.[2]
História
Passado
Roses é contratado como mordomo para a Família Joestar por volta de 1958, desde que Holy era uma criança. Quando Holy adoece e Joseph Joestar viaja ao Egito, Roses é deixado no cargo de cuidar de Suzi Q.
Stardust Crusaders
---
A informação abaixo é derivada do(a) anime, que não foi escrito(a) pelo Araki. Como tal, ela pode não ser considerada cânon.
---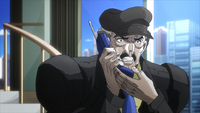 Joseph stays in touch with Roses throughout his journey to relay his situation and ask about Holy's condition. Just before reaching Egypt, Joseph calls Roses from his submarine but Suzi Q answers the phone instead. When Suzi Q asks Joseph what dress she should wear, Roses manages to make her leave the room by telling her to consider her blue dress. After Suzi Q leaves, Roses mentions to Joseph that Holy insists that she only has a cold, but her actual condition is worsening by the day. He asks if they should tell Suzi Q the truth but Joseph denies, saying they shouldn't under any circumstances. Suzi Q then returns and offers Roses tea but he says he should be the one serving her instead.[3]
Later that night, Roses listens to Suzi Q speaking with Jotaro Kujo on the phone. As Suzi Q wonders why Jotaro is traveling with his grandpa, Roses thinks to himself and cries about how the Joestar men are fighting to save Holy.[3] The next day, Roses tells Suzi Q that it's the first time something like this has happened in his thirty years of working for their family, but Suzi Q tells him he's overreacting since it's only a business trip.[4]
---
Fim da seção não-canônica.
---
While the Joestar Group is battling in DIO's mansion, Roses takes Suzi Q and a Speedwagon Foundation member to visit Holy. The Speedwagon Foundation member questions if Roses told Suzi Q about the severity of her daughter's Stand-based sickness. Roses replied that he tried, but didn't have the courage because he couldn't stand to see Suzi Q sad.
Due to the possibility of Joseph not making it in time, leaving only a few days for Suzi Q to see her daughter before her death, Roses decides to tell her the truth to prepare her. Because of Suzi's childish, carefree and curious behavior towards Japan, she disregards what Roses has to say, which eventually leads to her getting in trouble with a yakuza member. Roses saves her in time, causing Suzi to reveal that she already knows about her daughter's condition and he shouldn't have to worry because Joseph always finds a way out of dangerous situations.[2]
Capítulos / Episódios

Aparições no Mangá
Capítulos em ordem de aparição

Aparições no Anime
Episódios em ordem de aparição
Frases

Frases
"

Madam, you mustn't! That is an establishment for common businessmen! A lady doesn't patronize an establishment like that in Japan! Madam Joestar, you mustn't!

"

"

I've been working for the

Joestar family

for 30 years. I've known Lady

Holy

since she was in elementary school. I know I have to tell

her

the truth, but I don't have the heart to tell her...

"
Galeria
Curiosidades
There is concept art of Roses in Heritage for the Future, indicating that he was originally set to appear in the game during development.
Referências