Holy Kujo
Jump to navigation
Jump to search
"
Il était un si bon garçon... et maintenant je ne sais pas ce qui lui arrive !
"

Holy Kujo (空条 ホリィ, Kūjō Horī), née Joestar, est un personnage secondaire figurant dans la troisième partie de JoJo's Bizarre Adventure, Stardust Crusaders. Elle est la fille de Joseph Joestar et Suzi Q, et la mère de Jotaro Kujo. Elle est mariée à un certain Sadao Kujo.
Holy est affligée par un Stand hors de contrôle dû à l'infuence néfaste de DIO, ce qui pousse Jotaro et Joseph à entamer leur voyage en Egypte pour vaincre DIO et la sauver.
Apparence
Holy Kujo est une femme blonde, d'une quarantaine d'années, qui a les cheveux mi-longs qu'elle attache en un chignon. En tant que membre de la famille Joestar, Holy, comme son père et son fils, a une petite tache de naissance en forme d'étoile à l'arrière de son épaule gauche, près de son cou.
La première tenue de Holy se compose d'un manteau, d'une jupe longue, de collants et de talons hauts. La deuxième tenue de Holy lorsqu'elle est chez elle se compose d'une chemise à manches longues, d'une jupe longue, d'un tablier et de pantoufles / chaussures de maison. Chaque média a représenté ces vêtements différemment.
Palettes
Les palettes changent souvent entre les médias. L'information ci-dessous ne devrait pas être considérée comme canonique.
Peau
(Peau claire, lèvres rouge)
Première tenue
(Manteau violet avec boutons blancs, collants foncées, talons hauts blancs, boucles d'oreilles vertes.)
Seconde tenue
(Chemise jaune clair, tablier bleu bébé, jupe magenta, chaussons violets, boucles d'oreilles vertes.)
Personnalité
"
La mère de
Jotaro's
... Holy peut mettre les gens à l'aise, vous avez l'impression que tout va bien quand vous êtes avec elle.
"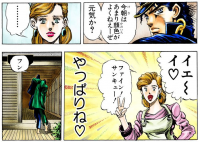 Le doux charme de Holy est connu de tous. Elle croit profondément en son fils Jotaro, fière de la compassion qu'il a malgré son comportement froid et impoli, et n'est pas du tout dérangée par ses insultes. Sa passivité face aux insultes de Jotaro peut s'expliquer par le fait qu'elle sait qu'il se soucie d'elle malgré tout. En tant que femme qui aime sa famille, elle mentira délibérément sur sa maladie afin d'atténuer leur inquiétude. Elle est assez gentille pour prendre soin d'un étranger sans se poser de question, comme on le voit lorsqu'elle soigne les blessures de Kakyoin. Elle est joyeuse, insouciante et on la voit presque toujours avec le sourire. Kakyoin lui-même la décrit comme le type de personne pour qui il tomberait amoureux parce qu'elle peut mettre n'importe qui à l'aise et apaiser son cœur.
Holy est plutôt enfantine, chatouillant notamment son père Joseph en public même à l'âge adulte et refusant de répondre si on ne l'appelle pas par le nom japonais qu'elle s'est donné.
En tant qu'étrangère vivant au Japon, Holy s'est bien acclimatée à son nouveau pays. Un policier a noté qu'elle parlait très bien le japonais et elle s'est également donné un nom japonais, Seiko (聖子), qui est dérivé de son nom et signifie «enfant saint».
Pouvoir et Compétences
Main article: Stand de Holy
Pendant que DIO était en vie, Holy a développé un Stand, mais était incapable de l'utiliser vu qu'elle n'a pas d'esprit combatif. Hors de contrôle, son Stand la rendit malade et elle perdit connaissance avec une forte fièvre, et Abdul prédisit qu'elle avait environ 50 jours à vivre. Sa «capacité» était la raison pour laquelle son père, Joseph, et son fils, Jotaro, sont allés tuer DIO.

Histoire
Battle Tendency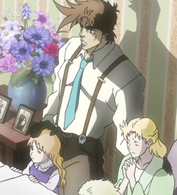 Holy est mentionnée pour la première fois à la fin de Battle Tendency, lorsque Joseph déclare qu'il déteste les Japonais parce que sa fille bien-aimée est tombée amoureuse d'un Japonais et a quitté son foyer pour partir à l'autre bout du monde, ne revenant que rarement à la maison durant les vingt dernières années.
Dans l'anime, on voit Holy se tenir près d'Erina, dans son lit de mort.
Stardust Crusaders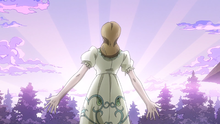 Holy est présentée comme la mère aimante de Jotaro Kujo. Lorsqu'il s'enferme en prison, prétendant être possédé par un mauvais esprit, Holy appelle son père, Joseph Joestar et l'accueille à l'aéroport. Joseph dit à Jotaro et Holy que DIO a volé le corps de leur aïeul Jonathan Joestar et a développé un Stand, ce qui a causé l'éveil des Stands de Joseph et Jotaro. Cependant, Holy ne s'en soucie pas beaucoup et continue de vivre comme si de rien n'était.
Holy finit par développer un Stand aussi à cause de l'influence de DIO, mais n'a pas la force de le contrôler et tombe malade après avoir caché son état pendant un certain temps pour ne pas inquiéter sa famille. L'état de Holy empire au point qu'elle est alitée et Mohammed Abdul lui donne 50 jours à vivre. Pour la sauver, Jotaro se décide à aller en Egypte avec ses compagnons pour vaincre DIO est arrêter son influence. Tandis que le Groupe Joestar se rend de Tokyo au Caire, la maladie de Holy s'aggrave. À un moment donné, elle reçoit la visite de sa mère Suzi Q.
A la fin de l'aventure, Holy est guérie de sa maladie.
Chapitres / Episodes

Apparitions Manga
Apparition dans les chapitres

Apparitions Animé
Apparitions dans les épisodes
Jeux Vidéo
Holy apparaît comme un personnage non-joueur avec laquelle le joueur peut parler lors du premier scénario, chez Jotaro. Au-delà de ce niveau, elle n'apparaît que dans les cinématiques.
Pendant le jeu, Holy n'apparaît que dans des cinématiques similaires qui reproduisent les événements du manga. Elle est montrée lorsqu'elle tombe malade et à la fin de la partie.
Dûe à une erreur de traduction dans les cinématiques du jeu (dans le mode histoire de Jotaro), elle dit que Joseph est son oncle et non son père. Cela a été corrigé dans la version HD et elle dit alors la réplique correcte "Je ferais mieux d'en parler à son grand-père."
Galerie d'Images
Détails
Dans le Chapitre 120, Holy chantonne la chanson "Come on, baby, do the locomotion", une chanson inspirée de "The Loco-Motion" de Gerry Goffin and Carole King's song. Dans l'anime de 2014, Holy chantonne la chanson "Ao no Sangosho" de Seiko Matsuda, une chanson des années 80 qui d'ailleurs fait référence au nom japonais de Holy, "Seiko".
Les boucles d'oreilles de Holy dans l'anime Stardust Crusaders sont héritées de Lisa Lisa.[3]
Références