Wódz Azteków
Jump to navigation
Jump to search
"
Łoooooaah! W końcu uzyskałem... życie wieczne!
(

おぉお〜ん 我はついに手に入れたぞ!!永遠の命を!

Oooooon... Ware wa tsuini teniireta zo!! Eien no inochi o!

)
"
Wódz Azteków (族長, Osa, lit. "Chief")[1] jest nienazwaną trzeciorzędną postacią występującą w sekwencji otwierającej pierwszą część JoJo's Bizarre Adventure, Phantom Blood.
Mężczyzna jest wodzem plemienia Azteków, które rozkwitło w Meksyku wieki temu. Jest drugą postacią wprowadzoną w całej serii i służy jako prefiguracja mocy Kammiennej Maski.
Chociaż jego scena otwierająca została pominięta w adaptacji anime, pojawia się jako część muralu w sekwencji końcowej, Roundabout.
Wygląd
Wódz pojawia się jako mężczyzna o muskularnej budowie z długimi włosami do ramion. Pokazano go tylko w Kamiennej Masce, zakrywającej twarz. Jest bez koszuli z peleryną ze skóry lamparta i opaskami na rękę, naszyjnikiem z kłami i przepaską na biodrach.
W Stardust Crusaders OVA, nosi Kamienną Maskę z niebieskimi piórami, chusty na nadgarstki, tunikę bez rękawów i przepaskę na biodrach. Ma również oznaczenie słońca na każdej ręce.
Schematy Kolorów
Seria znana jest z zmiennych kolorów między mediami, informacje przedstawione poniżej mogą, ale nie muszą być kanoniczne.
Ubiór
(Żółty kostium, opaski z kości słoniowej, Kamienna Maska, lawendowe pióra)
Ubiór
(Skórzana brązowa przepaska na biodrach, srebrne dodatki, żółte opaski z czarnymi plamami, Kamienna Maska)
Osobowość
Jako przywódca swojego plemienia jest postrzegany przez swój lud jako dumny i potężny. Okazuje się, że jest żądny władzy, gdy oświadcza, że w końcu zyskał życie wieczne po tym, jak stał się wampirem. Wydaje się również być nieostrożny w stosunku do swojego ludu, gdy uderza jednego ze swoich zwolenników w ziemię po wyczerpaniu ich siły życiowej. Jego plemię jest znane z kanibalizmu i odprawiania rytuałów ofiarnych podobnych do pokazanego.[2]
Umiejętności
Po uzyskaniu wampirycznych zdolności od Kamiennej Maski, wódz demonstruje, że jest w stanie wysysać siłę życiową z ludzi. Ponadto wykazuje również niesamowitą siłę, tworząc dużą szczelinę od uderzenia człowieka w ziemię.
Historia
Tło
Mężczyzna jest przywódcą kanibalistycznego plemienia Azteków, które rozkwitło w Meksyku około 12-16 wieku.[2] Wiadomo, że jego plemię odprawiało rytuały ofiarne.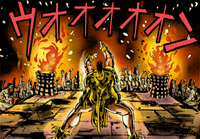 Na długo przed wydarzeniami z Phantom Blood, wódz, ubrany w Kamienną Maskę, składa w ofierze dziewczynę na ołtarzu w ramach rytuału. Jego maska pochłania jej krew i przebija jego mózg, zamieniając go w wampira. Z dumą ogłasza, że zyskał życie wieczne, a następnie prosi jednego z członków swojego kultu, aby stał się jedną z jego sił życiowych; członek zgadza się, a więc wódz wchłania krew członka. Reszta plemienia kibicuje wodzowi.
Nie wiadomo, co dzieje się później, ponieważ stwierdza się, że on i jego plemię zniknęli z historii, pozostawiając tylko swoje ruiny, nigdy więcej ich nie widziano. Niemniej jednak czas jego plemienia był najwcześniejszym znanym pojawieniem się Kamiennej Maski.[2]

Rozdziały / Odcinki

Występy w mandze
Rozdziały w kolejności pojawiania się

Występy w anime
Odcinki w kolejności pojawiania się
Cytaty

Quotes
"

Krew to życie!

(

血は生命なり!

Chi wa inochi nari!

)

"

"

Łoooooaah! W końcu uzyskałem... życie wieczne!

(

おぉお〜ん 我はついに手に入れたぞ!!永遠の生命を!

Oooooon... Ware wa tsuini teniireta zo!! Eien no inochi o!

)

"

"

Ty! Czy będziesz moim życiem?

(

汝!わたしの生命となるか!

Nanji! Watashi no inochi to naru ka!

)

"

"

Mogę wyczerpać jego życie! I ta Kamienna Maska dała mi moc prawdziwego władcy!

(

生命を吸いとるッ!そして!この石仮面から真の支配者の力を手に入れたぞ!

Inochi o sui toru! Soshite! Kono ishikamen kara shin no shihai-sha no chikara o teniireta zo!

)

"
Gry wideo
The Aztec Chief is playable in the Phantom Blood PS2 game in Extra Battle Mode, where he must defeat 15 Aztecs at the sacrificial altar. His special attacks utilize the knife he wields.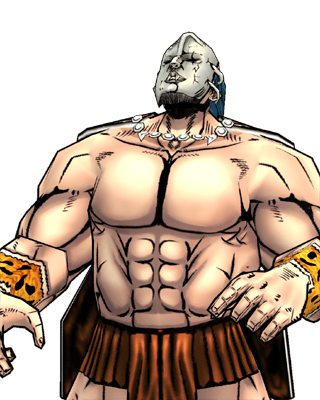 Aztec Chief




















The Power of a True Ruler
Running

Running



during damage

(LV0-3)
Available Stages: Extra Battle 13
Pojawia się jako postać wspierająca w kampanii All-Star Battle z maską zapewniającą graczowi wzrost siły i obrony.
Galeria
Przypisy
Nawigacja w witrynie