Pericolo
Jump to navigation
Jump to search
"
Eu rezo por sua segurança. Eu devo ao Chefe por esta vida frutífera e bem-vivida que eu tive.
"
Pericolo (ペリーコロ, Perīkoro) é um aliado terciário na quinta parte de JoJo's Bizarre Adventure, Vento Aureo.
Pericolo é um Capo na Passione. Ele aparece pela primeira vez para buscar o tesouro de ¥600,000,000 de Polpo de Bucciarati e o garante o cargo de capo. Imediatamente após isso, ele dá a Bucciarati a missão de Polpo de servir de guarda-costas para Trish Una, a filha do chefe. Diferente de muitos dos outros membros da Passione, Pericolo é um humano ordinário e não possui um Stand.
Aparência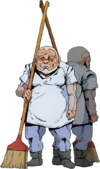 Pericolo é um homem baixo e velho com uma barba conectada ao seu cabelo curto e um bigode. Um de seus olhos constantemente vaga, alternando entre os dois mas nunca ao mesmo tempo.
Ele é introduzido disfarçado como um zelador mas veste um terno em suas aparições posteriores.
Esquemas de Cor
A obra é conhecida por sua mudança de cores entre as mídias, a informação apresentada abaixo pode ou não ser cânon.
Janitor's Outfit
(Baby blue hat, shirts and pants, white shoes.)
Suit
(Olive coat and pants, maroon dress shirt, black and yellow tie, white shoes.)
Suit
(Gray coat and pants with white buttons, purple dress shirt, blue and yellow tie, brown shoes.)
Janitor's Outfit
(White T-shirt over a gray long-sleeve shirt, blue pants, black boots.)
Suit
(Maroon coat and pants, green dress shirt with lighter green stripes, black shoes.)
Tie
(Teal with mint green stars and yellow circles.)
Personalidade
Pericolo grandemente aprecia o chefe por dá-lo uma boa vida quando ninguém levava ele e seu trabalho à sério, ao ponto de cometer suicídio após passar uma mensagem para a equipe Bucciarati quando dado a ordem. Ele também é um amigo de Bruno Bucciarati, que aprecia a presença e conselhos do velho.
A adaptação de anime desenvolve mais seu personagem, o demonstrando como um homem amigável apesar de seu trabalho. Ele notavelmente cumprimenta Giorno Giovanna e o dá as boas vindas na gangue assim como ri quando Mista e Narancia entusiasmadamente pedem para tocar no tesouro de Polpo.
História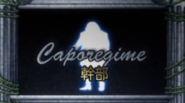 Pericolo é introduzido em um disfarce de zelador junto de uma também disfarçada Trish Una. Ao receber o tesouro de Polpo, ele conta a Bucciarati sobre sua promoção ao cargo de capo e o dá a missão de proteger Trish antes de ir embora.
Pericolo novamente aparece através do Moody Blues quando o mesmo faz um replay de sua presença dentro do quarto de Coco Jumbo. Após dar a informação sobre um CD escondido em uma estátua, ele queima a fotografia da área em que o disco está e atira em sua cabeça para prevenir que ele seja pego e interrogado por traidores. Entretanto, os membros da Squadra Esecuzioni montam a fotografia e perseguem o grupo de Bucciarati até sua nova localização.
Capítulos / Episódios

Aparições no Mangá
Capítulos em ordem de aparição

Aparições no Anime
Episódios em ordem de aparição
Frases

Frases
"

Parabéns, Bucciarati! Você agora é um capo!

"

"

Eu rezo por sua segurança. Eu devo ao Chefe por esta vida frutífera e bem-vivida que eu tive. Eu não posso deixar qualquer evidência para trás. Meus homens não sabem de nada. Eles serão aqueles que cuidaram de minha bagunça.

"
Galeria
Referências