Luca
Jump to navigation
Jump to search
"
Je t'ai donné un ordre et je t'ai dis de me payer le tarif de protection ! Tu mas me désobéir, alors ! Tu vas me doir à moi, Luca larme-à-l'oeil, "non" à ce que je te demande ?! (おれはおめーに命令したんだ!ジョバ代を払えとも言った!両方とも逆らうっつーんだな?!この「涙目のルカ」に「両方」とも「NO」つぅーんだな!Ore wa omē ni meirei shita nda! Joba-dai o haraetomo itta! Ryōhō-tomo sakarauttsun da na? ! Kono 'Namidame no Ruka' ni 'ryōhō' tomo 'NO' tsun da na! )
"
Luca (ルカ, Ruka), aussi surnommé "Luca larme-à-l'oeil" (涙目のルカ, Namidame no Ruka), est un antagoniste secondaire de la cinquième partie de JoJo's Bizarre Adventure, Vento Aureo.
Luca est un membre du gang Passione qui notamment supervise l'aéroport de Naples et toutes les activités illicites qui s'y passent. Il confronte Giorno Giovanna, qui opère en tant que conducteur de taxi illégal à l'aéroport, et exige de lui sa dîme pour travailler sur son territoire. S'écrasant la tête et tombant alors dans le coma à cause du pouvoir de Gold Experience, Luca devient le catalyste pour l'aventure de Giorno alors que le gang se met alors à chercher celui qui aurait attaqué Luca.
Luca ne semble pas avoir de Stand, ne faisant qu'attaquer les gens avec sa pelle.
Apparence

Luca est un homme de taille moyenne, voire inférieure à la moyenne sachant qu'il semble être à peut prêt de la taille de Giorno. En effet, avec sa posture penchée, les yeux de Luca s'alignent avec Giorno. Luca a une coupe au bol avec deux franges qui lui descendent sur le front. Luca a aussi une cicatrice sous l'oeil droit qu'il a acquis après un combat de gang. A cause de cette blessure, son oeil droit verse régulièrement des larmes, d'ou son surnom de "larme-à-l'oeil".
Luca porte un manteau avec un motif de fleurs sur le torse, les hanche et le dos, une chemise et un pantalon simples. Luca porte avec lui une pelle avec les lettres "S.P.Q.R." gravées dessus.
Palettes
The series is known for alternating colors between media, the information presented below may or may not be canon.
Tenue
(Manteau orange, fleurs vert, chemise noire bordée de bleu, pantalons noirs, chaussures brunes.)
Tenue
(Manteau violet, fleurs violet sombres, chemise noire bordée de jaune, chaussures noires.)
Tenue (haut)
(Manteau brun clair, fleurs vertes, chemise bordeaux bordée d'orange.)
Tenue (bas)
(Pantalon noir, chaussures grises et blanches avec bordures jaunes et lacets bleus.)
Pelle
(Pelle grises, manche en bois brun, poignée bleue et grise)
Personnalité
"
C'est moi qui parle maintenant ! Qui a dit que tu pouvait poser des questions, crétin !?
"
Luca est un gangster violent et impitoyable. Il cache sa nature sous un masque d'amabilité, sachant qu'on le voit aborder amicalement Giorno Giovanna et lui donner une leçon sur l'amitié qu'il dit être une valeur importante dans la vie. Mais, il prétend être amical mais exige des autres qu'on lui témoigne un grand respect sans respecter les autres. Luca ne tolère pas qu'on "travaille" dans son territoire sans lui donner son impôt. Il menace et envahit l'espace personnel de Giorno quand il réclame son argent et refuse d'écouter quand Giorno lui explique qu'il n'a pas d'argent. Quand il voit une grenouille, il essaie de la tuer en l'écrasant avec sa pelle, frappant Giorno en même temps. Narancia Ghirga dit que Luca était désagréable avec tout le monde, étant le type d'homme à aller chercher les problèmes, et qu'il vendait de la drogue aux enfants.
Histoire
On sait peu de chose du passé de Luca. Il est devenu un membre du gang Passione. A un moment, il s'est battu et a reçu un coup de couteau sous l'oeil et en a gardé une cicatrice. Depuis, son oeil pleure régulièrement, ce qui lui a valu le surnom de "larme-à-l'oeil".[3] Selon Narancia Ghirga, Luca était du genre à trouver les problèmes et vendait de la drogue aux enfants.
Dans l'adaptation animée de Golden Wind, une scène originale le montre à l'aéroport de Naple surprendre un taximan non licencié qui essayait d'attirer des client sans lui avoir payé son impôt au gang.[4] Luca traîne l'homme dans un coin et le bat, ne sympathisant même pas quand l'homme dit qu'il a une famille à nourrir. Espérant se faire épargner, l'homme révèle à Luca qu'un jeune nommé Giorno Giovanna travaille aussi derrière le dos le Luca. Luca le "remercie" en lui assénant un violent dernier coup.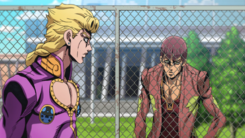 Luca rencontre Giorno sur un terrain vague près de l'aéroport et lui fait signe de venir avec lui. Sur un banc, Luca fait la conversation avec Giorno. Il lui demande son âge et est étonne qu'il n'ait que 15 ans, trouva cela drôle. Il lui fait la leçon sur l'amitié, lui disant que les trois piliers d'une belle amitié sont la sincérité, la tolérance et le respect. Giorno lui demande à quoi il veut en venir et Luca s'emporte, criant que c'est lui qui parle. Luca réclame ainsi son impôt pour travailler sur son territoire et n'écoute pas quand Giorno lui dit qu'il n'a plus argent après avoir payé les gardes. Luca prend alors le portefeuille de Giorno et découvre qu'il n'a rien d'autre qu'une photo.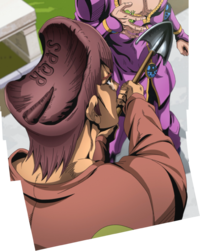 Faisant mine de frapper Giorno avec sa pelle, Luca s'interrompt quand il voit une grenouille s'accrocher sur le pantalon de Giorno et grimper sur lui. C'est en fait la valise de Koichi que Giorno a transformé et qui a réussi à retrouver Giorno. Luca ordonne à Giorno de se débarrasser de la grenouille mais Giorno refuse. Luca devient alors enragé que Giorno lui désobéisse par deux fois et frappe la grenouille de toutes ses forces avec sa pelle. Cependant, le pouvoir de Gold Experience renvoie l'attaque et le crâne de Luca s'enfonce comme s'il était frappé avec sa pelle. Luca tombe dans le coma. Giorno part.
On retrouve le corps inconscient de Luca et on l'amène à l'hôpital. Le Boss ne croit pas qu'il soit utile qu'on le garde en vie et donc le gang tue Luca. Blono Buccellati prend ses doigts et son oeil, et part alors à la recherche de l'homme qui aurait agressé Luca. Il utilisera les morceaux de Luca pour torturer Giorno.
Chapitres / Episodes

Apparition dans le Manga
Chapitres (ordre chronologique)

Apparitions dans l'Anime
Episodes (ordre chronologique)
Citations

Citations
"

There are three "yous" to remember in friendship. The first is you don't lie, the second is you don't hold grudges, and the third is you respect each other. Sounds good, right?

"

"

I gave you an order, and I told you to pay me a protection fee! So you're going to disobey both of those? You're going to tell me, Leaky Eye Luca, "no" to both of those things?!

"
Galerie d'Images
Références