The World
Jump to navigation
Jump to search
"
O poder verdadeiro do The World, como seu nome sugere, é de reinar o mundo inteiro!
"
The World (ザ・ワールド(世界), Za Wārudo) é o Stand de DIO, apresentado na terceira parte de JoJo's Bizarre Adventure, Stardust Crusaders.
Um Stand extremamente poderoso e capaz de controlar o tempo manejado por um usuário igualmente poderoso, The World é um Stand esotérico, tanto reverenciado quanto temido por quase todos personagens em Stardust Crusaders.
Aparência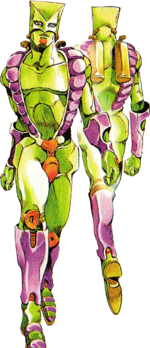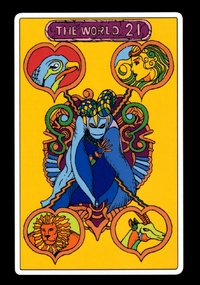 The World possui a aparência de um humanoide alto, altamente musculoso - tendo uma forte semelhança ao próprio DIO em termos de fiísico e vestimentas. Ele veste um capacete que cobre seu rosto até a parte de baixo de seu nariz, inclinado em um ângulo íngreme da base de sua testa até um pico situado acima da parte traseira de sua cabeça por metade de sua altura, deixando a face de um triângulo visível na frente, um tanto similar a Coroa Vermelha do Baixo Egito.
Ele veste dois pequenos tanques de ar em suas costas, conectados por pequenos cabos nas partes dianteiras de sua máscara; e alças grossas atravessando a parte traseira de sua cintura sobre ambos ombros até a frente. A parte de trás de suas duas mãos possuem o formato de um relógio simples. Seu queixo, base do abdômen, virilha e joelhos são cobertos por corações. Seus sapatos são apontados assim como os de DIO.
No mangá colorido, The World é completamente amarelo. No anime, ele possui pele cinzenta, corações verdes e vestimenta dourada. No OVA, The World possui pele cinzenta, corações cor de bronze e vestimentas cor de marfim.
É revelado no diário de DIO que ele pretendia gravar 14 frases em seu Stand para lembrá-las,[2] mas é desconhecido se ele havia feito isso antes de sua morte.
Esquemas de Cores
A obra é conhecida por sua mudança de cores entre as mídias, a informação apresentada abaixo pode ou não ser cânon.
Corpo
(Corpo amarelo, armadura amarela/amarelo-claro)
Corpo
(Corpo amarelo, armadura amarela e acessórios marrons)
Corpo
(Corpo bronzeado, armadura bege com acessórios cinzas)
Corpo
(Corpo cinza, armadura bege com acessórios marrons)
Corpo
(Corpo cinza-claro, armadura dourada com acessórios verde-lima)
Corpo
(Corpo cinza, armadura amarela com acessórios verde-claros)
Corpo
(Corpo verde-cinzento, armadura dourada com acessórios verde lima)
Personalidade
The World não demonstra nenhuma personalidade, embora ele ocasionalmente sorri enquanto ataca outras pessoas, sugerindo que ele pode ser uma entidade cruel que toma prazer em causar dor.[3][4] No anime, ele frequentemente demonstra expressões formidáveis e de fúria em seus ataques. Seu grito de batalha é Muda Muda Muda! (無駄 無駄 無駄!, lit. "Inútil, inútil, inútil!"),[3] entretanto, o próprio grito parece ser comunicado por DIO.
O próprio The World nunca demonstrou uma tentativa de fala. No anime, The World grunhe enquanto lutando contra Star Platinum.
Habilidades
The World é um Stand de curto-alcance exepcionalmente poderoso muito semelhante ao Star Platinum como notado por Noriaki Kakyoin e Jotaro Kujo, mas tendo um alcance efetivo de manifestação de aproximadamente 10 metros.[5] Apesar de requerir uma curta distância para infligir dano, seu poder físico esmagador e quase imparável controle sob o tempo faz dele um dos Stands mais perigosos de toda a série.
Poder Físico Extremo: The World possui força, sentidos, precisão e uma velocidade incrível, sendo capaz de facilmente atravessar seu punho pelo abdômen de Kakyoin. DIO alega que o The World é ainda mais forte e rápido que o Star Platinum já que ele foi capaz de vencê-lo em uma batalha de socos rápidos entre os dois.[3] Entretanto, não é claro se isso é um aspecto da natureza vampírica de DIO ou se é simplesmente devido à uma maior experiência com seu Stand. Sua ofensiva primária é geralmente caracterizada por uma onda de socos rápidos e um chute ocasional.
Congelamento do Tempo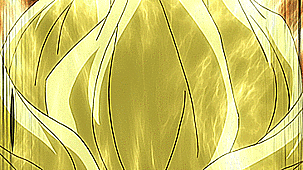 O poder assinatura de The World é sua habilidade de parar o tempo, permitindo que apenas ele, DIO e outra pessoa com o mesmo poder possam agir durante o tempo pausado.[6]
No tempo parado, DIO pode mexer seu corpo livremente junto de qualquer objeto que ele toque e deseje que se mova, permitindo que ele golpeie seus inimigos indefesos, ir para uma posição melhor, e brincar com suas vítimas. Toda força aplicada por DIO durante o tempo congelado continua à existir após o fluxo do tempo retornar. Isso é visto quando os objetos que DIO joga podem ser momentanêamente movidos durante o tempo parado antes de cessarem seu movimento. Várias facas atiradas podem voar por vários metros antes de pararem perto de Jotaro.[7]
Uma outra característica única da pausa do tempo é como DIO pode aparentemente levitar durante o tempo parado. Já que nenhuma força além do usuário existem durante o tempo congelado, não há força de gravidade, permitindo que DIO livremente se mexa no espaço da forma que ele deseja, com a ajuda de seu Stand.
É notável que DIO precisa conscientemente ativar o Congelamento de Tempo, o que significa que ataques surpresa podem prevenir com que ele pare o tempo.[8]
Apesar do tempo não progredir durante o efeito, DIO conta a duração do The World usando segundos.
Por causa do estado enfraquecido de DIO em Stardust Crusaders, essa habilidade inicialmente só funciona por até 5 segundos no quadro de referência de DIO antes que o tempo volte à fluir novamente.[9] Entretanto, graças à imortalidade de DIO, a duração do tempo parado aumenta já que DIO se torna mais acostumado ao The World e a cicatriz em seu pescoço é curada, chegando ao máximo de nove segundos no final de Stardust Crusaders.[10]
Entretanto, caso ele não houvesse morrido, o período pelo qual DIO consegue parar o tempo continuaria à crescer, aparentemente sem fim.[11]
Capítulos / Episódios

Aparições no Mangá
Capítulos em ordem de aparição

Aparições no Anime
Episódios em ordem de aparição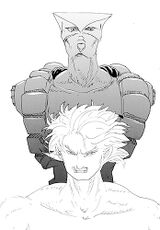 A informação abaixo é derivada de uma fonte que não foi escrita pelo Araki. Como tal, ela pode ou não ser considerada cânon.
The World aparece na novel 'JORGE JOESTAR'. Na novel, Dio já possui seu Stand após tomar o corpo de Jonathan Joestar. Ele o usa para juntar comida e torturar Erina enquanto viajando em seu caixão com ela no meio do oceano.
Quando Dio acorda de seu sono após cem anos, ele temporariamente dá seu Stand a Giorno Giovanna ao inserir metade de sua alma no corpo do jovem. Como resultado, Giorno se torna um clone chamado DIO e replica os eventos de Stardust Crusaders. Após a morte de DIO, Dio usa os efeitos de Cube House para viajar no tempo e ir atrás de seu Stand.
Novamente Dio se torna um ser supremo como Kars, The World é capaz de parar o tempo por quase uma hora.
Enquanto lutando contra Dio, Kars desenvolve sua própria cópia aprimorada do Stand, conhecida como The World Ultimate. Dio também desperta essa versão do Stand após ver Kars usá-la.
Jogos
Uma forma evoluída do Stand chamada de The World Over Heaven aparece em Eyes of Heaven. Ele é manejado por um DIO de um universo parelelo que ascendeu ao Céu após derrotar a família Joestar e cumprir seu plano. O Stand mantem sua habilidade de parar o tempo e ganha uma nova habilidade de sobrescrever a realidade.
Galeria
Curiosidades
O design do The World foi inicialmente criado por Araki como um "vilão" para contrastar com o Star Platinum de Jotaro Kujo.[12] Ele é notavelmente o único Stand da Parte 3 que não teve nenhuma influência do editor de Araki na época, Ryosuke Kabashima, pois ele havia inesperadamente acabado no hospital enquanto a última batalha estava sendo escrita.[13]
Coincidentemente, a carta do tarô d'O Mundo foi à um ponto referida como "Tempo" no baralho de Court de Gébelin.[14]
Referências