The World Over Heaven
Jump to navigation
Jump to search
The World Over Heaven
(

ザ・ワールド・オーバーヘブン

,

Za Wārudo Ōbā Hebun

)
é o Stand do
DIO Ascendido
apresentado em
Eyes of Heaven
. Ele é uma variação evoluída de
The World
e considerado por DIO como o "Stand supremo", com a habilidade de reescrever a realidade.
[1]
Aparência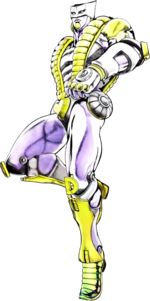 Similar ao The World em aparência e porte, seu esquema de cores consiste de uma branca angelical com acessórios dourados. Seus olhos são invertidos, produzindo uma esclera negra, íris brancas e pupilas pretas (suas pupilas não são vistas no jogo). Ele mantém o tema de coração em seu cinto, mas seus joelhos têm uma grande letra D ao invés de um coração, e seu queixo agora tem um círculo ao invés de um coração, também. The World Over Heaven ainda não tem personalidade própria, mas espelha a de DIO.
Esquemas de Cores
A obra é conhecida por sua mudança de cores entre as mídias, a informação apresentada abaixo pode ou não ser cânon.
Corpo
(Corpo branco, armadura branca/amarela.)
Olhos
(Esclera preta, íris brancos.)
Habilidade
Sobrescrição da Realidade
The World Over Heaven ganha a habilidade exclusiva de sobrescrever a realidade, permitindo que DIO reescreva quase qualquer coisa. A potencial extensão dessa habilidade parece ser sem limites, já que o poder pode ser usado para reescrever a existência de qualquer coisa que ele quiser, roubar/absorver almas e usá-las como escravos, curar a si mesmo, reviver os mortos e completamente negar quase qualquer defesa que a obra tem a oferecer (como demonstrado contra as habilidades do Tusk ACT4 e o Gold Experience Requiem). Entretanto, esse poder é eventualmente revelado sofrer de uma grande limitação: ele só pode ser iniciado através dos punhos do The World Over Heaven, significando que o Stand teria de socar algo para reescrevê-lo.
Congelamento de Tempo
A habilidade original do The World, que permite que DIO pare o fluxo do tempo. Como anteriormente, isso permite que DIO se mova quando ninguém mais pode, e atacar seus oponentes quando eles estão completamente indefesos. Enquanto há a possibilidade da duração do congelamento de tempo do The World Over Heaven ter aumentado de 9 segundos, ele não tem nenhum limite dito já que isso não foi demonstrado no jogo.
Galeria
Trivia
Referências