THE WORLD
Jump to navigation
Jump to search
ALERTA DE SPOILERS: Spoilers da Parte 7 podem estar presentes abaixo.
"
O tempo parou... e agora a diversão começa.
"
THE WORLD (THE WORLD, Za Wārudo) é o Stand do Diego Brando de um Mundo Paralelo, na sétima parte de JoJo's Bizarre Adventure, Steel Ball Run.
Uma versão alternativa da encarnação original do The World da Parte 3, ele aparece junto de seu usuário durante seu confronto com Johnny Joestar no arco High Voltage. Assim como sua versão original, THE WORLD pode parar o tempo.
Aparência
THE WORLD é um Stand humanoide com um porte parecido com o de Diego. Seu design é baseado em sua contraparte alternativa, particularmente a versão mais nova vista em JOJO A-GO!GO!.[1] Ele veste um capacete cobrindo seu rosto até o lugar de seu nariz, inclinado em um ângulo íngreme da base de sua testa até um pico situado acima da parte traseira de sua cabeça por metade de sua altura, deixando a face de um triângulo visível na frente, um tanto similar a Coroa Vermelha do Baixo Egito.
Em suas costas há dois tanques de ar, conectados por dois curtos cabos na parte dianteira de sua máscara; e alças grossas atravessando a parte traseira de sua cintura sobre ambos ombros até a frente. A parte de trás de suas duas mãos possuem o formato de um relógio simples com emblemas parecidos em seus ombros e quadris. A região de seu queixo e cinto são decorados com corações, enquanto em seus joelhos ele veste joelheiras com um "D".
Esquemas de Cores
A obra é conhecida por sua mudança de cores entre as mídias, a informação apresentada abaixo pode ou não ser cânon.
Corpo
(Pele e armadura amarela, alças e manoplas beges.)
Corpo
(Pele e armadura amarela, alças e manoplas beges.)
Habilidades
Inerente a maioria dos Stands de curto-alcance, o THE WORLD demonstra uma força de ataque acima da média, desferindo golpes poderosos o suficiente para atravessar seus próprios membros e presumidamente eliminar inimigos com um só soco. O seu alcance de manifestação é de pelo menos alguns metros, já que ele é separado de Diego em certo ponto para realizar um ataque de pinça.[2]
Congelamento do Tempo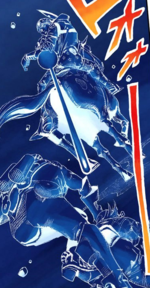 Como descrito por Diego, THE WORLD possui a habilidade de parar o tempo, permitindo com que somente ele e seu usuário possam agir durante o tempo parado.[3]
A duração máxima da habilidade é aproximadamente 5 segundos. Durante esse período, objetos que foram lançados pelo THE WORLD ou seu usuário irão eventualmente parar no ar e assim que o tempo for retomado, continuarão viajando na velocidade em que eles foram lançados.[4]
Diego prefere usar seu poder para montar armadilhas contra Johnny em vez de matá-lo diretamente, embora isso possa ser por causa do perigo de se aproximar do Tusk ACT4.[5]

Capítulos

Aparições no Mangá
Capítulos em ordem de aparição
Galeria
Curiosidades
Diferente do original, o nome do THE WORLD é distintivamente escrito com letras maiúsculas no alfabeto romano, em uma convenção semelhante ao nome de DIO da Parte 3 para frente.
Referências