Ozyrys
Jump to navigation
Jump to search
"
Zdolność mojego Standa może zabrać twoją duszę w momencie twojej straty!
"
Ozyrys (オシリス神, Oshirisu-shin, dosł. "Bóg Ozyrys") to Stand Daniela J. D'Arby, występujący w trzeciej części serii JoJo's Bizarre Adventure, Stardust Crusaders.
Jest to potężny humanoidalny Stand zdolny do kradzieży dusz tych, którzy przegrają zakład lub tych, którzy przyznają się do porażki, i przechowywania ich jako żetonów pokerowych.
Wygląd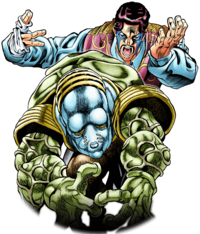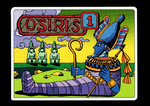 Ozyrys jest humanoidalnym Standem z dużymi, muskularnymi ramionami oznaczonymi liniami wzoru naczyniowego, grubym czołem i palcami zakrytymi przez przyssawki. Nosi zbroję na nogach składającą się z ochraniaczy na kolana i butów. Wygląd jest połączeniem projektu w stylu afrykańskim z elementami mecha.[2]
Ozyrys reprezentuje egipskiego boga Ozyrysa, związanego z dobrobytem i życiem po śmierci.
Schematy kolorów
Seria znana jest z zmiennych kolorów między mediami, informacje przedstawione poniżej mogą, ale nie muszą być kanoniczne.
Ciało
(Jasnofioletowe i fioletowe)
Ciało
(Błękitne i jadeitowa zieleń ciała, żółte żyły, bordowe usta i oznaczenia twarzy)
Ciało
(Jasnoniebieskie i ciemnozielone ciało, żółte żyły)
Ciało
(Jasnozielone i ciemnozielone ciało, jasnożółte usta)
Ciało
(Jasnozielone i ciemnozielone ciało, jasnożółte usta)
Umiejętności
Ozyrys to automatyczny Stand, który uzupełnia umiejętności Daniela J. D'Arby'ego jako profesjonalnego hazardzisty. Tak długo, jak przeciwnik D'Arby'ego zgadza się na jego zasady, Ozyrys może ukraść duszę przeciwnika szybkimi i prostymi zakładami, które D'Arby może również manipulować na swoją korzyść, aby odnieść sukces. W związku z tym Ozyrys wraz z przebiegłymi umiejętnościami i wyjątkową pamięcią D'Arby'ego jest niebezpieczną parą, prawie zdolną pokonać całą Grupę Joestar.
Kradzież duszy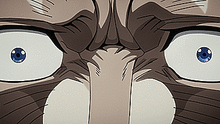 Ozyrys ma zdolność okradania duszy każdego, kto przegra z D'Arbym w zakładzie lub w grze.[3] Po pierwsze, D'Arby chce, aby jego przeciwnik zgodził się zaryzykować swoją duszę,[4] a szczególnie działa tylko wtedy, gdy przeciwnik "przyznaje się do porażki w swoim sercu".[5] Jeśli przegrany stawia duszę innej osoby, Ozyrys może ją przyjąć, nawet jeśli ta osoba nie jest obecna lub zgadza się na to.[6] Oszukiwanie jest również dozwolone podczas gry przeciwko D'Arby'emu, ponieważ uważa on oszustwo za dopuszczalne, o ile nie zostaniesz złapany.[4]
Kiedy dusze zostaną skradzione z ciała, nie będą już pulsować i popadną w martwy stan, chyba że D'Arby zwróci im duszę.[4]
Kolekcja żetonów pokerowych
Dusze są ściskane przez ręce Ozyrysa i przechowywane w postaci żetonów pokerowych,[4] które D'Arby przechowuje jako kolekcję. D'Arby może swobodnie grać w indywidualne dusze,[4] a nawet podzielić żeton na kilka pustych części, które można wykorzystać w grze, przy czym wszystkie części są równe jednej duszy.[7] Jeśli uzna porażkę, dusze, które uprawił, zostaną uwolnione.[8] Jest również w stanie uwolnić dowolną liczbę dusz, które obecnie ma do woli.[8] Jeśli jednak D'Arby umrze, wszystkie dusze, które zebrał, również umrą.[4]
Rozdziały / Odcinki

Występy w mandze
Rozdziały w kolejności pojawiania się

Występy w anime
Odcinki w kolejności pojawiania się

Występy w nowelach
Rozdziały w kolejności pojawiania się
Galeria
Przypisy
Nawigacja w witrynie