Dirty Deeds Done Dirt Cheap
Jump to navigation
Jump to search
"
Faire coexister des mondes parallèles dans le même espace-temps... telle est la faculté du Stand "Dirty Deeds Done Dirt Cheap".
"
—Président Funny Valentine, SBR Chapter 69:
D4C, Part 4

Dirty Deeds Done Dirt Cheap (いともたやすく行われるえげつない行為, Itomo Tayasuku Okonawareru Egetsunai Kōi)[1] souvent abrégé en D4C (ディー・フォー・シー, Dī Fō Shī), est le Stand de Funny Valentine, figurant dans la septième partie de JoJo's Bizarre Adventure, Steel Ball Run.
D4C est un Stand humanoïde qui permet à Valentine à passer, lui et tous ceux qu'ils emmène avec lui dans des mondes parallèles. Avec l'exception de Valentine, toute personne qui entre en contact avec un alter-ego sera détruite.
Apparence
D4C est un Stand humanoïde qui partage la taille de Valentine et sa carrure athlétique. Son corps clair est plutôt lisse mais les côtés de son corps sont parcourus par des coutures afin d'évoquer l'image d'une balle de baseball.[3] Ses épaules semblent être des grandes sphère lisses. D4C porte aussi un slip avec une marque en forme de "X". Sa tête est plutôt organique mais il possède une protège-mâchoire qui cache la partie basse du visage, et ses yeux sont des yeux striés mécaniques, qui ont une expression perpétuellement calme. La caractéristique principale de D4C sont ses grandes oreilles cousues partant du haut de la tête, évoquant l'apparence d'un lapin.
Après avoir été exposé au pouvoir de Jayro Zeppeli et de son Ball Breaker,[4] Valentine âge rapidement et son Stand change drastiquement d'apparence. Il perd en fait la couche extérieure de son apparence, dont ses oreilles. Ceci expose l'intérieur de sa tête qui a une apparence encore plus artificielle, avec un visage qui est relativement lisse sauf pour la présence des yeux et un relief plat à plusieurs branches qui couvre la tête. D4C conserve cette apparence même si Valentine se remplace.
Dirty Deeds Done Dirt Cheap est de couleur bleue et rose dans la plupart des médias dans lesquels il figure.
Palettes
Les palettes changent souvent entre les médias. L'information ci-dessous ne devrait pas être considérée comme canonique.
Corps
(Corps bleu bébé avec coutures, épaules et tenue rose clair)
Corps
(Corps bleu clair brillant avec coutures, épaules et tenue roses fuchsia)
Corps
(Corps cyan clair avec coutures, épaules et tenue roses)
Personnalité
D4C n'a aucune personnalité propre. Cependant, il peut se transférer à n'importe quel Funny Valentine à travers les univers parallèles, leur passant tous les souvenirs de l'ancien Valentine. Ce Valentine devient en pratique le nouveau propriétaire de D4C et le Valentine du monde sur lequel tout est basé.
Pouvoirs
D4C est l'un des Stands les puissants de la série. Par défaut, Dirty Deeds Done Dirt Cheap est un Stand de courte portée avec une force et une vitesse remarquables. Il est capable d'envoyer voler un homme d'un coup de poing[5] et rivalise de vitesse avec Diego Brando transformé en dinosaure.[6]
Bien qu'il explore encore son plein potentiel, Valentine est un manieur de Stand créatif et maîtrisant bien ses capacités.
Voyage trans-dimensionnel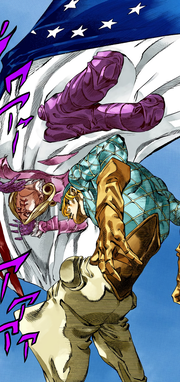 Dirty Deeds Done Dirt Cheap permet à plusieurs dimensions parallèles de coexister dans le même point dans l'espace-temps et permet à Valentine de voyager entre différentes dimensions. Il peut aussi interagir avec ces dimensions sans danger pour lui-même.[5]
Valentine passe d'un univers à l'autre simplement en se mettant entre deux objets et en s'aplatissant entre les deux. Par exemple il peut disparaître sous le dossier d'une chaise tombant au sol.[7] Il peut d'ailleurs se couvrir de liquide (par exemple de l'eau) et disparaître aussi,[6] ce qui marche aussi avec de la terre. Valentine n'a besoin que d'une partie infinitésimale de lui-même placée entre deux objets pour pouvoir sauter entre les dimensions. Puis, Valentine peut réapparaître de n'importe où, même le dos d'une personne en ayant probablement disparu sous cette personne dans une autre dimension.[5] L'une des premières facettes de ce pouvoir était que Valentine était invulnérable face aux projectiles car la partie du corps touchée se transformait simplement en un trou, mais cette propriété a ensuite été délaissée.[8]
Valentin peut également forcer d'autres personnes ou objets vers d'autres dimensions en les forçant entre deux objets ou dans l'objet qu'il utilise comme portail;[5] par exemple, il peut claquer une porte sur eux pendant qu'ils sont debout contre un mur. Cependant, comme deux versions d'une même personne ou d'une même chose ne peuvent coexister dans la même dimension, l'une d'entre elles devra retourner dans la sienne. Sinon, et s'ils s'approchent trop l'un de l'autre, les deux versions alternatives vont s'attirer et leurs corps vont fusionner avant d'exploser en éponges Menger, suivi par une annihilation totale de la victime,.[9] Ce phénomène peut aussi provoquer une réaction explosive pouvant blesser ceux qui se trouvent à proximité.[10] Cette règle ne s'applique pas à Valentin lui-même. En n'emmenant qu'une seule partie de sa victime entre les dimensions, Valentine peut d'ailleurs les piéger dans un objet.[5]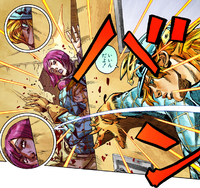 Diego Brando a montré qu'autres personne que Valentine peuvent attirer des personnes vers d'autres dimensions s'il réutilise les mêmes objets qui servent maintenant de portail. Ainsi, le drapeau dans lequel il était coincé a pu être réactivé simplement en attirant deux versions de Wekapipo dans le drapeau.[9]
On explique qu'entre les dimensions, la gravité est la seule force capable de persister avec Valentine quand il voyage entre les dimensions. Cela l'empêche de se désintégrer et de se disperser quand il est entre les différents mondes.[11]
Si Funny Valentine est blessé, il peut sauter dans une autre dimension et transférer son Dirty Deeds Done Dirt Cheap au Funny Valentine de ce monde-ci.[9][12] Said Valentine acquiert tous les souvenirs de l'ancien Valentine et devient le Valentine principal, juste parce qu'il est désormais le détenteur de D4C. En soi, la conscience de Valentine reste différente de son prédécesseur. Néanmoins, comme chaque Valentine est dédié à la collecte des parties du cadavre et a la même personnalité, les différences sont imperceptibles. De plus, il peut invoquer n'importe quel nombre de soi alternatifs dans une dimension donnée afin de surpasser en nombre ses adversaires.[6] Ces Valentines n'ont cependant pas de D4C, ce dernier étant apparemment totalement unique au monde de base, l'unique univers où réside le Corps Saint.[2]
Dans les premiers chapitres où D4C apparaît, les gens étaient capables de percevoir différentes dimensions parallèles selon leurs points d'observation mais cette propriété n'a pas été développée.
Chapitres

Apparitions Manga
Apparition dans les chapitres
The information below derives from a source not written by Araki. As such, it may or may not be considered canon.
Dirty Deeds Done Dirt Cheap apparaît dans le roman JORGE JOESTAR, et il appartient au Funny Valentine du premier universe mais aussi au petit-fils du Valentine du 37ème univers : The Funniest Valentine. D4C peut encore passer d'un manieur à l'autre, mais il revient aux côtés de son manieur originel si son manieur actuel meurt.
Comme on ne peut avoir qu'un Stand par personne, les homologues de Funny Valentine n'ont pas de Stand. Cependant, les homologes de Funnier Valentine dans des univers parallèles ont des D4C alternatifs. Funny peut rassembler plusieurs versions de The Funniest, et inversement. Ces version alternatives ont leurs propres Stands qui peuvent se désintégrer s'ils entrent en contact.
Plus tard, Cars aura sa version améliorée du Stand, connue sous le nom de Ultimate D4C.[13]

Galerie d'Images
Iggy, Killer Queen, The Fool, Hierophant Green, Kira, Harvest, Weather Report, Weather, D4C, & Sticky Fingers - Ripples of Adventure
Détails
Araki déclare que la conception en forme de lapin de la tête de D4C est née du fait qu'il voulait que la silhouette du Stand soit complètement différente des Stands des antagonistes principaux précédents, il a donc décidé de lui donner de longues oreilles.[3]
Dans Eyes of Heaven , il est expliqué que l'effet de dimension basé sur l'éponge de Menger ne s'applique pas à deux versions du même objet ou personne si elles proviennent de la même chronologie. Cela explique pourquoi deux Joseph Joestar (des parties 2 et 3) peuvent coexister et interagir en toute sécurité. Deux mêmes personnes d'univers alternatifs (mais pas de dimensions parallèles) sont aussi capables de coexister en toute sécurité, comme Jonathan Joestar et Johnny Joestar.
Références