Benjamin Boomboom
Jump to navigation
Jump to search
Benjamin Boomboom (ベンジャミン・ブンブーン, Benjamin Bunbūn) est un antagoniste secondaire de la septième partie de JoJo's Bizarre Adventure, Steel Ball Run, qui apparait pour la première fois dans l'arc narratif "Des hors-la-lois né du désert".
Benjamin est le patriarche de la Famille Boomboom, étant le père de L.A. er André Boomboom. Benjamin Boomboom participe à la Steel Ball Run et prévoit de gagner en tuant ses concurrents. Il s'attaque alors à Johnny Joestar et Jayro Zeppeli aux côtés de ses fils.
Benjamin est un manieur de Stand et partage son Tomb of the Boom aux pouvoirs magnétiques avec ses fils.
Apparence
Benjamin Boomboom est un large homme mature, qui aurait à peu près la quarantaine ou la cinquantaine, avec des traits plutôt grossier. Il porte une sorte de coque métallique sur la mâchoire, qu'il utilise pour modifier son visage. Il est mal rasé et semble avoir une coupe au bol, caché par sa capuche.
Benjamin porte une large tunique à capuche couverte de petits trous avec une cible sur la poitrine et un simple pantalon avec quelques lanières autour des jambes.
Personnalité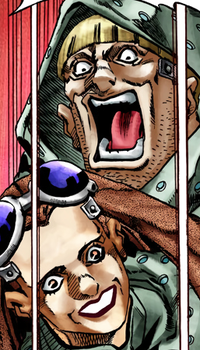 Benjamin Boomboom est un homme cupide et violent qui participe à la Steel Ball Run et tue la concurrence pour empocher le grand prix de la course.
Benjamin est un père abusif et agressif, qui crie souvent sur ses fils. Il insulte souvent L.A. Boomboom sur son intelligence et semble avoir eu une mauvaise relation avec sa femme. Il est capable de protéger ses fils au combat, et l'a fait pour André son autre fils, mais va ensuite le laisser pour compte alors qu'André souffre d'une grave blessure.
Pouvoirs
Main article: Tomb of the Boom 1
Tomb of the Boom est un Stand collectif partagé entre les membre de la Famille Boomboom, donnant à chacun un pouvoir de magnétisme particulier. Benjamin Boomboom possède directement un pouvoir de magnétisme lui permettant de manipuler des objets en fer directement. Il peut par exemple insérer des pièces de métal sous sa peau pour changer son apparence.
Tomb of the Boom 1
(
トゥーム・オブ・ザ・ブーム ワン
)


Equitation
Crosstown Traffic
(
クロスタウン・トラフィック
)


Histoire
Passé
On ne sait pas grand chose du passé de la Famille Boomboom avant le début de la Steel Ball Run. Benjamin le père mentionne que la mère d'André et de L.A. a quitté le foyer et serait devenue une prostituée.
Un jour, la famille Boomboom alla faire de la prospection minière dans des montagnes réputées maudites par les populations locales d'Indiens. Ils sont en fait tombés sur une Paume du Diable, et c'est là qu'ils ont acquis leur Stand collectif Tomb of the Boom.
Steel Ball Run
La Famille Boomboom participe à la Steel Ball Run ensemble. Ils visent à s'accaparer les première, deuxième et troisième places pour maximiser leurs gains et prévoient pour cela d'assassiner la concurrence avec leur pouvoir. Perdue dans la masse des coureurs lors de la première étape, la famille Boomboom assassine trois autres concurrents nommés Max Becker, David Hagen et Paul Lukather en utilisant Tomb of the Boom pour les magnétiser. Les trois victimes explosent quand elles sont tellement magnétisées qu'elle s'attirent l'un vers les autres et s'écrasent ensemble.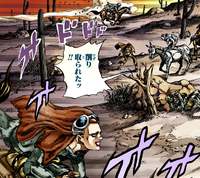 Au cours de la deuxième étape, la famille Boomboom suit Johnny Joestar et Jayro Zeppeli dans le désert à cause de Oyecomova, qui a mis une prime sur la tête de Jayro. André est envoyé pour les tromper. Il se laisse mordre par une salamandre tachetée et s'approche du duo au coucher du soleil en se faisant passer pour un innocent concurrent qui est juste blessé. Il supplie qu'on lui donne du feu pour cautériser et Jayro lui lance à contrecœur une bûche en feu. Pour s'anesthésier, André utilise sa ceinture pour s'étrangler et se coupe la main pour extraire poison avant de perdre apparemment conscience, le tout pour inciter Jayro à s'approcher de lui. Jayro va alors s'approcher et donner un coup de pied au couteau d'André, ce qui va magnétiser sa jambe. Le reste de la famille vient.
Des bouts de métals sont attirés et s'enfoncent dans la jambe de Jayro. Le duo se rend compte qu'ils ont affaire à des ennemis qui assassinent la concurrence. Ils se rendent compte que la capacité du Boomboom est un pouvoir lié au magnétisme lorsque le pistolet de Johnny se démonte tout seul et que les pièces sont attirées vers les pieds de Gyro. Benjamin Boomboom, le patriarche, détruit une Boule de Métal que Jayro lance vers lui avec son magnétisme. Le couteau d'André vole vers le cou de Jayro mais ce dernier le bloque. Furieux contre Jayro car ce dernier l'a presque laissé mourir, André est le premier à se rapprocher de Gyro pour en finir avec lui. Gyro lance sa boule restante sur un rocher, propulsant un morceau de roche à travers André. En voyant la famille Boomboom décrire un cercle autour d'eux, Jayro comprend que le magnétisme est lié à sa proximité avec eux et le duo s'enfuit donc. Alors qu'ils s'éloignent du Boomboom, le magnétisme s'affaiblit mais Benjamin tire à travers le trou dans le ventre d'André, éclaboussant du sang d'André sur Johnny.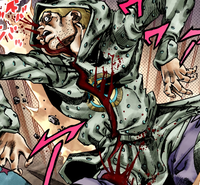 Sachant qu'il est pourchassé par Mountain Tim qui est à la recherche des tueurs de la première étape, Benjamin Boomboom décide de le tromper. Il s'insère des bouts de métal dans le visage et prend l'apparence de Johnny Joestar. Ainsi déguisé, Benjamin confronte Mountain Tim près d'un champ de ronces. Mountain Tim essaie de le capturer, usant de son pouvoir Oh! Lonesome Me pour se désassembler le long de son lasso. Cependant, Benjamin coupe la corde et parvient à s'enfuir dans les ronces.
Mountain Tim rattrape Johnny et Jayro. Alors que la famille observe la mort imminente de leurs trois ennemis, André se sent mal à cause de ses blessures et Benjamin le laisse derrière. Cependant, Mountain Tim utilise son pouvoir pour s'attacher à deux rochers avant de qu'il n'entre en collision avec Johnny et Jayro. L.A. s'approche et dessine Tomb of the Boom dans le sable pour l'invoquer. Il active le sable de fer et le sable lie les trois cavaliers. Mountain Tim tire sur L.A. mais Benjamin le protège et Mountain Tim est ligoté par le sable. Tim entre en collision avec Johnny et Jayro mais Johnny attrape une balle, espérant utiliser la Rotation avec. Il crée une Rotation, mais Benjamin lui piétine la main pour le priver de cette arme. Se croyant victorieux, Benjamin est pris par surprise lorsque les ongles de Johnny se mettent à tournoyer et Johnny lui tire dessus avec les ongles, coupant Benjamin en deux.
Chapitres

Apparitions Manga
Apparition dans les chapitres
Citations

Citations
"

We were looking for mines in the cursed mountain in the desert, which was despised by local Indians... the Indians said bad luck would come to us, but we've only become happy!! We'll eliminate anyone who's in the way! And the Boomboom Family will run as the leader!

"

"

Do you feel blessed? We're such a blessed family.

"

"

They've uniteeed! I wonder how far their organs will fly out... can we get a new intestine record??

"
Galerie d'Images
Références