André Boomboom
Jump to navigation
Jump to search
"
Allons-y ! Nous serons les premiers de la course !
"
André Boomboom (アンドレ・ブンブーン, Andore Bunbūn) est un antagoniste secondaire de la septième partie de JoJo's Bizarre Adventure, Steel Ball Run. Il apparait durant l'arc narratif "Des hors-la-loi nés dans le désert".
André est un participant à la Steel Ball Run. Lui et le reste de la Famille Boomboom participent à la course et essaient d'éliminer les concurrents pour pouvoir la remporter. André est un manieur de Stand et partage son Tomb of the Boom avec le reste de sa famille, possédant le pouvoir de magnétiser les gens qui touchent son sang.
Apparence
André Boomboom est un jeune homme de taille et de carrure moyenne. André a un visage plutôt carré, avec des taches de rousseurs, et des cheveux noirs en bataille qui pointent vers le haut.
André porte une chemise couverte de petits trous décoré avec une cible sur le torse sous un gilet simple. Il porte un pantalon simple, et une casquette qui est aussi couverte de petits trous et décoré de noeuds papillons sur les côtés.
Palettes
Les palettes changent souvent entre les médias. L'information ci-dessous ne devrait pas être considérée comme canonique.
Cheveux
(Chapeau jaune, noeuds bleus, visière grise)
Outfit
(Chemise grise avec cible jaune, bleue et noire. Pantalon gris. Veste grise.)
Personnalité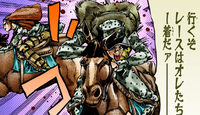 Comme le reste de la Famille Boomboom, André Boomboom est une racaille violente et cupide qui veut remporter la Steel Ball Run et le prix en tuant ses concurrents. André semble être marginalement plus intelligent que son petit frère L.A. Boomboom et l'insulte souvent sur son intelligence. André pratique l'asphyxiation érotique, prenant du plaisir à être étranglé.
Pouvoirs
Main article: Tomb of the Boom 2
Tomb of the Boom donne à chaque membre de la Famille Boomboom un pouvoir de magnétisme différent. Le pouvoir d'André est de magnétiser tous ceux que son sang asperge. Par conséquent les objets métalliques sont attirés vers ses victimes et les victimes elles-mêmes s'attirent. Selon Benjamin, cette capacité est la plus puissante des trois.[3]
Tomb of the Boom 2
(
トゥーム・オブ・ザ・ブーム ツー
)


Equitation
Foxy Lady
(
フォクシーレディ
)


Compétences personnelles
André peut fermer ses narines sans les toucher, et peut aussi enfoncer ses lobes d'oreilles dans ses conduits auditifs comme Giorno Giovanna.
Histoire
Passé
On ne sait pas grand chose du passé de la Famille Boomboom avant le début de la Steel Ball Run. Benjamin le père mentionne que la mère d'André et de L.A. a quitté le foyer et serait devenue une prostituée.
Un jour, la famille Boomboom alla faire de la prospection minière dans des montagnes réputées maudites par les populations locales d'Indiens. Ils sont en fait tombés sur une Paume du Diable, et c'est là qu'ils ont acquis leur Stand collectif Tomb of the Boom.
Steel Ball Run
La Famille Boomboom participe à la Steel Ball Run ensemble. Ils visent à s'accaparer les première, deuxième et troisième places pour maximiser leurs gains et prévoient pour cela d'assassiner la concurrence avec leur pouvoir. Perdue dans la masse des coureurs lors de la première étape, la famille Boomboom assassine trois autres concurrents nommés Max Becker, David Hagen et Paul Lukather en utilisant Tomb of the Boom pour les magnétiser. Les trois victimes explosent quand elles sont tellement magnétisées qu'elle s'attirent l'un vers les autres et s'écrasent ensemble.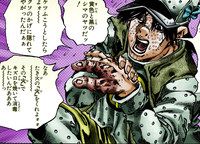 Au cours de la deuxième étape, la famille Boomboom suit Johnny Joestar et Jayro Zeppeli dans le désert à cause de Oyecomova, qui a mis une prime sur la tête de Jayro. André est envoyé pour les tromper. Il se laisse mordre par une salamandre tachetée et s'approche du duo au coucher du soleil en se faisant passer pour un innocent concurrent qui est juste blessé. Il supplie qu'on lui donne du feu pour cautériser et Jayro lui lance à contrecœur une bûche en feu. Pour s'anesthésier, André utilise sa ceinture pour s'étrangler et se coupe la main pour extraire poison avant de perdre apparemment conscience, le tout pour inciter Jayro à s'approcher de lui. Jayro va alors s'approcher et donner un coup de pied au couteau d'André, ce qui va magnétiser sa jambe. Le reste de la famille vient.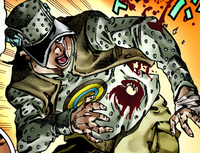 Des bouts de métals sont attirés et s'enfoncent dans la jambe de Jayro. Le duo se rend compte qu'ils ont affaire à des ennemis qui assassinent la concurrence. Ils se rendent compte que la capacité du Boomboom est un pouvoir lié au magnétisme lorsque le pistolet de Johnny se démonte tout seul et que les pièces sont attirées vers les pieds de Gyro. Benjamin Boomboom, le patriarche, détruit une Boule de Métal que Jayro lance vers lui avec son magnétisme. Le couteau d'André vole vers le cou de Jayro mais ce dernier le bloque. Furieux contre Jayro car ce dernier l'a presque laissé mourir, André est le premier à se rapprocher de Gyro pour en finir avec lui. Gyro lance sa boule restante sur un rocher, propulsant un morceau de roche à travers André. En voyant la famille Boomboom décrire un cercle autour d'eux, Jayro comprend que le magnétisme est lié à sa proximité avec eux et le duo s'enfuit donc. Alors qu'ils s'éloignent du Boomboom, le magnétisme s'affaiblit mais Benjamin tire à travers le trou dans le ventre d'André, éclaboussant du sang d'André sur Johnny.
Benjamin, sachant qu'il est suivi par le cow-boy Mountain Tim, manipule des morceaux de métal dans son visage pour remodeler son visage et ressembler à Johnny. Mountain Tim révèle sa capacité Oh! Lonesome Me, permettant au cow-boy de désassembler son corps le long de sa corde. Mountain Tim tente d'attraper Benjamin. Cependant, Benjamin coupe la corde et s'échappe dans les bruyères de ronces. Pendant ce temps, André se vide de son sang, sa blessure n'ayant pas été traitée. Il semble alors qu'il tombe inconscient à cause de la perte de sang et on ne le revoit vu par la suite. Alors que la famille Boomboom prépare son dernier assaut sur Jayro , Johnny et Tim, André est laissé derrière. Après la mort de leur père, on ne sait pas ce qui lui est arrivé ni à André à son frère.
Chapitres

Apparitions Manga
Apparition dans les chapitres
Citations

Citations
"

I always let the girls strangle me.

"

"

Let's go! Our family will be first in the race!

"
Galerie d'Images
Références