The wiki is currently experiencing extreme amounts of traffic ever since the release of Stone Ocean.
We apologize for the downtime and slowness.
Dr. Ferdinand
Jump to navigation
Jump to search
"
Le 'respect' apportera la 'prospérité' ! (
『尊敬』は『繁栄』だ!
"Sonkei" wa "Han'ei" da!
)
"
Dr. Ferdinand (フェルディナンド博士, Ferudinando-hakase) est un antagoniste secondaire de la septième partie de JoJo's Bizarre Adventure, Steel Ball Run, apparaissant dans l'arc narratif "Scary Monsters".
Dr. Ferdinand est un géologiste et un paléontologiste avant l'heure qui travaille aussi en tant que Subordonné de Valentine. Il tend une embuscade à Johnny Joestar et Jayro Zeppeli, transformant tout un village et Diego Brando en dinosaures pour s'emparer du des morceaux de Corps Saint. Il est un manieur de Stand et il peut transformer des gens en dinosaure et les contrôler grâce à Scary Monsters.
Apparence
Dr. Ferdinand est un homme de taille et de carrure moyenne. Il a une forte mâchoire mais des traits plutôts efféminés avec son port de mascara et ses lèvres pulpeuses. Il a une mèche de cheveux qui lui couvre la droite du front, mais sa tête est couverte pour la plupart avec la capuche à fourrure de son manteau.
Dr. Ferdinand porte un manteau avec une capuche à fourrure, en dessous de laquelle il revêt une combinaison moulante avec un col couvert de roses, qui lui couvre tout le corps. Sa combinaison a des genouillères et lui couvre les jambes. Il porte des gants assortis à sa combinaison
Palettes
Les palettes changent souvent entre les médias. L'information ci-dessous ne devrait pas être considérée comme canonique.
Peau
(Peau claire, lèvres roses)
Tenue
(Manteau beige, combinaison et gants rouges, roses roses.)
Personnalité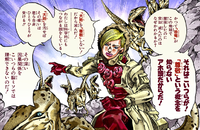 Dr. Ferdinand est un géologiste et paélobiologiste avec une personnalité plutot flamboyante. Il accorde une grande importance à l'idée de respect. Par exemple, il respecte beaucoup la Terre et a des sentiment écologistes. Par exemple, il réprimande Johnny pour avoir laissé un déchet par terre ou parce qu'il crache par terre. Ferdinand est convaincu que la Terre donne la prospérité et veut qu'on respecte la Terre. Il est aussi convaincu que les dinosaures ont disparu parce qu'ils étaient des animaux grossiers qui ne respectaient pas la Terre, étant trop stupide pour avoir cette notion.
Dr. Ferdinand est loyal à Funny Valentine et n'agit pas en tant que mercenaire, au contraire des antagoniste rencontrés précédemment. Il veut obtenir le Corps Saint pour le Président car il pense que le Corps complet va donner aux Etats-Unis non seulement un moyen d'avoir le respect de tous, mais aussi qu'il apportera la prospérité, le pouvoir et bénira le pays éternellement. Il pense ainsi que seul Funny Valentine est en mesure d'apporter une telle gloire aux Etats-Unis.
Pouvoirs
Main article: Scary Monsters
Dr. Ferdinand utilise son Scary Monsters pour transformer des gens et d'autres animaux en dinosaures et les contrôler. Comme les dinosaures sont des créatures redoutables, celà rend Ferdinand très dangereux.
Scary Monsters
(
スケアリー・モンスターズ
)


Pouvoir(s)
Infection de Dinosaures
Histoire
Passé
Dr. Ferdinand est un gélogiste et un paléobiologiste de métier. Deux ans avant les évènements de Steel Ball Run, il a traversé une Paume du Diable et a acquis son Stand Scary Monsters. Dr. Ferdinand est entré au service de Funny Valentine à un moment, et a appris l'existence du Corps Saint.
Steel Ball Run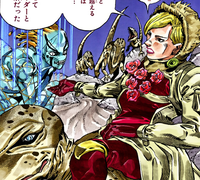 Dr. Ferdinand est déployé par Funny Valentine durant la troisième étape de la Steel Ball Run alors que les participants traversent les Montagnes Rocheuses. Pour préparer son attaque sur Johnny Joestar et Jayro Zeppeli, Ferdinand attaque Diego Brando et l'infecte avec son virus de dinosaure. La nuit tombée, Diego se transforme en dinosaure, infectant aussi tout un village qui assaille alors Johnny et Jayro. De fait, eux aussi sont infectés mais le virus est freiné dans le corps de Johnny grâce à l'influence du Bras Gauche du Corps Saint. Alors que Johnne et Jayro atteignent presque les parties du corps cachées dans la montagne, Diego, transformé en raptor, les dépasse et s'empare des Yeux. C'est alors que Dr. Ferdinand apparaît, chevauchant des raptors. Jayro s'est transformé en dinosaure lui aussi, laissant Johnny isolé. Ferdinand en profite alors pour réprimander Johnny parce qu'il "salit" la terre avec ses ongles tournoyant qu'il tire et laisse comme déchets. Le docteur commence une tirade sur l'importance du respect et pourquoi le Corps Saint apportera la prospérité aux Etats-Unis.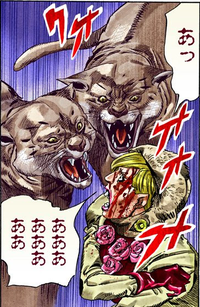 Ferdinand ordonne à Diego de reprendre le Bras Gauche de Johnny. C'est alors que ce dernier abandonne le Bras Gauche pour se transformer en dinosaure. Avant que Ferdinand ne puisse contrôler son esprit, Johnny bondit sur le docteur et le frappe de sa queue, envoyant les Yeux vers Jayro. Ce dernier absorbe l'un des Yeux et reprend ses esprits.
Dr. Ferdinand ordonne à Diego d'en finir avec Johnny mais Jayro leur lance une Boule de Métal dessus. Avec son nouveau pouvoir, Scan, Jayro acquiert une vision surnaturelle et peut piloter sa Boule à distance. Il la fait voler vers Ferdinand, atteignant son visage malgré la protection de Diego. Dr. Ferdinand veut se cacher dans ses dinosaures, mais Jayro est capable de voir à travers la chair avec Scan et détecte donc Ferdinand caché dans la bouche d'un des raptors. Il le frappe encore avec la Boule de Métal, ce qui le sonne et annule son pouvoir. Ferdinand, vaincu, se retrouve au milieu d'une bande de pumas qu'il avait transformé en dinosaures. Ces derniers le dévorent.
Jayro acquiert l'Oeil Droit, mais Diego acquiert l'Oeil Gauche. Diego disparait dans la nuit et continue la Steel Ball Run en utilisant désormais Scary Monsters à son propre compte.
Chapitres

Apparitions Manga
Apparition dans les chapitres
Citations

Citations
"

You littered that nail on the ground. Don't be throwing away those sorts of things. I'm talking about that nail, Johnny Joestar. The fact that you carelessly throw away trash and things like that, it's proof that you don't respect this ground. Are you that great? Are you greater than this gracious Earth?

"

"

Let me not forget my manners, even to scum who does not respect the Earth. Allow me to introduce myself. My name is Ferdinand, I am a geologist and biologist of ancient creatures. Call me Dr. Ferdinand.

"

"

Do you know why the dinosaurs perished when they were prospering on this Earth? It's because they were idiots who didn't understand the concept of respect!

"
Galerie d'Images
Références