Mike O.
Jump to navigation
Jump to search
"
Monsieur le Président... une fois capturée, permettez-moi
d'exécuter
cette
traîtresse
.
"
Mike O. (マイク・オー, Maiku Ō) est un antagoniste mineur de la septième partie de JoJo's Bizarre Adventure, Steel Ball Run, apparaissant dans l'arc narratif "Tubular Bells" .
Mike O. est le garde du corps de Funny Valentine. Il est en charge de la sécurité du Président alors que Lucy Steel et Hot Pants essaient d'infiltrer la résidence présidentielle à Chicago. Il combat alors Hot Pants pour protéger le Président. Mike O. est un manieur de Stand et peut créer des ballons de baudruches télécommandés avec des objets en métal grâce à son Tubular Bells.
Apparence
Mike O. est un Afro-Américain avec une taille supérieure à la moyenne et une carrure moyenne. Il a le crâne rasé excepté pour une touffe de cheveux noirs bouclés au sommet de la tête. Il a des marques peintes sur le visage, qui se composents de croissants orientés verticalement aux pointes qui se terminent en spirale et qui sont orientées vers l'extérieur lui couvrant la zone autour des yeux.
Mike O. porte un manteau à large col qui est strié sur les manches et qui est rembourré sur le torse, allant du cou à l'estomac. Il porte une écharpe autour du cou, et un pantalon couvert de petites piques.
Palettes
Les palettes changent souvent entre les médias. L'information ci-dessous ne devrait pas être considérée comme canonique.
Peau
(Peau brune, marques roses)
Tenue
(Manteau et pantalon bleu, col vert olive, chemise pervenche, piques roses au pantalon.)
Personnalité
Mike O. est un subordonné de Valentine avec un caractère sérieux.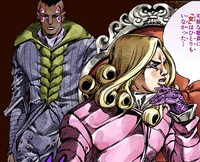 En tant que chef de la sécurité du Président, Mike O. remplit son travail avec sérieux. Par exemple quand un traître inconnu a infiltré un immeuble gouvernemental et a intercepté un message de Ringo Roadagain à l'intention du Président, Mike O. a mené une enquête exhaustive sur les personnes présentes et leur entourage, créant près de 1000 rapports individuels et détaillés. Mike O. prend son travail très au sérieux et le prend comme un honneur, vu qu'il déclare que son honneur a été souillé quand il voit que Hot Pants a réussi à s'infiltrer dans un bâtiment présidentiel très près du Président.[3] Mike O. est bouleversé quand il voit la Première Dame, Scarlet Valentine, morte dans les douches car cela veut dire qu'il a failli à sa tache. Mike O. est impitoyable contre tous ceux qui menacent le Président. Il est enragé lorsqu'il voit la mort de Scarlet Valentine, et décide de tuer sur le champ Hot Pants et Lucy Steel, disant que cela est une exécution.[4] De fait, Mike O. a prit le soin de demander l'autorisation de Valentine pour pouvoir exécuter celui qui avait volé le message de Ringo.[5]
Au vu de son enquête exhaustif et son attitude qui est généralement sérieux, Mike O. a un air d'intelligence particulière. Il maîtrise bien son Stand, utilisant tous les objets autour de lui pour les transformer en armes.
Mike O. a un tic verbal. Il tend à utiliser le mot "monde" (世界, sekai), avec toutes ses définitions. Par exemple, il se tient dans le froid et se plaint de "geler dans ce monde", puis demande à Diego Brando "qu'est ce qui se passe dans le monde de l'équitation", et dit que le traître qui a infiltré le gouvernement pourrait être "mêlé dans le monde des manieurs de Stands".[6]
Pouvoirs
Main article: Tubular Bells
Le Tubular Bells de Mike O. lui permet de souffler dans du métal comme dans des ballons de baudruche, puis de modeler le métal comme des ballons. Celà lui permet de créer des sortes d'animaux téléguidés qui peuvent être semi-automatiques.
Tubular Bells
(
チューブラー・ベルズ
)


Pouvoir(s)
Soufflage du Métal
Histoire
Mike O. est un des subordonnés de Funny Valentine. Durant la quatrième étape, un traître s'infiltre dans un bâtiment gouvernemental et vole un message top secret. Mike O. mène alors son enquête, enquêtant sur près de 1000 membres du gouvernement présents durant le vol ainsi que leurs proches. Durant la sixième étape, Mike O. entre en contact avec Diego Brando sur un pont près de Chicago, lui demandant de révéler l'identité du traître. Mike O. informe Diego qu'il ont acquis les morceaux du Corps Saint en possession de Johnny Joestar et de Jayro Zeppeli ; Diego demande s'ils sont morts mais Mike O. le dénie. Résigné, Diego révèle à Mike O. que le traître est probablement une femme pesant 51 kg. Mike O. est sceptique qu'une telle femme puisse parcourir des kilomètres sous la tempête pour rejoindre Johnny et Jayro, mais Diego insiste. Mike O. fait donc son rapport à Valentine dans sa résidence à Chicago, ayant sélectionné toutes les femmes proches du gouvernement. Le Président autorise donc Mike O. à traquer et à exécuter l'espion. Prenant le téléphone que le traître a utilisé pour appeler Mountain Tim, Mike O. gonfle une poignée de clous avec son Tubular Bells et les remodèle en chien de baudruche qui sentent l'odeur du traître et enregistrent l'odeur pour le tuer plus tard. Mike O. cache plusieurs de ces clous dans la chambre de Valentine, au cas où.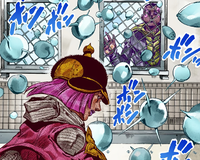 Plus tard, Mike sent que l'un de ses ballons installés dans la chambre du Président a éclaté. Il s'approche de la résidence présidentielle et regarde la salle de bain adjacente à la chambre par la fenêtre. Il voit alors Hot Pants. Assumant qu'elle vient juste d'entrer, Mike O. souffle dans les volets et grilles métalliques sur les fenêtres pour les transformer en ballons. Lorsque Hot Pants essaie de l'asperger avec Cream Starter, Mike O. coupe violemment sa main avec un volet, se faisant asperger tout de même avec un peu de la chair de Hot Pants. Disant que son honneur de garde du Président a été bafoué, Mike O. déclare qu'il va arrêter et interroger Hot Pants. Celle-ci murmure à Lucy Steel de rester cachée mais Mike O. remarque ca et envoie un volet détruire le mur des douches, dévoilant Lucy et le corps de Scarlet Valentine, la Première Dame. Bouleversé et enragé, Mike O. veut exécuter les deux femmes sur le champ et essaie d'entrer par le fenêtre. Cependant, quand il essaie de souffler dans d'autres clous, sa gorge se met à gonfler de façon étrange. En effet, la chair de Hot Pants s'est mêlée au corps de Mike O. et est en train de bloquer ses voies respiratoires. Malgré les avertissements de Hot Pants, Mike O. essaie de souffler encore et sa gorge et celle-ci explose, tuant Mike O.
Chapitres

Apparition dans le Manga
Chapitres (ordre chronologique)
Citations

Citations
"

My president… permission to execute the traitor if found?

"

"

My Tubular Bells will serve not only as my defensive tactic. But they have sentenced you to a world of death by guillotine!

"

"

This is a world in which you will not be forgiven… I'll capture you and torture you slowly, so that your country will learn never to interfere with us, I will be putting you in a world of terror!

"

"

Your sentence to torture is now repealed! Now! Immediately! You are to be executed!

"
Galerie d'Images
Références