D-I-S-C-O
Jump to navigation
Jump to search
This character may sometimes be referred to as "DI-S-CO".
"
'Chocolate Disco.' C'est tout ce que j'ai à dire. (「チョコレート・ディスコ」。ただのそれしか言わない。`Chokorēto Disuko'. Tada no sore shika iwanai.)
"
D-I-S-C-O  (ディ・ス・コ, Di-su-ko) est un antagoniste secondaire de la septième partie de JoJo's Bizarre Adventure, Steel Ball Run, apparaissant dans l'arc narratif "Chocolate Disco".
D-I-S-C-O est un assassin que Valentine déploie à Philadelphie.[1] Il confronte Jayro près de Independence Hall, le séparant de Johnny alors que ce dernier se fait attaquer aussi. Il est un manieur de Stand, créant une grille au sol pour téléporter des objets avec son Chocolate Disco.
Apparence
D-I-S-C-O est un taille fin de grande taille, qui a de longs cheveux raides dont les mèches finissent en bataille. Il porte une large barrette sur le côté gauche de la tête et a une barbe de trois jours.
Il porte une sorte d'uniforme militaire plutôt ample, dont la veste a deux rangées de bouton sur la poitrine, de petites épaulières, et une ceinture noire avec une boucle composée de deux anneaux métalliques.
D-I-S-C-O porte sur son avant-bras gauche son Stand, Chocolate Disco, et porte sur lui divers objets dangereux, comme des clous, des petites bouteilles d'acide, et un revolver.
Palettes
Les palettes changent souvent entre les médias. L'information ci-dessous ne devrait pas être considérée comme canonique.
Cheveux
(Cheveux bruns aux bouts noirs, barrettes dorée)
Tenue
(Veste bleues avec des boutons noirs. Boucle de ceinture argentée.)
Personnalité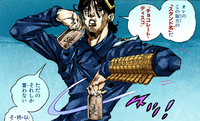 D-I-S-C-O garde une attitude plutôt placide et affiche peu ses émotions. Il parle peu, et quand il attaque Jayro Zeppeli, il ne daigne qu'à révéler le nom de son Stand.
On sait très peu de D-I-S-C-O, qui est un des Subordonnés de Valentine sans qu'on ne sache plus. Jayro pense qu'il ne sait rien du plan de Valentine.
Pouvoirs
Main article: Chocolate Disco
Le Stand de D-I-S-C-O est nommé Chocolate Disco. Il se présente sous la forme d'un gantelet couvert de boutons qui divise l'espace devant D-I-S-C-O en une grille. Tout objet en l'air est téléporté dans un endroit correspondant à un bouton que D-I-S-C-O pousse sur son gantelet.
Chocolate Disco
(
チョコレート・ディスコ
)


Pouvoir(s)
Repositionnement
Histoire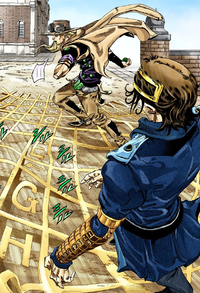 D-I-S-C-O apparait à Philadelphie après que Funny Valentine a démasqué Lucy Steel et a acquit la Tête du Corps Saint. Valentine décide alors de s'attaquer à Johnny Joestar puis Diego Brando pour reprendre l'Oeil Gauche, le seul morceau de Corps qui n'est pas en sa possession. Valentine et D-I-S-C-O sortent donc dans le square devant Independence Hall. D-I-S-C-O croise notamment Wekapipo en cours de route. Valentine utilise le pouvoir de Dirty Deeds Done Dirt Cheap pour amener des univers parallèles à se croiser. Pendant que Valentine agit, D-I-S-C-O confronte Jayro Zeppeli, qui entend un coup de feu et dit à D-I-S-C-O de se tenir à carreaux. Il feint l'innocence mais attaque Jayro dès qu'il a le dos tourné.
Avec son Stand Chocolate Disco, D-I-S-C-O divise l'espace entre lui et Jayro en une grille. Jayro doit alors se concentrer sur son assaillant bien qu'il voit Wekapipo au loin caché derrière son cheval et est intrigué par sa présence. Jayro lance une Boule de Métal sur D-I-S-C-O, mais ce dernier appuie sur une touche et la téléporte sur Jayro, qui est atteint par sa propre boule. Jayro essaie ensuite de courir vers D-I-S-C-O, qui fait tomber des gros clous vers le sol et les téléportent de façon à ce qu'ils percent la jambe du Napolitain.
D-I-S-C-O sort alors une bouteille d'acide de sa poche dans l'intention d'arroser Jayro avec ce liquide dangereux. Inquiet, Jayro lance ses Boules de Métal mais D-I-S-C-O les téléporte encore. Cependant, les Boules manquent Jayro. Surpris, D-I-S-C-O attaque à nouveau mais ses clous et son acide manquent leur cible. Soudainement, une main apparait en plein air la menaçant avec une Boule. Jayro révèle alors qu'il a créé une zone de haute pression avec ses Boules, ce qui a réfracté la lumière et a réfracté la lumière. Ainsi, Jayro a créé un mirage qui a trompé D-I-S-C-O. En panique, D-I-S-C-O essaie de dégainer un revolver mais Jayro prend et assomme D-I-S-C-O avec ses Boules.
Chapitres

Manga Appearances
Chapters in order of appearance
Citations

Citations
"

Chocolate Disco. That's my ability's name. Chocolate Disco. That's all I'm going to say. I'm done. That's all.

(

「チョコレイト・ディスコ」。オレのこの能力の「スタンド名」だ。「チョコレイト・ディスコ」。ただのそれしか言わない。以上で終わりだ。

'Chokoreito Disuko'. Ore no kono nōryoku no 'sutando mei' da. 'Chokoreito Disuko'. Tada no sore shika iwanai. Ijō de owari da.)

"
Galerie d'Images
Détails
Dans les magazines Ultra Jump, le nom de D-I-S-C-O était épelé en Disco (

ディスコ

Disuko). Ce nom a été changé dans les tankobon.
Références