George Joestar II
Jump to navigation
Jump to search
SPOILER WARNING: Part 7 spoiler details may follow.
"
Ô… Seigneur tout puissant… pourquoi a-t'il fallu que tu m'enlève le mauvais enfant… (
神よ…あなたは…連れて行く子供を間違えた……
Kami yo… anata wa… tsureteiku kodomo o machigaeta……
)
"
George Joestar II (ジョージ・ジョースターⅡ世, Jōji Jōsutā Nisei) est un personnage tertiaire figurant dans la septième partie de JoJo's Bizarre Adventure, Steel Ball Run.
George II est le père de Johnny Joestar et de Nicholas Joestar. Il est éleveur de chevaux de métier, et a fait de ses fils des jockeys professionnels. Il a une relation très difficile avec son fils Johnny.
Apparence
George Joestar est un homme d'âge mûr, de taille moyenne et en léger surpoids. Il a des cheveux bruns courts et une petite moustache.
Ses cheveux ont fini par grisonner avec l'âge.
Palettes
Les palettes changent souvent entre les médias. L'information ci-dessous ne devrait pas être considérée comme canonique.
Tenue
(Costume gris avec boutons dorés sur une chemise blanche, foulard rouge.)
Personnalité
George est un entraîneur de chevaux réputé.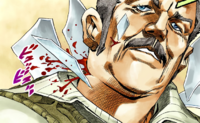 Dans le passé, George était un père strict envers son fils Johnny, ayant non seulement interdit à Johnny d'apporter une souris qu'il avait adopté à table, puis ayant ensuite ordonné que la souris soit noyée puis que Johnny lui montre le corps comme pruve. Parce qu'il était très soucieux de sa réputation parmi les Britanniques, George était particulièrement sévère en ce qui concernait les bonnes manières de sa famille. George est montré comme étant extrêmement bouleversé et amer suite à la mort de Nicholas.[1]
Selon Johnny, George aurait passé les sept années suivantes à simplement se remémorer l'immense talent de Nicholas tout en minimisant les propres réussites de Johnny. Son amertume a éclatée au grand jour durant une dispute au sujet des vieilles bottes d'équitation de Nicholas : lorsque Johnny a cherché à les utiliser, George a refusé de les lui remettre et dit que Johnny "insultait la mémoire de Nicholas" ; lorsqu'il a trébuché sur un placard et s'est blessé au cou à cause de bris de verre, il a ensuite déclaré que Dieu lui avait pris le mauvais fils, désavouant Johnny et lui brisant le cœur par la même occasion.[1]
George a finalement changé d'avis avec le temps. Il rencontra son fils Johnny à New York lors de la dernière étape de la Steel Ball Run, agitant les bottes de Nicholas en un geste tacite de réconciliation. Enfin, il déclare publiquement sa honte d'avoir laissé souffrir son fils, puis sa fierté d'avoir vu Johnny réussir à traverser les États-Unis.[2]
Histoire
Passé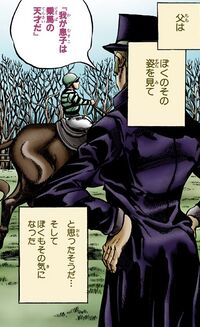 George Joestar II est né d'une famille liée à l'aristocratie qui devint désargentée. Cependant, George lui-même était célèbre et riche, étant réputé en tant que jockey puis éleveur de chevaux de compétition, ayant remporté la Triple Crown sept fois et possédant plusieurs fermes avec les installations nécessaires pour élever des chevaux de course. Bien qu'il se soit installé à Danville, dans le Kentucky, il a aussi voyagé en Angleterre avec sa famille.[1]
George était strict avec ses fils. Un jour lorsque Johnny avait cinq ans, le petit garçon monta à cheval pour la première fois, et on vit George déclarer que son fils est un génie. Cependant, George a en fait eu une relation tendue avec son fils car George était très sévère et favorisait ouvertement Nicholas, son fils aîné. Après la mort de Nicholas, George fut bouleversé et pensait que "Dieu lui avait pris le mauvais fils" et reporte sa tristesse et sa rage sur Johnny.[1]
Il est révélé dans des flashbacks que Johnny et lui ont eu une grande dispute, déclenché à cause des bottes d'équitation du défunt Nicholas. Lorsque George a vu Johnny dans la chambre de Nicholas pour prendre ses bottes, il a interdit à Johnny d'y toucher et a essayé de les prendre par la force tout en critiquant Johnny, le rabaissant et amenuisant tous ses succès. Johnny, qui avait besoin de bottes pour sa prochaine course car il avait besoin des bottes, tira lui aussi sur les bottes pour les conserver. Au cours de cette lutte, Johnny finit par faire tomber George sur un placard par accident, son cou étant coupé par les bris de verre. George sanglote alors et se lamente que Dieu lui a pris le "mauvais fils", puis ordonne à Johnny de partir.[1]
George disparaîtra ensuite de la vie de Johnny, ne daignant même pas lui rendre visite lorsque son fils devient paraplégique après qu'on lui tire dessus.[3]
Steel Ball Run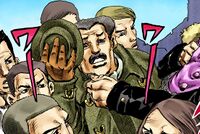 George se réconcilie avec Johnny, lui présentant les bottes de Nicholas alors qu'il assiste à la dernière étape de la Steel Ball Run à New York. Il s'adresse avec passion à la foule environnante, confessant qu'il avait maltraité son fils et qu'il le regrette. Il poursuit en mentionnant sa fierté lorsque Johnny est parvenu à traverser les Etats-Unis. La foule répond en applaudissant George, tandis que George fond en larmes et que Johnny poursuit sa route.[2]
Chapitres

Apparition dans le Manga
Chapitres (ordre chronologique)
Citations

Citations
"

Listen, Jonathan. Not limited to dining, manners are an indication of reverence towards the people around you. Englishmen especially value table manners. Do you want everybody to think that we are a group of uneducated, uncultured American countrymen?

"

"

Win? That's strange, winning means you'll be number one. Dio won't be running in today's race. Even if you win, can that really be considered a victory...? Don't get so cocky. You've never even beaten Dio, have you?

"

"

Oh… God… you took the wrong son…

"

"

I've come here because I've treated my own child horribly for years and years. And the whole time up until now, I never realized that cruelty. I know that apologizing isn't enough to make up for scarring my child's heart. But that… is something I finally now have come to realize. My child's name is Johnny Joestar. He crossed from the far-off West coast all the way across the continent. All by himself. And now! Here! He's finally made it to New York…

"
Galerie d'Images
Détails
Dans un arbre généalogique dans l'artbook de Ripples of Adventure, on révèle que ce George est le deuxième de son nom et qu'il est appelé George Joestar II.
Références