L.A. Boomboom
Jump to navigation
Jump to search
"
Salaaaaud ! Comment t'as osé faire ça à mon papaaa ?! Je vais t'arracher les tripes !
"
L.A. Boomboom (L.A. ブンブーン, Eru Ē Bunbūn) est un antagoniste secondaire de la septième partie de JoJo's Bizarre Adventure, Steel Ball Run. Il apparait dans l'arc narratif "Des hors-la-lois né du désert".
L.A. est le cadet de la Famille Boomboom avec son père Benjamin et son grand frère André. Il participe à la Steel Ball Run avec sa famille, tuant la concurrence pour remporter le prix. La famille Boomboom s'attaque à Johnny Joestar et Jayro Zeppeli durant la deuxième étape.
Apparence
L.A. Boomboom est un jeune homme de taille et de carrure moyenne. Il a de long cheveux qui se déploies de part et d'autre de sa tête en tombant, et porte du maquillage, comme du fard à paupière sombre et du rouge à lèvre sombre. Comme les autres membres de sa famille, L.A. porte une veste couverte de petits trous avec une cible sur la poitrine, ainsi qu'un pantalon simple avec des lanières autours des jambes. Il porte aussi une grosse paires de lunettes de protection.
Palettes
Les palettes changent souvent entre les médias. L'information ci-dessous ne devrait pas être considérée comme canonique.
Peau
(Peau claire, lèvres noires.)
Tenue
(Lunettes avec sangles grises et des verres bleus, manteau vert-gris recouvert de trous argentés, combinaison jaune et noire à motifs bleus.)
Personnalité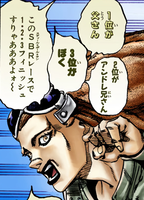 L.A. boomboom est un individu qui est généralement un peu benêt. Pour commencer, il semble n'avoir pas eu une bonne éducation ou n'est pas doué académiquement, car il ne sait pas faire une simple addition. Bien qu'il semble lent à la détente, L.A. fait quelques fois de bonnes observations sur la situation mais son père le rejette souvent en l'insultant et en l'interdisant de "faire le malin".
L.A. est quelque enfantin, étant susceptible de se laisser emporter par l'émotion comme lorsqu'il pleure parce qu'il croit que son frère est peut-être mort. L.A. est très attaché à sa famille malgré leurs abus verbaux constants. Il admire son grand frère André, notamment son intelligence, et devient furieux quand son père Benjamin meurt, jurant de le venger. Il est très innocent, est même s'il est déjà passé au delà de l'adolescence, il croit encore que ce sont des cigognes qui apportent des bébés aux parents.
Malgré tout, L.A. demeure un tueur impitoyable qui n'a aucun scrupule à éliminer la concurrence durant la Steel Ball Run, se réjouissant même quand ses adversaires explosent et sont éventrés.

Pouvoirs
Main article: Tomb of the Boom 3
Tomb of the Boom est un Stand collectif qui donne à chacun des membres de la Famille Boomboom un pouvoir de magnétisme particulier. Dans son cas, L.A. est capable de manipuler le sable riche en fer dans le sol, l'utilisant pour immobilisant ses victimes. Il peut aussi essayer d'extraire le sang d'un personne pour les tuer, car le sang contient du far.
Tomb of the Boom 3
(
トゥーム・オブ・ザ・ブーム スリー
)


Equitation
Little Wing
(
リトル・ウイング
)


Histoire
Passé
On ne sait pas grand chose du passé de la Famille Boomboom avant le début de la Steel Ball Run. Benjamin le père mentionne que la mère d'André et de L.A. a quitté le foyer et serait devenue une prostituée.
Un jour, la famille Boomboom alla faire de la prospection minière dans des montagnes réputées maudites par les populations locales d'Indiens. Ils sont en fait tombés sur une Paume du Diable, et c'est là qu'ils ont acquis leur Stand collectif Tomb of the Boom.
Steel Ball Run
La Famille Boomboom participe à la Steel Ball Run ensemble. Ils visent à s'accaparer les première, deuxième et troisième places pour maximiser leurs gains et prévoient pour cela d'assassiner la concurrence avec leur pouvoir. Perdue dans la masse des coureurs lors de la première étape, la famille Boomboom assassine trois autres concurrents nommés Max Becker, David Hagen et Paul Lukather en utilisant Tomb of the Boom pour les magnétiser. Les trois victimes explosent quand elles sont tellement magnétisées qu'elle s'attirent l'un vers les autres et s'écrasent ensemble.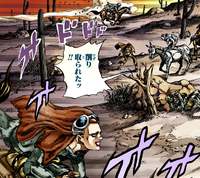 Au cours de la deuxième étape, la famille Boomboom suit Johnny Joestar et Jayro Zeppeli dans le désert à cause de Oyecomova, qui a mis une prime sur la tête de Jayro. André est envoyé pour les tromper. Il se laisse mordre par une salamandre tachetée et s'approche du duo au coucher du soleil en se faisant passer pour un innocent concurrent qui est juste blessé. Il supplie qu'on lui donne du feu pour cautériser et Jayro lui lance à contrecœur une bûche en feu. Pour s'anesthésier, André utilise sa ceinture pour s'étrangler et se coupe la main pour extraire poison avant de perdre apparemment conscience, le tout pour inciter Jayro à s'approcher de lui. Jayro va alors s'approcher et donner un coup de pied au couteau d'André, ce qui va magnétiser sa jambe. Le reste de la famille vient.
Des bouts de métals sont attirés et s'enfoncent dans la jambe de Jayro. Le duo se rend compte qu'ils ont affaire à des ennemis qui assassinent la concurrence. Ils se rendent compte que la capacité du Boomboom est un pouvoir lié au magnétisme lorsque le pistolet de Johnny se démonte tout seul et que les pièces sont attirées vers les pieds de Gyro. Benjamin Boomboom, le patriarche, détruit une Boule de Métal que Jayro lance vers lui avec son magnétisme. Le couteau d'André vole vers le cou de Jayro mais ce dernier le bloque. Furieux contre Jayro car ce dernier l'a presque laissé mourir, André est le premier à se rapprocher de Gyro pour en finir avec lui. Gyro lance sa boule restante sur un rocher, propulsant un morceau de roche à travers André. En voyant la famille Boomboom décrire un cercle autour d'eux, Jayro comprend que le magnétisme est lié à sa proximité avec eux et le duo s'enfuit donc. Alors qu'ils s'éloignent du Boomboom, le magnétisme s'affaiblit mais Benjamin tire à travers le trou dans le ventre d'André, éclaboussant du sang d'André sur Johnny.
Sachant qu'il est pourchassé par Mountain Tim qui est à la recherche des tueurs de la première étape, Benjamin Boomboom décide de le tromper. Il s'insère des bouts de métal dans le visage et prend l'apparence de Johnny Joestar. Ainsi déguisé, Benjamin confronte Mountain Tim près d'un champ de ronces. Mountain Tim essaie de le capturer, usant de son pouvoir Oh! Lonesome Me pour se désassembler le long de son lasso. Cependant, Benjamin coupe la corde et parvient à s'enfuir dans les ronces.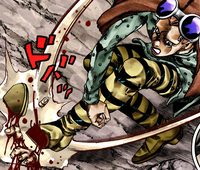 Mountain Tim rattrape Johnny et Jayro. Alors que la famille observe la mort imminente de leurs trois ennemis, André se sent mal à cause de ses blessures et Benjamin le laisse derrière. Cependant, Mountain Tim utilise son pouvoir pour s'attacher à deux rochers avant de qu'il n'entre en collision avec Johnny et Jayro. L.A. s'approche et dessine Tomb of the Boom dans le sable pour l'invoquer. Il active le sable de fer et le sable lie les trois cavaliers. Mountain Tim tire sur L.A. mais Benjamin le protège et Mountain Tim est ligoté par le sable. Tim entre en collision avec Johnny et Jayro mais Johnny attrape une balle, espérant utiliser la Rotation avec. Il crée une Rotation, mais Benjamin lui piétine la main pour le priver de cette arme. Se croyant victorieux, Benjamin est pris par surprise lorsque les ongles de Johnny se mettent à tournoyer et Johnny lui tire dessus avec les ongles, coupant Benjamin en deux. En voyant son père mort, L.A. devient furieux ; il attrape Johnny et essaie d'extraire le fer de son sang pour le tuer, mais Johnny utilise ses ongles tournoyants pour sauter au-dessus de L.A. et lui coupe les doigts de pieds. L.A. est immobilisé et les héros l'abandonnent dans le désert.
Dans sa fureur, L.A. révèle que la tête de Jayro est mise à prix et il déclare que Jayro ne franchira jamais la ligne d'arrivée. Le sort de L.A. est inconnu.
Chapitres

Apparitions Manga
Apparition dans les chapitres
Citations

Citations
"

Our mom was a stork, right? Big brother said do. Our mom was a stork: Do I look like a stork?

"

"

Maah daddy... I feel so blessed.

"

"

How dare you do that to daddy! How dare you! I'll tear through your arteries!

"
Galerie d'Images
Références