Sugar Mountain
Jump to navigation
Jump to search
"
Celui qui daigne 'tout donner' obtiendra finalement le véritable 'tout'. Voilà la seule chose que j'ai comprise en tant que gardienne de la 'fontaine'.
"
Sugar Mountain (シュガー・マウンテン, Shugā Maunten) est un personnage secondaire de la septième partie de JoJo's Bizarre Adventure, Steel Ball Run. Elle est introduite dans l'arc narratif "Sugar Mountain : la terre promise".
Bien qu'elle ait l'apparence d'une jeune fille, Sugar Mountain est piégée près d'un Grand Arbre depuis des décennies et en est la gardienne. L'arbre possède un Stand du même nom qu'elle.
Apparence
Sugar Mountain a l'apparence d'une jeune jolie fille maigre, avec des long cheveux coiffés en bob cut sur le front avec des mèches qui se déploient de part et d'autre du visage. Elle porte un bonnet lui couvrant la tête, avec un collier décoré avec des balles rassemblées en grappe. Sugar Mountain porte une robe courte, sans manches, à deux couches. Ses bras et ses jambes sont couverts avec des collants, elle porte une culotte et des chaussettes lui montant juste au dessus des genoux décorés avec motif léopard. Enfin, elle porte des bottes.
Palettes
Les palettes changent souvent entre les médias. L'information ci-dessous ne devrait pas être considérée comme canonique.
Tenue
(Robe noire avec couche inférieure lavande, bonnet et foulard lavande, collier vert, manches pervenche et chaussettes à motifs léopard bleus et noirs.)
Personality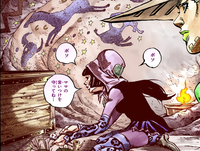 Sugar Mountain semble avec une personnalité enfantine, malgré son grand âge d'environs 66 ans, ce qui peut s'expliquer par son isolation. En effet, Sugar Mountain est la gardienne d'une Paume du Diable depuis des décennies et a depuis conservée sa jeunesse. Durant son temps libre, on la voie jouer à la poupée comme un enfant. Elle a même simulée une sorte de maison en gravant dans le sol de son trou les contours d'une maison avec chaque salle nommée.
Cependant, Sugar Mountain est pleinement consciente de sa responsabilité en tant que Gardienne et joue son rôle sérieusement, éprouvant la cupidité de tous ceux qui passent et la rencontre. Elle semble avoir une certaine sagesse, disant que ceux qui sont prêt à tout perdre peuvent tout gagner, et pour celà elle félicite Johnny et Jayro en privé pour avoir réussi les épreuves de l'arbre.
Johnny note qu'il y a une canne près d'elle et qu'elle semble avoir des problèmes vue.

Histoire
A un moment bien avant les évènements de Steel Ball Run, Sugar Mountain et ses parents sont tombés sur le Grand Arbre. Son père avait fait tombé sa hache dans un point d'eau et après avoir réussi le test du gardien de l'époque, a pu retrouver sa hache plus une hache en or. Cependant, sa famille a échoué à user de la hache avant le coucher du soleil et ils ont été métamorphosés en noix pour l'arbre, sommeillant pendant tellement de temps que Sugar Mountain a perdu trace du temps passé. On estime qu'elle a été prisonnières de l'arbre pendant à peu près 50 ans. Sugar Mountain devint ensuite la gardienne de l'Arbre.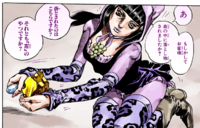 Sugar Mountain rencontre Jayro Zeppeli et Johnny Joestar en 1890-91, alors que les participants entament la sixième étape de la Steel Ball Run. Sugar Mountain récupère l'une des Boules de Métal de Jayro et rentre dans son abri dans l'arbre, suivie alors par les deux héros. Surprise par Jayro et Johnny, Sugar Mountain se fait interroger par Jayro, qui veut récupérer sa Boule, fouillant dans les affaires de Sugar Mountain mais ne trouvant que des brindilles, des feuilles et autres saletés. C'est alors que Sugar Mountain conjure dans ses main la Boule de Métal et de l'argent, une grosse pépite d'or et même des gemmes. Elle demande alors ce que Jayro a perdu.
Jayro comprend le jeu de Sugar Mountain et devine que c'est une épreuve, récupérant l'or et l'argent en étant honnête sur ce qu'il a perdu. Il prend le lapin que Johnny a capturé plus tôt et jette ses oreilles dans une source. Sugar Mountain conjure alors les Oreilles du Corps Saint et les propose à Jayro.[3] De la même façon, Jayro récupère plus tard le Bras Droit du corps saint.[2]
Cependant, Sugar Mountain explique ensuite qu'il sont obligé d'user et d'échanger tout ce qu'ils ont pris avant le coucher du soleil, sous peine d'être transformé en noix et de fuser avec l'Arbre pour on ne sait combien de temps avant que leur tour ne vienne. Jayro et Johnny partent velle Milwaukee pour tout dépenser.
Sugar Mountain attend toute la journée pour voir si Johnny et Jayro réussissent l'épreuve. En voyant le corps de Jayro dans l'arbre alors que le soleil se couche, Sugar Mountain est déçue, mais voit alors que ses parents ont été libérés. Johnny aurait donc finit par tout user. Joyeuse que sa famille a pu être libérée, Sugar Mountain félicite Johnny et Jayro et déclare que seuls ceux qui sont prêt à tout perdre peuvent tout gagner.
Chapitres

Apparitions Manga
Apparition dans les chapitres
Citations

Citations
"

My name is Sugar Mountain. This doll is called candy. It's nice to meet you… please make yourself at home.

"

"

Those that are willing to lose… they're the onew that ultimately gain everything. That's the one thing I've come to understand since I've been guarding this spring. That's the truth… and those two have earned that right.

"
Galerie d'Images
Détails
Dans l'artbook JOJOVELLER, Araki indique que le nom "Sugar Mountain" est un nom qui aurait été partagé entre gardiens de l'Arbre, ce qui en ferait plus un titre qu'un nom.[4]
Références