Scarlet Valentine
Jump to navigation
Jump to search
"
Appelle-moi 'Scarlet'...
"
Scarlet Valentine (スカーレット・ヴァレンタイン, Sukāretto Varentain) est une antagoniste secondaire de la septième partie de JoJo's Bizarre Adventure, Steel Ball Run, apparaissant dans l'arc narratif "Tubular Bells".
Scarlet est, en tant que femme de Funny Valentine, la Première Dame des Etats-Unis. Elle rencontre Lucy Steel durant la Steel Ball Run à Chicago, et cette dernière l'utilise pour infiltrer une résidence présidentielle et voler les morceaux du Corps Saint au Président.
Apparence
Scarlet Valentine est une femme svelte et de taille moyenne. Elle a de longs cheveux noirs qu'elle attach en une queue de cheval décorée avec des anneaux. Elle porte une combinaison moulante noire rembourrée sur le devant des cuisses et décorée avec un motif de couronnes sur les manches. Au dessus de sa combinaison, elle porte une jupe courte rayée horizontalement et un gilet sans manche décoré avec des franfreluches en forme de coeur sur la poitrine.
Personnalité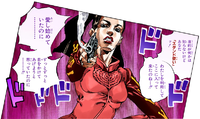 Scarlet semble donner l'impression d'être une femme frivole et mondaine. Lorsque Lucy Steel la rencontre, Scarlet entame une conversation mondaine avec elle et est aisément séduite par Lucy Steel. En effet, Scarlet semble être bisexuelle. Bien qu'elle se soit mariée avec Funny Valentine, elle dit (vraisemblablement en plaisantant à moitié) qu'elle s'est mariée seulement pour l'argent et le pouvoir. Après avoir invité Lucy, Scarlet montre qu'elle veut aller plus loin avec elle. Scarlet aime par exemple losque Lucy dit son nom, ou même crie son nom ; puis, Scarlet veut que Lucy s'assoit sur son visage.
Malgré tout, Scarlet admire est est très loyale à son mari. Lorsqu'elle découvre que Lucy voulait infiltrer la chambre dans laquelle Funny Valentine dormait, Scarlet prend un revolver immédiatement et essaie de tuer Lucy sans hésitation, montrant alors un côté violent et sadique. Non seulement elle essaie de tuer Lucy, Scarlet l'insulte et révèle qu'elle voulait en faire sa chose, puis menace de la faire torturer pour avoir osé essayé de se servir d'elle. Lorsqu'elle en a l'occasion, Scarlet agite un clou qui s'est enfoncé dans la jambe de Lucy juste pour la faire souffrir.
Histoire
Passé
Quinze ans avant les évènements de Steel Ball Run, Scarlet rencontra Funny Valentine durant une fête dans sa ville natale. Ils dancèrent alors ensemble, et elle découvrit alors que Funny pouvait marcher silencieusement et jouer un morceau de Mozart avec une mandoline et ses pieds. Selon ses dires, Scarlet tomba amoureuse de Funny grâce à sa personnalité décisive mais chaleureuse. Ils se marrièrent, et quand Funny devint Président, Scarlet devint la Première Dame.
Steel Ball Run
Scarlet retrouve son mari à Chicago. En marchant dans un parc, Scarlet aperçoit Lucy Steel, la femme de Steven Steel. Lucy lit "Le Signe des Quatre", le dernier épisode de la série de romans Sherlock Holmes. Scarlet vient de le lire et en est toujours enthousiaste. Lucy a emprunté le livre et le lit ostensiblement sur le chemin de Scarlet pour attire son attention. Scarlet remarque bien Luyc lisant et livre et entame une conversation. Lucy feint d'avoir un malaise et tombe sur Scarlet, lui pinçant discrètement les tétons puis lui lèche le cou. Scarlet est étonnée mais ceci ne lui déplait pas. Estimant que Lucy partage son goût pour les femmes, Scarlet décide de l'amener à sa résidence présidentielle de Chicago afin qu'elles apprennent à mieux se connaître.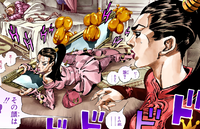 Dans la résidence présidentielle, Scarlet prend le thé avec Lucy et explique à Lucy son passé avec son mari Funny Valentine. Cependant, Scarlet change vite de sujet, voulant s'amuser avec Lucy. De plus en plus audacieuse, Scarlet demande à Lucy de crier son nom et de s'asseoir sur son visage, mais s'endort soudainement. En vérité, Lucy a leurrée Scarlet et a mit un somnifère dans son thé. Un peu plus tard, Scarlet se réveille et cherche Lucy, et la trouve dans la chambre présidentielle. Se rendant compte qu'elle est une ennemie de l'État, Scarlet sort une arme à feu d'un tiroir et tire sur Lucy. Lucy fonce sur elle et la plaque vers la salle de bain. Scarlet parvient à plaquer Lucy au sol alors que des chiens de gardes en baudruche créés par Tubular Bells s'approchent. Scarlet agite un clou perçant la jambe de Lucy exprès pour la faire souffrir. Scarlet s'attend à ce que les autres chiens en ballon attaquent Lucy et l'achèvent, mais Lucy jette ensuite sa fausse peau sur Scarlet, induisant les chiens en erreur. Les chiens attaquent Scarlet, lui entrant dans les yeux et se retransformant en clous qui empalent Scarlet dans la tête. Scarlet meurt en maudissant Lucy.
Hot Pants déguise le corps de Scarlet en Lucy et la jette dans la rivière Fox. Ce stratagème permet à Lucy de rester cachée et de rester près de Funny Valentine en prétendant être la Première Dame.
Chapitres

Apparitions Manga
Apparition dans les chapitres
Citations

Citations
"

Please… everyone calls me "First Lady"… say "Scarlet" loudly, now! I want you to say it like you're reproaching me…

"

"

On my face Lucy! I want you to squish me with that cute little butt! Ohh, hurry!

"

"

Lucy… how dare you do this to me… I'll make you pay… I'll make you see what happens if you deceive me… I'm not going to let you off with just an execution… that's too easy. I'm going to have you just barely hang on, and make you lose everything you have before you die!

"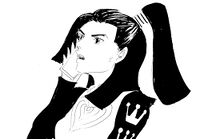 L'information ci-dessous provient de sources dont Araki n'est pas l'auteur. Leur canonicité est incertaine.
Dans le roman JORGE JOESTAR, un homologue de Scarlet Valentine apparait mais on ne sait pas de quel univers elle vient. L'univers de Steel Ball Run est considéré comme le deuxième univers dans le roman. Scarlet (Universe ?) a la même apparence que la Scarlet originale et est toujours la femme de Funny Valentine (Universe ?).
Scarlet apparait après avoir vérifié que le coffre l'Eglise de la Trinité à New York de leur univers est vide, sans signe du Corps Saint, et elle en informe son mari. Les portes ont été ouvertes de l'intérieur sans signe d'avoir été brisées.
Après leur appel, Made in Heaven Ultimate Requiem accélère le temps tandis que Funny va en Grande-Bretagne. Scarlet elle n'est pas affectée et de son point de vue voit comme si la Grande-Bretagne avait disparue soudainement et est réapparu. Quand The Funniest Valentine l'appelle, Scarlet panique et demande ce qui se passe sur l'île. Elle pose plein de questions auxquelles The Funniest répond avant de raccrocher.[2]
Galerie d'Images
Références