Anne
Jump to navigation
Jump to search
Anne (アン, An) est un personnage secondaire appraissant brièvement dans la troisième partie de JoJo's Bizarre Adventure, Stardust Crusaders.
Elle rencontre le Groupe Joestar alors qu'elle embarque clandestinement dans le même bateau qu'eux. Elle va alors les accompagner et croiser leur chemins plusieurs fois jusqu'en Pakistan, devenant la témoin de plusieurs combats de Stand.
Apparence
Anne est une jeune fille de taille moyenne et de corpulence mince à moyenne. Elle a de longs cheveux noirs, un petit nez légèrement retroussé et des taches de rousseur.
Elle revêt une salopette et une chemise claire.
Anne se déguise d'abord en garçon en cachant ses long cheveux sous un béret mais l'abandonne après qu'on découvre sa vraie nature. Ella a aussi un couteau sur elle.
Palettes
Les palettes changent souvent entre les médias. L'information ci-dessous ne devrait pas être considérée comme canonique.
Tenue
(Chemise boutonnée blanche, salopette bleue à bretelles noires, chaussures blanches, chapeau vert olive.)
Tenue
(Chemise boutonnée blanche, salopette bleue à boutons dorés, chaussures marron.)
Tenue
(Chemise rose saumon, débardeur blanc, salopette bleu bébé, chaussures noires et blanches, chapeau gris.)
Personnalité
"
Qu'est ce que vous avez tous à me regarder comme ça ? J'y comprends rien... Vous cherchez la bagarre ?! Je suis votre homme ! On va régler ça à un contre un ! Allez, venez chacun à votre tour ! Raclures !
"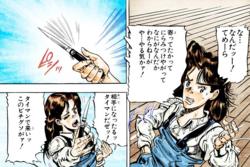 En rencontrant le Groupe Joestar, Anne se présente comme une gamine capricieuse et irrévérencieuse, devenant agacée quand Jotaro touche sa poitrine pour confirmer qu'elle était une fille et essayant de le gifler. À une occasion, elle a défié les cinq membres du groupe Joestar avec seulement un petit couteau alors qu'ils réfléchissaient à quoi faire avec elle, faisant genre d'être une combattant aguerri.
Anne est plutôt courageuse, mais imprudente, car elle a eu assez de courage pour fuir sa maison et tenter de voyager à le monde. A un moment, elle décide de nager dans l'océan sachant que la côte était à peine visible dans l'horizon. Cependant, sa bravoure ne la prépare pas aux Stands qu'elle rencontre. Comme l'avait prédit Jotaro, Anne est un poids pour le groupe Joestar au point de devoir risquer sa propre vie, en particulier durant la bataille contre ZZ, où elle crie à l'aide au lieu d'utiliser le temps qu'elle a pour courir.
Anne aime à croire qu'elle est une jolie fille, même si le seul à avoir manifesté de l'intérêt pour elle était Forever. En essayant d'avoir une conversation, elle parle qu'elle va un jour se faire belle pour les garçons, au grand désintérêt de tout le monde. Elle finit par avoir le béguin pour Jotaro, appréciant son apparence et son attitude cool. Dans l'anime, elle est heureuse que Jotaro vienne la voir et la saluer une dernière fois.
Compétences
Anne n'a pas de capacité spéciale. Cependant, elle semble être une nageuse très confiante en elle-même car elle a plongé dans la mer pour regagner Hong-Kong, bien que la ville soit seulement visible loin à l'horizon. Elle possède un couteau et n'hésite pas à le brandir (on ne sait cependant pas si elle s'y connait en combat au couteau).
Histoire
Passé
Anne voulait parcourir le monde et elle était convaincue que se faire passer pour un garçon faciliterait les choses. Elle pensait qu'une fois qu'elle serait trop grande, elle devrait commencer à porter un soutien-gorge, ce qui rendrait difficile de se faire passer pour un homme à ce stade. Elle s'enfuit ensuite, affirmant que son âge actuel est le meilleur pour voyager. Ses intentions de le faire ont été suggérées comme dues à son béguin pour Jotaro et "n'ayant rien de mieux à faire".
Stardust Crusaders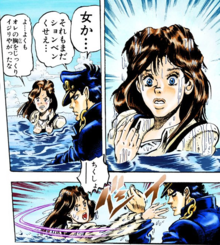 Anne apparaît pour la première fois en tant que passager clandestin sur le bateau de croisière que le Groupe Joestar utilise pour aller vers Singapour. Se faisant passer pour un garçon, elle est retrouvée par l'un des marins qui menace de la dénoncer à la police lorsqu'ils atteindront le rivage. Elle ment alors en disant qu'elle va à Singapour pour rencontrer son père. Elle se rend compte va être emprisonnée et saute du navire pour tenter de nager seule vers le rivage, confiante en sa capacité à atteindre le rivage. Lorsqu'elle est sur le point d'être attaquée par un requin, Jotaro Kujo la sauve à contrecœur. C'est alors que Jotaro découvre qu'elle est une petite fille. Un Stand attaque Jotaro dans l'eau mais ils parviennent à rejoindre le navire. A bord du navire, le Groupe Joestar la soupçonne d'être une manieuse de Stand.
Cependant, son comportement exubérant montre qu'elle est une simple passagère clandestine. Elle est ensuite prise en otage par le faux capitaine Tennille lorsque sa véritable identité est révélée mais est sauvée par Noriaki Kakyoin lorsque Jotaro échoue à le faire et est traîné dans l'eau. Elle commence à développer un béguin pour Jotaro et son attitude, pensant qu'il est cool.

Après le combat, le navire est détruit à cause de plusieurs bombes cachée et tout le monde évacue le bateau pour aller dans des bouées de survie. Elle voit alors un grand navire s'approcher du groupe et tout le monde embarque dessus. Anne croise alors l'orang-outan Forever. Alors que les héros recherchent un potentiel ennemi sur le navire, Forever tue les marins et s'attaque à Anne alors qu'elle est dans la douche. Heureusement, Jotaro intervient. Forever utilse son Stand Strength pour contrôler le navire mais Jotaro le vainc. Anne est témoin du combat entre Jotaro et Forever.
Lorsque le groupe arrive à Singapour, Anne refuse de se séparer d'eux, prétendant qu'elle rencontrera son père dans 5 jours. Ils acceptent à contrecœur de la laisser les accompagner jusqu'à l'arrivée de son père car elle était trop pauvre pour vivre seule. Plus tard, Rubber Soul se fait passer pour Kakyoin et s'approche de Jotaro et Anne; elle finit par remarquer son comportement étrange. La véritable identité de Rubber Soul est révélée et il est vaincu peu de temps après.
En route pour l'Inde, les héros la laissent à Singapour pour rencontrer son père, mais Jean Pierre Polnareff en vient à la conclusion que c'était un mensonge et qu'elle est probablement une vagabonde. Il prétend alors qu'il se sent seul sans sa présence. On voit cependant qu'elle s'est faufilée dans le train et les suit à nouveau.
Le groupe rencontre à nouveau Anne un peu avant l'attaque de ZZ, leur demandant de l'emmener dans leur voiture au milieu de la route. C'est alors qu'elle admet s'être enfuie de chez ses parents à Hong Kong, bien que le groupe se préoccupe davantage de la déposer quelque part et ne l'écoute pas. Malgré les avertissements sévères de Joseph Joestar à propos de leur voyage et du fait qu'elle ne fera que les ralentir, elle accompagne l'équipe et tente de les soudoyer avec des photos pornographiques volées.
Le groupe est attaqué par la voiture-Stand Wheel of Fortune, conduit par ZZ. Au beau milieu de l'attaque de ZZ, Anne finit par trébucher alors qu'elle fuit la voiture. Au lieu de se lever et de courir, elle reste sur le sol et crie à l'aide, ce qui force Jotaro à venir la chercher, mais pas avant de la gronder pour son attitude. Le groupe dit finalement à Anne qu'ils vont lui donner de l'argent, des billets d'avion et la renvoyer à Hong Kong dès que possible. Malgré ses protestations, Joseph la convainc d'arrêter sa fugue et de retourner à Hong Kong tout en expliquant la situation de Holy Kujo, sa fille. Elle le fait immédiatement, mais pas avant d'encourager Jotaro à sauver la vie de sa mère.
Chapitres / Episodes

Apparition dans le Manga
Chapitres (ordre chronologique)

Apparitions dans l'Anime
Episodes (ordre chronologique)
Citation

Citations
"

How dare you feel me up like that! You creep!

"

"

What's your problem? Staring at me like that... I don't know what's going on or what you want from me, but if it's a fight you want... then you've got one! Come on! Let's go! One on one! Any one of you! I'll take you all on!

"
Jeu Vidéo
Anne apparaît dans les parties Dark Blue Moon, Strength and Wheel of Fortune du mode SUPER STORY (seulement dans la version console).
Sur les deux «Dark Blue Moon» et «Wheel of Fortune», elle n'apparaît que pendant les cinématiques. Anne fait une apparition dans le mini-jeu de «Strength», car le joueur doit tirer sur Forever. Parfois, Anne apparaît pendant le mini-jeu, et si elle est touchée, le joueur perd de la santé. Elle apparaît également après la fin de l'événement, sur la cinématique de la fin du chapitre.

Jotaro & Anne

Traveling Companion Runaway Girl ver.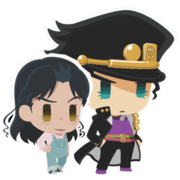 Rarity:



Favorite Gift and Voiced Gift Reactions:

Skill:
Gimme a break...

Erases random panels and corner panels, having priority on Block panels. The erased Block panels are restored as Enhanced Block panels

Skill Lv 1
# of Erased Groups:
3
Cooldown:
85

Skill Lv 2
# of Erased Groups:
4
Cooldown:
85

Skill Lv 3
# of Erased Groups:
4
Cooldown:
75

Skill Lv 4
# of Erased Groups:
5
Cooldown:
75

Skill Lv 5
# of Erased Groups:
5
Cooldown:
65
Galerie d'Images
Détails
Références