User:Wavpro/Sandbox
Jump to navigation
Jump to search
"
Snurra dina naglar i det gyllene snittet!... då kommer du kunna använda oändlighetens kraft!.
"

Rotationen (回転, Kaiten) är ett övernaturligt fenomen som används av flera viktiga karaktärer i Steel Ball Run och JoJolion.
Det är ett tillstånd av perfekt eller nära på perfekt rotation som producerar en unik form av energi som har en mängd olika användningsområden. Det är möjligt att Rotationen motsvarar Ripple från den ursprungliga kontinuiteten.
Sammanfattning
Rotationen är ett tillstånd av rotation som definieras av dess närhet till perfektion, denna perfektion är då den Gyllene Rektangeln (黄金長方形, Ōgon Chōhōkei), mer specifikt den Gyllene Spiralen som är erhållen från Rektangeln, en matematiskt oändlig spiral, och en egenskap som sägs vara allestädes närvarande i den omgivande naturen och a fortiori i konstverk.[1]
Till skillnad från en vanlig rotatio är Rotationen ständig och producerar mer rotationsenergi[1] än det tar att skapa den. Den rotationsenergin överförs till närliggande föremål i form av vibrationer[2] och har en mändg användningsområden.
Rotationen är en specialitet av Kungariket Neapel. Det används där både medicinskt och för krig. Alla karaktärer som kan utföra avancerade tekniker med hjälp av Rotationen är antingen napolitanska eller har blivit lärda av en napolitan.
Användning av Rotationen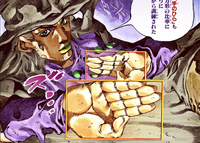 På grund av dess mirakulösa egenskaper har Rotationen använts av några få utvalda åtminstone sedan medeltiden[3], från vilka flera specialiserade tekniker har härstammat.
Användare av Rotationen försöker vanligtvis snurra ett objekt på ett sätt som följer den gyllene rektangeln så nära som möjligt, vilket skapar en nästan oändlig rotation som då kan skapa en oändlig mängd rotationsenergi innan de kastar objektet mot ett mål. För att göra detta, lägger de en liten kraft på föremålet som får det att snurra nästan perfekt, vilket ger föremålet en energiimpuls för att starta rotationen, och sedan låter de rotationen fortsätta för evigt. Ett råd som ges till nybörjare är att visualisera den perfekta rotationen i sina tankar och sedan försöka efterlikna den.[4]
Det är bedrägligt lätt att lära sig grundläggande rotationstekniker, som när nybörjaren Johnny Joestar lyckas producera en Rotation med en kork inom en dag efter att ha lärt sig om teknikens existens;[4] dock är det extremt svårt att bemästra. Rotationen måste användas på ett object som kommer fortsätta snurra och måste kastas så objektet kan överföra energin genom kontakt med ett annat objekt. Därför måste en användare av denna Rotation kunna sikta och kasta om de vill få resultat från tekniken. Man måste också känna till människokroppen extremt väl för att utnyttja effekterna av Rotationen på människor till fullo. Till exempel, Zeppeli Familjen är tränade som kirurger för att använda Rotationen på brottslingar som ska avrättas,[5] annars kan Rotationen bara resultera i en enkel förbättring av destruktiv energi. Andra, som medlemmarna i Neapels kungliga garde, använder bara en högspecialiserad tillämpning av Rotationen på människokroppen.[6]
Tekniker
Allmän användning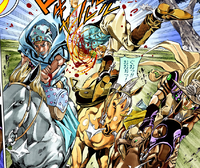 Rotationen förstärker naturligt den destruktiva kraften hos en projektil och kan därför kastas för att helt enkelt orsaka skada. En stålboll som använder Rotationen kan förstöra klippor.[7] Wekapipos satelliter drivs också med lika mycket kraft som ett pistolskott och kan slita sönder Gyros hand.
Rotation kan påverka kroppen för att härda den och göra det möjligt för kroppen att enkelt överföra energi någon annanstans, vilket ger övernaturlig men tillfällig robusthet. Det tillät Gyro att bli skottsäker[8] och uthärda en av Boku no Rhythm wo Kiitekures bomber så han bara skadade sitt ben[9] eller Wekapipo att dirigera om energin från en stålboll.[10]
Rotationen används delvis för att ta kontroll över projektilerna som den används på. Tack vare detta fenomen har användare av Rotationen kontroll över hur deras projektiler reagerar och kan därför sikta bättre, men samtidigt kan de få projektilerna att återvända till dem för att inte slösa bort dem.
Ett föremål som använder Rotationen kan användas för att förstärka Rotationen hos andra projektiler, till exempel för att öka stålbollarnas effektiva räckvidd.[11]
Snurrande föremål har en hög rotationshastighet och kan därmed skapa en stor mängd friktion. Därför kan de hålla föremål på plats genom att fungera som ett segel[12] eller erpa upp objekt som till exempel bark.[13] Stålbollar visas skapa provisoriska rep,[14] och till och med skära i metall för att skapa kulor.[15]
Associerade fenomen
Mer specifikt den
Gyllene Spiralen
som den kommer från, den
Gyllene Rektangeln
är det perfekta tillståndet av Rotationen. Det är en matematiskt oändlig spiral, och en egenskap som sägs vara allestädes närvarande i den omgivande naturen och
a fortiori
i konstverk.
[1]
Vänster-Neglect
är ett skick som tillämpas på motståndaren som ett resultat av en av satelliterna från Wrecking Ball, en typ av stålboll som också är associerad med Rotationen. Det gör att offren tappar all känsla på vänster sida; offren kan inte känna eller ens se sin vänstra sida.
Förbättringar
The Golden Spin
[16]
[17]
[18]
is a superior state of rotation that only the masters of the Spin can use. To use the Golden Spin, one must approach the Golden Rectangle, a rectangle with a proportion equal to the
golden ratio
(approximately 16:9) that when recursively divided into a square and another golden rectangle, traces the path of the Golden Spiral; a self-similar and thus endless spiral. Used as a scale, the Golden Rectangle allows the creation of a perfect rotation and thus an infinite amount of energy. The Gold Rectangle is actually observable in nature, from the wings of a butterfly to the shape of a tree to snowflakes, and by extension in works of arts.
Gyro's Belt Buckle is notably shaped in the proportions of the golden rectangle and can be used as a model. The Zeppeli Family regularly uses the Golden Spin thanks to their knowledge of the golden ratio. Gyro then taught Johnny how to use the Golden Spin, allowing the latter to achieve greater forms of his Stand.
One can prevent Spin Users from using the Golden Spin by choosing the right battlefield, one that is devoid of life so that there is nothing that a Spin User can observe to discern a golden rectangle. For instance, Wekapipo and Magent Magent ambush Gyro and Johnny in the middle of a frozen strait.[19]
Colloquially referred to as the Super Spin, this variant is a superior version of the Golden Spin which involves riding on horseback. This technique represents the most faithful emulation of the golden spiral humanly possible.
Developed in the Middle Ages to bypass the shield and armor of mounted knights, stirrups were invented to harness the power of a running horse. The horseman must let the horse run with the force of the Golden Rectangle, meaning it must gallop at its most natural speed. At this perfect pace, the horse spontaneously creates the energy of the Spin; it can then be harnessed through the stirrups and passed on through the body, into the arm and wrists to further empower the throw of the Steel Ball. Thus, a truly perfect rotation emitting an infinite amount of energy is created.[3][20][21] The Golden Spin is associated with the power to produce gravity, the only force supposedly capable of going between dimensions.[22]
Unlocking the Golden Spin on horseback grants mastery over an infinite amount of energy, therefore, several miraculous feats are possible. First and foremost is that its wielder spontaneously develops a Stand or evolves it should they already have one. Gyro manifests the Stand Ball Breaker,[23] while Johnny develops Tusk's final evolution: Tusk ACT4.[24]
Gyro's Ball Breaker and Johnny's Tusk ACT4 appear to represent the infinite force of the Golden Spin which trumps many powers. Both are notably capable of bypassing the interdimensional barriers of D4C Love Train that hide and protect Funny Valentine and his Stand Dirty Deeds Done Dirt Cheap,[23][25] and it is shown that Tusk ACT4 is impervious, to an extent, to THE WORLD's ability to stop time itself.[26]
Although it is almighty, the horseback Golden Spin is incredibly complicated to set up. One must not only have a healthy horse, but also have the expertise to feel when it runs at its natural pace, in addition to the need of being proficient in the Spin and possessing a projectile that can be imbued with the Golden Spin. An imperfect thrown sphere will result in a failure[27] and any interference during the horse mounting, like bumping into an obstacle[21] or the horse being attacked, will completely interrupt the process.[24] During the events of Steel Ball Run, only two people on Earth could reproduce the Golden Spin on horseback. There exists a workaround for setting up this technique. Johnny uses a Steel Ball on his horse's leg, making it kick him with the energy of the Golden Spin. Johnny was thus imbued with the energy of the Golden Spin and by spinning his nail at the same time, could reproduce the same infinite Spin he would have by riding his horse.[28]
Ball Breaker
(ボール・ブレイカー Bōru Bureikā)

Ball Breaker
manifests whenever an experienced
Steel Ball
user performs the
Zeppeli Family
's ultimate throwing technique. Though considered a
Stand
, it is purely a visualization of Spin energy.
[29]
Being an embodiment of the vast quantity of energy collected by a Steel Ball, the "Stand" is shown being capable of accelerating aging.
Soft & Wet
's soap bubbles are actually thin lines that spin rapidly; the lines are so thin that they are close to zero, therefore considered nearly nonexistent. Because of this, they are capable of bypassing any kind of logic in the world, including
calamity
.
[30]
These spinning bubbles can also be used as weapons that explode on contact, as inherited from the Stand's late fusion with
Killer Queen
. After discovering these aspects,
Josuke
develops a new ability, which he dubs "Soft & Wet: Go Beyond"
(

ソフト&ウェット・ゴー・ビヨンド

Sofuto Ando Wetto Gō Biyondo)
. Go Beyond's Explosive Spin bubbles first manifest from Josuke's
birthmark
, and then are shot out from his fingertip. However, due to the bubbles being invisible and "nonexistent", it's difficult for Josuke to aim Go Beyond, and therefore requires
Paisley Park
's help to direct the bubbles.
Tillhörande föremål
Steel Ball
(鉄球 Tekkyū)

The Spin has been long studied as a human anatomical corrective and medical treatment by the
Zeppeli Family
, doctors renowned throughout Italy but also royal executioners of the King of Naples. They employ a generalist form of the Spin with Steel Balls thrown at targets, granting them a wide array of uses, although their careers orient them toward affecting the human body.
The royal guards of Naples use a highly specialized and aggressive version of the Spin, using Wrecking Balls instead of simple spheric balls. The smaller spheres embedded in the Wrecking Ball act as extra projectiles that can suddenly spring out of the main sphere and can attack multiple targets with precision and from unexpected angles.
[31]
Moreover, even if the satellites miss their target, the shockwave they create in their passage causes
hemispatial neglect
, crippling the opponents in battle
[6]
and allowing Wekapipo or allies to hide from the enemy.
Användare
Classically trained Spin Users
Bildgalleri
References