Scotland Yard Inspector
Jump to navigation
Jump to search
"
I-It's all my fault! If only I hadn't let
his
father
go 20 years ago! This never would have happened had I put him in that island prison!
"
The unnamed Scotland Yard Inspector (スコットランドヤード警部, Sukottorando Yādo Keibu) is a minor character featured in the first part of the JoJo's Bizarre Adventure series, Phantom Blood.
He is a friend of George Joestar I. His first accomplishment as a police officer of Scotland Yard

was arresting Dario Brando for stealing George's ring.
Appearance
The Police Inspector is a muscular middle-aged man. He is bald on the top of his head and has neck-length curly light hair on the back along with long sideburns. He also has a goatee which is colored dark in the manga but light in the anime. He has a unibrow which is noticeably darker than his hair. He wears small round glasses and a police uniform.
When he was younger, his hair was much thicker with side swept bangs on the front.
Color Schemes
The series is known for alternating colors between media, the information presented below may or may not be canon.
Outfit
(Navy blue coat over white clothing, light brown glasses.)
Outfit
(Navy blue coat over blue clothing, gray glasses, brown shoes.)
Personality
The Inspector is an emotional police officer, caring a lot for George. In his past when he first became a police officer, he felt exhilarated to recover George's ring, as it was such an important and valuable item. He is polite to nobles like George but is honest enough to tell George that he's being too naive by forgiving Dario Brando. He scorns criminals like Dario, believing that people like him cannot change.[1]
History
Background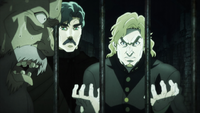 In 1868, having just started working in Scotland Yard's police force, he arrested Dario Brando as his first accomplishment. Dario had been found trying to pawn off a ring containing a valuable jewel set in platinum. Realizing it was made by a famous jeweler, the police officers visited the jeweler who remembered making it for George Joestar I. Mary Joestar had given that ring to George and Dario stole it from George's hand after the couple's carriage accident. He wonders why George didn't report its theft.
The man takes George to Dario's prison cell but George claims that Dario wasn't lying about George actually giving him the ring. To the police officer's surprise, George says that it was a gift and to release Dario immediately. Baffled, the police officer questions why George would make up such a story. He apologizes for being rude but says that George is too trusting and that a criminal like Dario would do it again with no remorse.
After looking into it later, the police officer learns that Dario had "saved" George's life but he was a criminal regardless. The woman from a bar who was with Dario testified that Dario ransacked all the valuables from the carriage.[1]
At some point, he becomes the inspector of the police force.
Phantom Blood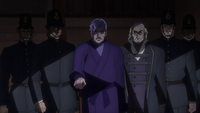 In 1888, he arrives at the Joestar mansion with his police force after he is called by George to arrest Dio Brando, as it was proven by Jonathan that Dio planned to kill George. However, Dio suddenly ends up stabbing George with a knife, leading to all of the police officers shooting Dio out of the window. The Inspector curses himself for letting Dario go free years ago. If he hadn't, Dario would have been exiled to an island prison and George would not adopt Dio. After telling his story about Dario to Speedwagon, the Inspector cries from George's kindness and tragic end.
Speedwagon notices that Dio's body is missing and warns the cop to get away from the window. Now a vampire, Dio reveals that he was hiding above the window right behind the Inspector. The Inspector suddenly meets his own tragic end as Dio tears his head off at his maxilla

and kills the rest of his police officers as well.[1]
Chapters / Episodes

Manga Appearances
Chapters in order of appearance

Anime Appearances
Episodes in order of appearance
Quotes

Quotes
"
I-It's all my fault! If only I hadn't let
his
father
go 20 years ago! This never would have happened had I put him in that island prison!
"
"
I was young — it was exhilarating for me to recover such an important item for someone... So I wanted Lord Joestar to see the man who had stolen it for himself. He had taken something from a noble... Under the law, he would undoubtedly end up in an island prison.
"
"
I can't help but cry at what Lord Joestar said next!
"
"
You couldn't have given him this — A memento of your engagement! W-Why?! Why would you make this story up, Lord Joestar?!
"
"
Lord Joestar... Please... I apologize for my rudeness, but allow me to say one thing... You are too trusting!! He's a scumbag, through and through, and he'll do it again! His soul is laughing at you!
"
"
I should have thrown him into that island prison! If I had done it, Lord Joestar would never have taken Dio in!
"
"
His naivete! His kindness! Treating Brando's son well brought him this tragic end! It was a mistake, and now he's dead because of it!
"
Video Games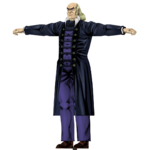 There is an unused model of the Inspector within the game. He also has two quotes that can be used for the player's profile card in online mode.
Gallery
References