Kempo Fighter
Jump to navigation
Jump to search
"
Aiyaaah!! Myślisz, że jesteś taki wysoki i potężny?! Orientalna Tajemnica Chińskiego Kempo! To kopnięcie wyśle cię do podziemnego świata!
(

アチャッーッ!何を気どっているねーッ!!東洋の神秘中国拳法 この蹴りをくらってあの世まで飛んでいくねーッ!

Acha! Nani o kidotte iru ne!! Tōyō no Shinpi Chūgoku Kenpō! Kono keri o kuratte anoyo made tondeiku ne!

)
"
Nienazwany Kempo Fighter (中国拳法家, Chūgoku Kenpō-ka, lit. Chinese Kempoist) jest trzeciorzędnym sprzymierzeńcem występującym w pierwszej części serii JoJo's Bizarre Adventure, Phantom Blood. Początkowo próbował okraść Jonathana Joestara w Ogre Street u boku Roberta E. O. Speedwagona i Tattoo.
Wygląd
Kempo Fighter to muskularny mężczyzna niskiego wzrostu z długim podbródkiem i zapadniętymi policzkami. Ma ciemne włosy o długości szyi z wdowim szpicem i nosi długie spinki do włosów za uszami. Nosi tradycyjny chiński mundur sztuk walki.
Schematy kolorów
Seria znana jest z zmiennych kolorów między mediami, informacje przedstawione poniżej mogą, ale nie muszą być kanoniczne.
Ubiór
(Zielona szata, pomarańczowy kołnierzyk i rękawy, bordowe buty, jasnobrązowe spinki do włosów.)
Ubiór
(Żółta szata, fioletowy kołnierzyk, rękawy i pasek, srebrne spinki do włosów.)
Ubiór
(Granatowa szata, czerwony kołnierzyk, rękawy i pasek, białe spodnie, zielone spinki do włosów.)
Ubiór
(Granatowa szata, bordowy kołnierzyk i rękawy, zielone spinki do włosów, pomarańczowo-czerwony pasek, brązowe spodnie, czarne buty.)
Osobowość
Niewiele wiadomo o osobowości Kempo Fightera, ale jest dumny ze swoich samozwańczych technik sztuk walki. Podobnie jak jego przyjaciele, ma awanturniczą naturę i jest agresywny wobec obcych, którzy wkraczają na terytorium jego gangu.[1]
Umiejętności
Jako złodziej z niebezpiecznej uliczki znanej jako Ogre Street, Kempo Fighter jest znany z atakowania nieznajomych wraz ze swoimi dwoma przyjaciółmi. Twierdzi, że zna tajemnicze orientalne sztuki walki.
Kempo Fighter wykonuje latające kopnięcie w kierunku przeciwnika. Według niego wysyła swoich przeciwników do zaświatów, co sugeruje, że jest to silny atak. Można go jednak łatwo skontrować, jeśli wróg nie zostanie zaskoczony.
Historia
Phantom Blood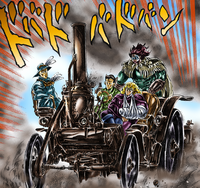 Niewiele wiadomo o Kempo Fighterze, z wyjątkiem tego, że jest Azjatą z Ogre Street, który w pewnym momencie dołączył do gangu Roberta E. O. Speedwagona. Po raz pierwszy zostaje przedstawiony, gdy wraz ze Speedwagonem i Tattoo zastawia zasadzkę na Jonathana Joestara podczas jego podróży, aby znaleźć lekarstwo na chorobę ojca. Chociaż jest dumny ze swojej orientalnej techniki, Jonathan szybko pokonuje go ciosem backhandem w twarz. Zauważając swoją rasę, Jonathan, czy wie o pobliskim orientalnym sklepie, który sprzedaje trucizny.[1] Po porażce Speedwagona, Kempo Fighter jest zszokowany, gdy odkrywa, że jego obrażenia są niewielkie, Jonathan powstrzymał się ze względu na swoją rodzinę.[2]
Po walce Jonathana z Dio w rezydencji Joestar, jedzie z Speedwagonem do szpitala, w którym Jonathan przebywa samochodem parowym, zabierając ze sobą Tattoo i innego przyjaciela Speedwagona. Kempo Fighter trzyma również laskę, której Speedwagon wymaga do chodzenia z powodu obrażeń odniesionych podczas bitwy; Speedwagon początkowo lekceważy laskę, zanim spadnie twarzą w twarz na ziemię.[3]
Kempo Fighter pojawia się wraz z resztą przyjaciół Jonathana, aby zobaczyć Jonathana i Erinę, gdy wyjeżdżają na miesiąc miodowy do Ameryki.[4]
Rozdziały / Odcinki

Występy w mandze
Rozdziały w kolejności pojawiania się

Występy w anime
Odcinki w kolejności pojawiania się
Gry Wideo
The Kempo Fighter appears as an enemy in Chapter 05, alongside "Tattoo Guy" and Speedwagon. He can be selected for one fight in Extra Battle Mode, though his moveset is limited.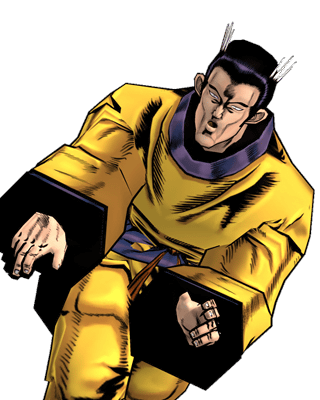 Kempo Fighter









Four-Legged Flying Dragon
Running

Running


Available Stages: Extra Battle 04
Kempo Fighter pojawia się w grze jako część zestawu ruchów Speedwagon i ekskluzywnego stylu, Ogre Street (食屍鬼街, Ougā Sutorīto). Po użyciu Speedwagon tymczasowo przywoła Tattoo i Kempo Fightera, którzy będą podążać za nim, dopóki nie otrzymają rozkazu ataku, trafienia lub oddzielenia się wystarczająco daleko od niego.
Używając ruchu, Sztuki walki, wschodnia tajemnica!, Kempo Fighter zaatakuje cel Speedwagona potrójnym kopnięciem, ale także zaatakuje najbliższego przeciwnika, jeśli Speedwagon nie jest dla nikogo zablokowany.
Kempo Fighter pojawia się w Diamond Records jako część zestawu ruchów Speedwagona, obok Tattoo. W Action Battle, może zostać wezwany do kopnięcia raz lub zostać wezwany wraz z Tattoo, aby pomóc Speedwagonowi walczyć z przeciwnikami przez ograniczony czas. Jednak w Tactical Battle może być wezwany tylko do wykonywania pojedynczych ataków.
Kempo Fighter pojawia się również sam jako postać wroga.
Galeria
Ciekawostki
Przypisy
Nawigacja w witrynie