Tama
Jump to navigation
Jump to search
"
Uau, o sol está realmente quente e relaxante hoje. Vamos começar a manhã sendo penteado! Meu pelo é o meu orgulho, afinal.
"
Tama (タマ, Tama) é um personagem secundário na quarta parte de JoJo's Bizarre Adventure, Diamond is Unbreakable, introduzido no arco "Gatos Amam Yoshikage Kira".
Originalmente um gato de rua atingido pelo Flecha, Tama é cuidado pelo Yoshikage Kira após se tornar um híbrido de planta-Stand chamado Stray Cat
Aparência
Tama é um gato de pelo azul-cinzento curto com olhos mel-dourados cuja característica mais notável é um buraco em sua garganta causado pela Flecha.
Esquemas de Cores
A obra é conhecida por sua mudança de cores entre as mídias, a informação apresentada abaixo pode ou não ser cânon.
Olhos
(Esclera amarela, pupilas pretas)
Olhos
(Esclera amarela, pupilas pretas)
Personalidade
Tama is stubborn, sticking to his territory in the cellar when Shinobu Kawajiri attempts to chase him out. After he is killed, he shows a desire for revenge and attacks Shinobu when he sees her in the garden. He is friendly toward Kira until Kira himself deems the newly resurrected Stray Cat a threat. However, he is able to easily forgive Kira, and allies himself with him. Tama is shown to get along well with Okuyasu's father after Kira's death.
Habilidades
Main article: Stray Cat
Stray Cat allowed Tama to resurrect himself into a sentient plant that retains Tama's intellect and personality. It also allowed him to manipulate the surrounding air and form air bubbles to shoot at enemies.
Stray Cat
(
ストレイ・キャット (猫草)
)


História
Diamond is Unbreakable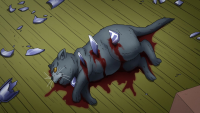 Tama was once a normal cat that was hit with an Arrow while peacefully lazing about by a tree. He takes refuge in the cellar of the Kawajiri household where he is killed by a broken glass bottle when Shinobu Kawajiri tries to chase him out. After being buried in their garden, his dormant Stand ability brings him back to life as a cat-like plant named Stray Cat.
Capítulos / Episódios

Aparições no Mangá
Capítulos em ordem de aparição

Aparições no Anime
Episódios em ordem de aparição
Galeria
Curiosidades
Referências