Stand Cry
Jump to navigation
Jump to search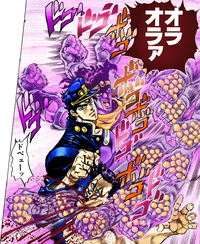 A number of Stands and/or their users make a battle cry while executing their basic mode of offense; informally described as a Stand Cry.
The cry is suggested or depicted as being made in a similar rhythm and intensity with the attack of the Stand, which is usually very rapid, strong, and unbroken.
The Stand Cry is among the trademarks of JoJo's Bizarre Adventure, as many central Stand users have one.
Origin
DIO and Giorno's cry, "MUDA ... !", is the Japanese word for "useless".
Earlier in the series, in a style common to action-oriented manga, certain characters would scream the names of their attacks (including Jonathan Joestar, Joseph Joestar and Dio Brando); so it is possible that the Stand Cry follows from this.
Examples
Trivia
In the 2020 Anime Expo interview, Kensho Ono (voice actor for Giorno Giovanna), Hiroyuki Omori (producer for the anime), and Nobutaka Kasama (producer for the anime) talked about how the voice actors for the main cast mostly tried to adhere to the exact number of exclamations as the manga. According to Kensho Ono, it was a difficult task for him. Omori said the production team went back and forth about this because sometimes the cuts wouldn't fit the length of the battle cries. Takehito Koyasu seems to have been an exception, as Kensho Ono stated that Koyasu told him that he never thought of doing that and matched his battle cries to the length of the cut directly.[1]

Kensho Ono found it challenging to say "muda muda" rapidly and had to train while driving to get it right. He mentions that scrunching up the face helped him say the battle cry more rapidly.
References