Start Time: September 25, 1890, 10:00 AM
Total Distance: 15,000 m (9.3 mi)
Participants: 3852
Retired: 79
Deaths: 3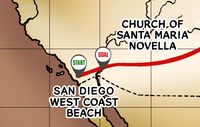 The first stage is the second-shortest stage of the Steel Ball Run. However, it is also a high-intensity stage with a wide variety of terrain that serves as an exciting introduction to the race. The entire stage is set parallel to train tracks so that journalists and VIPs can follow and report on the first stage from the comfort of a train car. The open and flat ground of the San Diego Beach starting line was chosen to accommodate the thousands of participants. The first kilometers of the stage take place over relatively-forgiving open terrain, with no notable obstacles besides a few cacti, trees, crevices. At the three kilometer point, there is a bridge over a dried-up river.[11]
The path then becomes a winding uphill with a rise of about 50 meters. There's a swerve around a large rock formation where racers can choose to take a shortcut at the tip of the formation through a forest and run the risk of bumping into trees; taking this shortcut saves an hour compared to the standard route. The shortcut rejoins the main path at the six kilometer point.[12] A downhill slope starts here, where riders are expected to reduce and control the pace of their horses to avoid tripping. After passing an abandoned farm, the racers sprint toward the finish line over 2,000 m (1.2 mi) of flat terrain.[11]