Satoru Akefu/it
Jump to navigation
Jump to search
SPOILER WARNING: Part 8 spoiler details may follow.
"
Chiunque esso sia, è meglio che questi non si avvicinino a me provando ad inseguirmi...
"
Satoru Akefu (明負 悟, Akefu Satoru) è un antagnista maggiore presentato nella ottava parte di JoJo JoJo's Bizarre Adventure, JoJolion, ed introdotto nell'arco narrativo "The Wonder of You ( Il tuo miracoloso amore )"
Akefu è il primario del Ospedale universitario del TG, e probabilmente anche la mente capo dell'organizzazione dei Rokakaka. E' una figura particolare, che si mostra raramente al pubblico, nonostante la sua alta carica.
Esso sarà successivamente rivelato come una identità segreta di Toru creata dall'abilità del suo Stand, Wonder of U
Aspetto

Akefu assomiglia ad un uomo anziano con una corporatura leggermente tozza, dice di avere 89 anni.[1] Le sue braccia e gambe sono evidentemente più fini del resto del suo corpo. Indossa una bombetta scura ed una giacca, insieme a una sciarpa leggermente colorata con un motivo irregolare di fessure a forma di "-" incise su di essa. Inoltre indossa scarpe eleganti e usa un bastone per camminare.
Più avanti nella storia, Akefu è raffigurato con un fine volto inciso con zigomi prominenti, occhi affondati, e un grande naso. La sua caratteristica più particolare è quella di avere una barba formata da un insieme di corte spine ed un monocolo sul suo occhio destro. I suoi capelli sono molto chiari e molti più di quanti un umano a quell'età dovrebbe avere. Come il suo subordinato Wu Tomoki, i capelli ai lati della sua testa sono rappresentati in molte forme rotonde.
Se qualcuno si trova a conoscenza del potere della calamità, allora vedrà la sua vera forma come Stand.
Palette di Colori
The series is known for alternating colors between media, the information presented below may or may not be canon.
Abbigliamento
(Abito e bastone marrone scuro, cravatta nera con fascia grigia, sciarpa color cachi)
Personalità
Akefu è una figura molto sfuggente, che però porta con se un titolo molto importante e prestigioso, questo mostra degli atteggiamenti antisociali, ignorando completamente Josuke Higashikata, Yasuho Hirose e Rai Mamezuku, probabilmente di proposito. E' il primario del Ospedale universitario del TG, Akefu sembra fiero di presentare il Rokakaka 6251 a un pubblico.[3] inoltre dato che è un professionista, la prima cosa che fa dopo ciò, è quello di consegnare al giornalista Taoka la sua business card.[4] Akefu è una persona calma, poiché il suo potere automatico gli permette di liberarsi dei suoi nemici, prima che questi possano toccarlo. Così, quando Taoka lo minacciò di mostrare al pubblico l'organizzazione dei Rokakaka, Akefu gli disse con serenità come le calamità lo avrebbero distrutto immediatamente, prima di uscire dalla stanza. Allo stesso modo, confronterà Josuke e Mamezuku, quando si ritroverà chiuso insieme a loro nel laboratorio.[5]
Abilità
Main article: Wonder of U
La verà identità di Akefu è uno stand umanoide senziente chiamato Wonder of U.
Wonder of U
(
ワンダー・オブ・U
)


Ability
Calamity Generation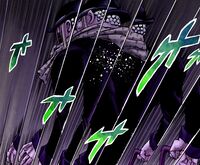 Forma Umana
La vera forma di Akefu è lo stand. Molte persone lo vedono come il dottore dell'ospedale universitario del TG e lo trattano come tale, ma coloro che sono consapevole delle calamità vedranno solo la sua forma stand.[6]
Personale
Essendo fisicamente in carica dell'intero ospedale, si può presupporre che Akefu abbia conoscenze mediche generali e sia consapevole delle applicazioni mediche del frutto Rokakaka.
Storia
Passato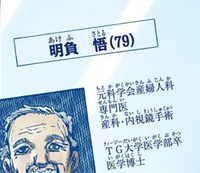 L'identità di Akefu è stata rubata da vero dottore umano, che si era diplomato all'ospedale universitario del TG.[7] Toru utilizzò la sua identità per infiltrarsi nell'ospedale con Wu Tomoki, Urban Guerilla e Poor Tom, diventando così il primario.[8] Akefu durante la sua illustre carriera da dottore ha ricevuto parecchi premi in campo medico per il suo lavoro,[9] nonostante però questi premi sia stati in realtà ottenuti dal vero Akefu. A causa della sua posizione onorari, non è più effettivamente in carica per lavorare come medico.[10] Akefu e il resto dell'organizzazione dei Rokakaka hanno condotto ricerche sul frutto Rokakaka e sul suo potenziale come medicina, sfruttando il gruppo di Tamaki Damo come subordinati e come membri per fare degli esperimenti sugli umani, provando così anche la medicina su Holy.[8] Ad un certo punto Akefu viene a conoscenza di Mitsuba Higashikata e posa in una foto con lei.[11]
Akefu sembra avere un qualche tipo di correlazione con il padre di Mamezuku, dato che ha partecipato al suo funerale. Successivamente, Akefu verrà accusato di essere la causa delle calamità che hanno colpito la famiglia Mamezuku.[2][12]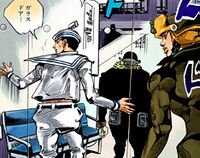 Akefu viene inseguito da Josuke Higashikata, Yasuho Hirose e Rai Mamezuku. ignorandoli però completamente. Akefu utilizza la sua abilità sui tre e fugge via sfruttando un autobus. Successivamente verrà avvistato da Mitsuba Higashikata alla scuola elementare del figlio e nei dintorni della residenza Higashikata
Josuke e Mamezuku, scoprono che Akefu ha in programma di fare una presentazione per la sua nuova medicina. Così decidono di inseguirlo, ma ciò causa semplicemente l'attivazione dello stand di Akefu che si attiva e li attacca facendo piovere. Messi all'angolo dalla polizia e della pioggia, Josuke decide di farsi colpire dalla pioggia per andare all'ospedale. Nel frattempo, Akefu continua ad inseguire la famiglia Higashikata, causando così vari disastri fra di loro, allo stesso tempo, la malattia di Tsurugi inizia a colpirlo.
Nel giorno della presentazione, Akefu mostra il suo nuovo prodotto, il Rokakaka 6251, al pubblico. Mostra la sua nuova medicina ed il suo processo. Nel frattempo, Josuke viene nuovamente attacco dall'abilità di Akefu, e questo si ritrova a cambiare i suoi piani.
Nel giorno della raccolta, Akefu viene nuovamente avvistato da Mitsuba e Yasuho, vicino la residenza Higashikata ma anche da Rai Mamezuku fuori dalla stazione di polizia. Alla residenza Higashikata, una serie di eventi portano il nuovo Rokakaka ad essere mostrato. Mentre Jobin litiga con Norisuke e dopo averlo fatto fuori, Akefu si prepara all'attacco. Entra nella residenza Higashikata ed approccia la famiglia. Mitsuba nel frattempo lo vede passare dalla porta del corridoio fuori dalla stanza di Tsurugi, fino allo schermo del computer, i panelli di vetro e le librerie, passando per il bagno, la finestra vicino al letto, il quadro e poi sotto le coperte. Jobin viene avvisato della sua presenza da Mitsuba, e quest'ultimo evoca il suo stand Speed King e lo attacca. Successivamente, l'abilità di Akefu causa un'altra calamità e Jobin si ritrova prosciugato di tutto il suo sangue, il suo vaso del Rokakaka scivola fino alla porta del garage.
All'Ospedale Universitario del TG, Akefu ha in programma di incontrare un reporter del giornale scientifico "Pangea Land", Taoka. Comunque, Taoka mostra ad Akefu il footage di Holy Joestar-Kira, il segreto del laboratorio del Locacaca, e un campione del frutto all'interno di un barattolo. Taoka accusa Akefu di star conducendo illegalmente prove su degli umani ed è pronto ad inseguirlo. Akefu quindi solleva la possibilità che il campione sia un falso e teorizza che Taoka debba aver toccato il frutto, and che del succo potrrebbe essere scivolato all'interno di un piccolo taglio sulla sua mano. Akefu lascia Taoka, fiducioso che la sua abilità avrebbo ucciso il reporter per lui, e si muove verso Josuke. Mentre cammina verso il laboratorio del Locacaca presso il reparto di ginecologia, viene mostrato che il primario e lo Stand sono la stessa entità.
Capitoli

Manga Appearances
Chapters in order of appearance
Quotes

Quotes
"

Oggi! Io, Satoru Akefu... Ho qualcosa per tutti voi... per la vita di tutti i voi. Ciò che porto in questa valigetta.....

"Rokakaka 6251"' (150 grammi) il suo è sia uno strumento simile a un impianto che ho sviluppato sia una sostanza rigenerativa vivente! Tutto quello che si deve fare è iniettarlo all'interno del corpo in condizioni adeguate e l'area interessata si trasformerà per essere come nuova! Non c'è bisogno di colture cellulari o interventi chirurgici! E quindi nessun rischio di infiammazione dovuto a incompatibilità! Che si tratti di un ginocchio rotto o di un'articolazione o di un tessuto cerebrale perso in una commozione cerebrale, andando oltre la rigenerazione, si verificherà un 'exchange'

per una buona salute!

"

"

..Sei per caso... Venuto qui... Provando ad inseguirmi?

"

"

Il punto in cui chi è in un lungo viaggio ha più probabilità di incontrare un incidente... è appena prima di tornare a casa. Questo lungo viaggio è finito, ho ottenuto il

Nuovo Rokakaka

, ed entrambi ritorneremo presto a casa...

"

"

Prima, dovrai avere a che fare con questo

'Insetto Roccia solitario '

.

'Dododo De Dadada'

Prima che vai a casa, perché non dai un'occhiata... ...A ciò che puoi vedere da quella sedia...?

"

"

Il New Rokakaka si sta spostando a dove io mi trovo adesso. Il flusso lo sta trasportando non è però con il flusso che puoi ottenerlo. il flusso, come puoi vedere, è ciò che ti farà alzare dalla sedia. E' certo che tu ti alzerai per inseguirmi. Io sono "Wonder of U" e il flusso è sempre calamità.

"

"

Non c'è nulla che tu possa possedere. Che questo sia un frutteto di pere o un singolo Nuovo Rokakaka...!!!

"
Galleria
Curiosità
Riferimenti
↑ 1.0 1.1 JoJolion Chapter 83: The New Locacaca
↑ 2.0 2.1 JoJolion Chapter 99: The Wonder of You, Part 16
↑ JoJolion Chapter 92: The Wonder of You, Part 9, p.22
↑ JoJolion Chapter 97: The Wonder of You, Part 14, p.30
↑ JoJolion Chapter 97: The Wonder of You, Part 14, p.35-37
↑ The Ultimate Dilemma, The Wonder of You, Part 18 tailpiece
↑ JoJolion Chapter 102: The Wonder of You, Part 19
↑ 8.0 8.1 JoJolion Chapter 92: The Wonder of You, Part 9
↑ JoJolion Chapter 84: The Wonder of You, Part 1, p.8
↑ JoJolion Chapter 84: The Wonder of You, Part 1
↑ JoJolion Chapter 90: The Wonder of You, Part 7
↑ JoJolion Chapter 100: The Wonder of You, Part 17