Rina Higashikata/it
Jump to navigation
Jump to search
Rina Higashikata (東方 理那, Higashikata Rina) è un personaggio apparso brevemente nella settima parte de Le Bizzarre Avventure di JoJo, Steel Ball Run, e nell'ottava, JoJolion.
È figlia di Norisuke Higashikata I e moglie di Johnny Joestar. Nota da sposata come Rina Joestar (理那・ジョースター, Rina Jōsutā),[3] è madre di George Joestar III e di una bambina.
Aspetto
Rina è una giovane donna con grandi occhi luminosi. Prima di conoscere Johnny Joestar era solita indossare uno yakuta e portare una tradizionale pettinatura giapponese. Occasionalmente i capelli sono raccolti in una coda. Successivamente, adeguandosi agli usi Americani, inizia a indossare abiti più informali.
Palette dei colori
The series is known for alternating colors between media, the information presented below may or may not be canon.
Abiti
(Yukuta vinaccia con obi rosa e obi-shime salmone.)
Carattere
Rina è descritta come una donna amorevole che ripone la massima fiducia in suo marito. Rimasta vedova, non si è risposata. Il suo amore materno è evidente: dopo il sacrificio di Johnny continua a prendersi cura di suo figlio, George III, e successivamente anche di suo nipote, Joseph Joestar.[4]
Biografia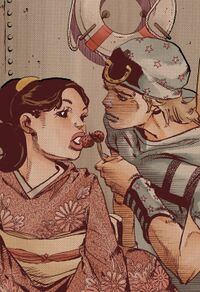 Nell'ultimo capitolo di
Steel Ball Run
, mentre si trova su di una nave in partenza verso l'Europa assieme a suo padre,
Norisuke
, incontra Johnny Joestar. I due si innamorano e una volta sposati vanno a vivere assieme in un ranch.
Anni dopo Steel Ball Run, prima dei fatti di JoJolion, Rina contrae una malattia incurabile: soffre di perdite di memoria, la sua pelle diventa rigida e si piega come un origami. Johnny decide di riportarla in Giappone, così che possa vivere i suoi ultimi giorni nella sua città natale, Morioh.
Johnny torna a New York per impossessarsi del Sacro Cadavere, nella speranza che possa curare la sindrome della moglie. La donna viene curata ma la malattia viene trasferita per effetto del Sacro Cadavere su George III. A quel punto Johnny usa Tusk su se stesso, sacrificandosi per il bene della famiglia e passando la malattia su di sé.
Successivamente Rina viene accusata dell'omicidio di Johnny ma viene rilasciata per mancanza di prove.
Nel 1924 nasce suo nipote, da lei chiamato Joseph, con cui vive nella Città S.[4]

Capitoli

Manga Appearances
Chapters in order of appearance
Galleria
Note
Categorie