The JOJOLands
Jump to navigation
Jump to search
"
Aceasta este povestea unui băiat în insulele subtropicale, ce va deveni extrem de bogat. (
これはひとりの少年が、亜熱帯の島々で、大富豪になっていく物語───。
Kore wa hitori no shōnen ga, anettai no shimajima de, daifūgō ni natte iku monogatari.
)
"
The JOJOLands (ザ・ジョジョランズ, Za JoJoranzu) sau 'Pământurile-JOJO' este a noua parte a seriei Aventura Bizară a lui JoJo. A fost anunțată în revista din Septembrie 2021 Ultra Jump în August 19, 2021, și va începe serializarea în revista din Martie 2023 pe data de 17 Februarie, 2023.[1]
The JOJOLands reprezintă a treia parte a seriei situat în a doua continuitate.
Rezumat
Povestea are loc în Hawaii. Protagonistul Jodio Joestar, își prezintă povestea sa ca povestea în care el va deveni bogat, unde îl putem vedea pe o barcă privind o errupție vulcanică.
Povestea începe pe o stradă în O'ahu, când doi ofițeri de poliție opresc un camion pentru un control obișnuit. Cei doi tineri din mașină par ca două persoane obișnuite, o femeie frumoasă și un băiat tânăr, Jodio. Unul din ofițeri, care și-a pus ochii pe femeie, decide să o aresteze și să o molesteze sub scuza că o cercetează pentru obiecte ilegale. Spre surprinderea sa, el descoperă că ea defapt este un bărbat, dar asta doar îl excită mai mult. Tânărul deodată iese din mașină să-și protejeze "fratele mai mare". Rudele încep să-și arate Standurile sale respective pentru ai elimina pe polițeri, iar pe urmă ard mașina lor de poliție pentru a scăpa de urmele sale și în final finisează o afacere de droguri cu niște gangsteri locali.
Tânărul Jodio se prezintă pe sine și familia sa, dar cel mai mult pe fratele său mai mare Dragona Joestar, care arată și se comportă exact ca o femeile. El de asemenea își prezintă relația sa cu Familia Joestar și perspectiva sa de viață. Într-o zi, Jodio completează o altă afacere de droguri cu un senior de al său enervant. În narație, Jodio își explică vederea sa a vieții bazâduse pe conceptul de "mecanisme" și visul său de a se îmbogăți. În aceași zi, Jodio, Dragona și un alt hoț mărunt precum și folositor de Stand numit Paco Laburantes se întâlnesc cu șefa și directoarea lor, Meryl Mei Qi. Meryl le spune că un turist Japonez singuratic a ajuns în Hawaii cu un diamant prețios în pozesia sa. Aceasta trimite grupul într-o misiune de a fura acest diamant. Prin suprinderea tuturor, Meryl introduce un al patrulea membru în grup, ce pare a fi seniorul lui Jodio de mai devreme.[2]
Personaje și Standuri
Personaje din The JOJOLands

Personaje Negative

Neutru
Galerie
Cultură Generală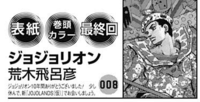 Când a fost inițial anunțată partea, era numită la început "JOJOLANDS" (

"Pământurile-JOJO"

ジョジョランズ, JoJoranzu). Însă, numele a fost schimbat cănd a fost apoi dezvăluită în Ultra Jump și JOJO magazine pe data de Decembrie 19, 2022.[3][4]
Araki a menționat într-un interviu la începutul părții Steel Ball Run că acesta deja planificase schița generală pentru fiecare parte până la partea a noua.[5] Când a fost întrebat despre ce țară ar fi interesat să depicte în viitor, el a spus că ar dori să plece în Europa de Nord sau Zonele Muntoase ale Scoției.[6] Acesta menționează faptul că dorea totodată să descrie Morioh în Partea a Noua.[7]
Vezi și
Referințe